Powerful. Dedicated. Inspired. Focused. Involved. Motivated. Committed. Passionate. Awesome. Enthusiastic. Unstoppable.
These are just some of the words that the 2020 class of IBEW 1245 organizing stewards used to describe themselves as they kicked off the year at their annual convening, which took place at Weakley Hall in late January.
"It's amazing to just be in a room with so much passion and energy! There was a mixture of everything — from PG&E employees to [public sector] employees, people under the age of 30 to retirees of 15+ years, physical employees to clerical employees," Lead Organizing Steward Ashley Finley reported from the kick-off. "But although we're all so different in many ways, we all found the same common ground: passion for this movement, love for our union, and the determination to fight the good fight."
"I love the diversity in the room. It felt we were one, a powerful one," echoed Lead Organizing Steward Arnaldo Lizarraga. "The energy in the room felt unstoppable. It is hard to describe."
Now in its seventh year, the organizing steward program has continued to evolve and grow at a breakneck pace. When the program began in 2014, there were just 28 members, but the numbers have multiplied year after year, and this year's class is the biggest to date, with a whopping 162 members, including 53 who are new to the program this year.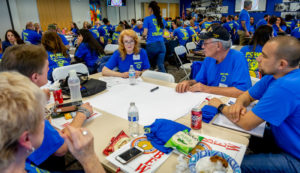 As the organizing stewards went around the room sharing their most impactful organizing experiences from the past year – ranging from the passage of critical legislation, to the election of a union-friendly Republican in a special State Senate election, to supporting other unions' ongoing efforts to give a voice on the job to family child care providers — first-time Organizing Steward Vashawn Perkins, a PG&E gas service rep out of Sacramento, was blown away.
"I didn't realize how strong this group is, how much power it has to pass [legislation] and get things done," said Perkins, a father of three. "I'm still learning about laws and politics and all that, but I can see how all these things are going to be beneficial for us and for my kids – because it's my family that's being supported by the union as well. That's what makes me want to get involved."
Over the course of the day-long training, as the organizing stewards heard from a number of speakers, including Ignacio Cardenas from the child care providers' organizing campaign, as well as Local 1245 Business Manager Tom Dalzell, and senior staffers Bob Dean, Doug Giroaurd, and Hunter Stern, one very clear theme came through – appreciation for all of the work that the organizing stewards have done and continue to do to strengthen our union and the labor movement as a whole.
As nearly all the speakers emphasized, that strength is what allowed our union to be the first in history to achieve significant gains for its members during a massive employer bankruptcy. Historically, workers at bankrupt companies are forced to endure enormous cuts to wages and benefits, widespread job losses, elimination of retirement security, and even a complete cancellation of the collective bargaining agreement. But Local 1245 managed to secure wage improvements, guaranteed benefits and retirement, and 100% job security — with zero concessions.
"We achieved things that no union has ever achieved in a bankruptcy, coming out stronger," Dalzell told the organizing stewards at the kick-off. "There are a number of factors that let us do this. But the one that is more important than all of the rest combined is right here in this room – it's you, our organizing stewards."
"Nothing but good things happen by your efforts in building our political capital," Giroaurd added, after delivering a detailed presentation to the organizing steward on how the power they built facilitated an exceptionally positive outcome for 1245 members in the PG&E bankruptcy. "I can't thank you guys enough, please keep up the great work."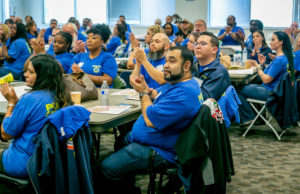 Additionally, several notable leaders — including California State Senator Maria Elena Durazo, California Labor Federation Leader Art Pulaski, IBEW International Vice President John O'Rourke, Sacramento Central Labor Council Executive Director Fabrizio Sasso, and Fresno Labor Council Executive Director Dillion Savory — sent in video messages to express their appreciation, respect and admiration for the organizing stewards. Perhaps the most impactful video messages came from elected officials that IBEW 1245's organizing stewards helped elect, including California State Senator Brian Dahle, Nevada State Senator Yvanna Cancela, and SMUD Board member Rosanna Herber.
After all virtues had been extolled, the organizing stewards got down to brass tacks, and began to strategize the various ways they can utilize their power to make an even bigger difference for even more working families in 2020, with guidance from staffer Hunter Stern, Eileen Purcell, Fred Ross and Rene Cruz Martinez.
"The catharsis piece of the day was recognizing the limitless possibilities Local 1245 has in its sights that this impossibly important 2020 election year gives us," reported Lead Organizing Steward Kevin Krummes, who has been part of the program since its inception.
And the fresh faces were equally as enthusiastic, ready to make a difference in the single most effective way possible — through direct, one-on-one connections with their fellow workers, neighbors, voters and decision-makers.
"I love talking, meeting new faces, hearing peoples' stories, where they are, where they've been, so I think that's the most exciting part of all this for me," said new Organizing Steward Maria Renteria. "I've always wanted to be involved, but I've had stuff kind of blocking me in the past. This year, I decided to take that step and jump in! I'm really excited to be a part of everything."
–Rebecca Band, IBEW 1245 Communications Director
Photos by John Storey
---
On Friday, January 24, 2020, shortly before the larger organizing steward kick-off began, we welcomed our first-time organizing stewards for a brief orientation at the Holiday Inn Express in Vacaville. I was joined by Lead Organizing Stewards Alvin Dayoan (Sac CCO) and Melissa Echeverria (Fresno CCO), who assisted in facilitating the training. We kicked off the training with introductions, giving everyone in the room an opportunity to get to know one another. Ten of the new organizing stewards were retirees from PG&E and Santa Clara — they started the round of introductions and set the tone for the morning. It was filled with high energy and recognition for their years of service (which ranged from 2 to 40 years) with the IBEW.
We then briefly went over the types of campaigns, events and programs our organizing stewards have been a part of in the past. Having the shared experiences from Alvin and Melissa really helped shape the hands-on examples of the work the organizing stewards do. As our program continues to grow, we embraced this opportunity to showcase the unique union family we have cultivated over the years. As they merged with the seasoned stewards for the full kick-off at the union hall, we were pleased to see how some of them had already built relationships, and the energy from the orientation clearly transferred into the kick-off. It was a great day.
This time of the year reminds us how far we have come as a local and all of the achievements we have accomplished. Looking forward to an even better 2020.
–Rene Cruz Martinez, IBEW 1245 Staff Organizer
---
Special thanks and recognition to this year's Lead Organizing Stewards, who went above and beyond to ensure the kick-off was a success:
Rhianna Thomas
Alvin Dayoan
Charlotte Stevens
Kevin Krummes
Nilda Garcia
Steve Marcotte
Serena Moss
Kim Camatti
Melissa Echeverria
Laquania "Q" Thompson
Brandon Fosselman
Miguel Pagan
Ashley Finley
Brittney Santana
Rachel Ramirez
Julie Gonzalez
Kristen Rasmussen
Mark Goodwin
Rodrigo Flores
Phuong Tran
Melissa Fernandez
Kurene "KT" Turner
Mike Patterson
Arnaldo Lizarraga
Veronica Rivera
Rita Weisshaar
Check out our organizing playlist here.
View organizing highlights from 2019 below.