IBEW 1245 notes the passing of these members, with gratitude for their service to the union.
---
JOHN DOLCINI
1958-2020
It is with a heavy heart that I announce  the passing of my father John Dolcini. He was a lineman and troubleman for PGE and a 1245 brother. 30 years or so of service. He was a great lineman and a loving caring father and friend.  He is survived by his son Albert Dolcini and Daughter Lilly Dolcini and his three grandchildren.
---
ARTURO FONTANILLA
1948-2020
Art Baluyot Fontanilla, 72, passed away peacefully in his home on August 14, 2020, after a courageous battle with cancer. Art is survived by his wife, Annie, of over 40 years, and his three daughters Ariane, Elyse, and Jenna.
Art was born on July 12, 1948, in Manila, Philippines to Teodula and Juan Fontanilla. He is the 5th child of 6 children, sibling to Benjamin (late Carmelita), Beatriz (Franklin), Romulo, Ernesto, and Carlo (Tisha), and uncle to many nieces and nephews.
As a teenager, he came to the US and when he turned 20, he was drafted into the military. He served almost 3 years in the US Army and went overseas to Vietnam where he earned recognition for being a sharpshooter, and medals for good conduct and national defense service. He took pride in serving the US and in following his father's footsteps, who survived the Bataan Death March and 3 months as a POW.
After he served in the US Army, he landed his first corporate job at Bechtel Engineering Company where he met his wife, Annie. In 1979 he left Bechtel and got a job at PG&E. Later that same year Art and Annie got married and would go on to raise a family.
Along with spending quality time with his wife and kids, Art spent a lot of time with his cars. He's most known for driving around his 1977 yellow Formula Firebird with his famous license plate that read AFLOAT which stands for "Art Fontanilla Lives On at Another Time".
–via Legacy.com
---
SHERMAN LEE COLEMAN
1942-2020
---
LARRY GIOVANNONI
1950-2020
Local 1245 member Larry Giovannoni died on October 12 from cancer.  He was one of the best friends that I had.
Larry hired on as a lineman trainee at the City of Healdsburg in 1970. He eventually became a journeyman meter technician and our lead steward.
He was Old Healdsburg – the Healdsburg that was a small, remote farming town, not the high-end  tourist destination that it became.  His grandfather and his grandfather's brothers farmed five hilly acres in Geyserville.  Larry remembered his great uncles plowing on the steep hillsides with mules — first prunes, and then wine grapes.  Larry inherited the farm in the 1970s and he farmed it to perfection. There were no weeds.  There were no imperfections. At all.
His father owned the hardware store in town and Larry worked there as a kid.  He knew everyone in town, and everything about them. Having someone with that much knowledge about the City — and especially about members of the City Council — was an incredible resource.
I led negotiations at the City of Healdsburg from 1981 until the early 2000's.  Larry was on every negotiating committee that I led. City Managers came and went, Personnel Directors came and went, City Council members came and went – but Larry stayed. What very little he didn't know about the City's operations and finances could be filled in by others on the committee.
Those negotiations were a joy. Having more knowledge than the City negotiators was a luxury. Because of Larry, we expanded our representation at the City from the line department to all non-sworn employees.  I mentioned that Larry was hired as a lineman trainee in 1970, with a starting wage of $613.00 a month.  Today, the A Step apprentice lineman is paid $6,129.71 – a tenfold increase, thanks in large part to Larry's work on the committee.
He retired in 2007 and had good years with a good pension.  He had a wry sense of humor and wasn't afraid to call bullshit when he saw bullshit.  I visited him on his farm and have sweet memories from the 1980s of his son and my son (who is now an attorney for the Department of Justice prosecuting Medicare fraud) playing in their above-ground pool on a hot Sonoma County summer day. Larry made wine, and I could never leave his farm without him gifting me a case.
He lived a good life, and he was all that we could ask for as a steward and as a negotiating committee member. He loved his family, his dogs, his farm, and his union.  I don't know how it started but he called me "city cousin" and I called him "country cousin." I loved my country cousin. My life is better for having known him, and the lives of our members at the City of Healdsburg are better for his work on their behalf for over almost 40 years. May his memory always be a blessing.
Upon Larry's request, no service will be held. If you wish, you may donate in his name to Heartland Hospice Memorial Fund, PO Box 10086, Toledo, OH, 43699-0086
–IBEW 1245 Business Manager Tom Dalzell
***
Tom,
I want to thank you for your lovely, heartfelt obit for my brother Larry. One other note I wanted to add was that my brother-in-law, Howard N. Stiefer Jr, whom I know you knew well, also thought highly of Larry. He used to proudly talk about my brother's accomplishments for the union, which always meant a lot to me.
Thank you again
–Sandy Stiefer
---
VERN SMITH
1937-2020
James Vernon Smith (Vern), was a memorable man of many talents, great humor, and legions of friends. He was a longtime resident of Morgan Hill, CA. Vern was born on April 27, 1937 in Asheville, NC to the late Herbert and Bonnie Smith. He passed away unexpectedly on Sept 30, 2020 with his loving wife, Laura, at his side. He was preceded in death by sisters Jessie McWilliams, Alice Cards, Ruby Richards, and Evelyn Mason. He is survived by his sister Francis Corbin, many nieces and nephews, and daughters from his first marriage: Pam Guinn, Rhonda and Gloria Smith.
Vern moved to Northern California and in the 1960s he began work at PG&E. He held a variety of positions over a span of more than 50 years, starting in the gas department before moving to an apprentice lineman position then ultimately becoming a gas and electric superintendent. He enjoyed working in the electric construction field and although he retired in 1993, he continued to be actively involved with projects in various locales including Georgia and even Egypt. He was a natural leader and throughout his PG&E career he mentored many apprentices; he believed that if he trained new workers with dignity and respect they would carry that tradition forward to others.
When not working, Vern enjoyed hunting, fishing, golfing, gardening and pointing out an unending list of chores for his wife, Laura, to do. He was always helping others in need. More than anything, he was a kind and generous man who strove to treat all people with respect and fairness. He will be deeply missed. So raise a glass, share a meal with friends, help someone in need, do something that makes you feel good. Those acts would be a real tribute to his memory. In lieu of flowers donations can be made to the American Cancer Society.
View the online memorial for Vern Smith
(via Legacy.com)
---
MICHAEL WAID
1970-2020
We were informed of the passing of our brother Mike Waid.  Brother Waid passed away after  suffering a stroke on September 10th, 2020 after falling ill while working for PG&E to help the wildfire restoration efforts in Napa on August 28th. Mike was an IBEW brother for 19 years, working all of those years at PG&E in Gas General Construction. He started as a Utility Worker in the East Bay in October of 2001, and worked his way up to Backhoe Operator on the Peninsula before transferring back to Hayward to be closer to home. Mike was hard working, dependable,  and unassuming. Co-workers, and management alike will tell you from experience that he was a pleasure to have on any crew, or jobsite. He leaves behind his wife, son and daughter. Our prayers are with his family and loved ones during this time of loss.
–Anthony Brown, IBEW 1245 Senior Assistant Business Manager
---
ERIC MARSH
1973-2020
It's with great sadness that I share the news of our friend and colleague Eric Marsh's untimely passing. Eric started his career with PG&E back in 2005 in GC and most recently worked in Marysville as a Gas Compliance Rep on the Leak Survey Team.  Eric is survived by his wife and two children.  Eric was a musician, playing bass, guitar and drums in his band and also enjoyed riding his Harley.  He was a great friend, father and husband and will be truly missed by all.
— Ty Turner, Director, Gas M&C North
---
DONALD MOLER
1935-2020
via Legacy.com:
Don went work for Sierra Pacific Power Co. in 1954. He started as a laborer working on the flumes along the Truckee river that supplies water to the hydro power plants. He then went on to a 44 year career as a high voltage lineman, foreman, troubleman and inspector. During this time he was a proud member of IBEW Local 1245. He served as unit chairman in Reno and on numerous committees including the grievance and negotiating committees where he worked hard for good wages and benefits for all employees. He was most proud of being on the Joint Apprenticeship Training Committee where he helped oversee all of the apprenticeships at S.P.P.Co. He truly enjoyed instructing Apprentice Lineman in climbing school, in transformer theory and hot stick school.
Don served in Nevada Army National Guard for 12 years achieving the rank of Sargent First Class. In his younger years he earned the rank of Eagle Scout and belonged to the 20-30 Club. He was an avid hunter enjoying many a Deer and Sagehen hunt at Catnip Reservoir and being camp cook. Mostly, he enjoyed spending time with Josie and the rest of his family, especially his grandchildren.
---
GWENDOLYN WYNN
1940-2020
via Skylawn Memorial Park:
Gwen married Herbert Glenn Wynn, Sr. on July 26, 1964 in Stockton, CA. She attended Stockton College before transferring to the University of Hawaii on Oahu. Herbert was stationed in Hawaii, with the United States army, for two years. After returning to California, she took classes at a data processing and keypunch school in San Francisco, CA. She was then hired by a data processing company in Burlingame, CA where she worked as a night supervisor for two years. She applied to the Workman Compensation fund in San Francisco, CA where she worked for three years, applying her knowledge and key punching skills.
Gwen was hired by Pacific Gas and Electric (PG&E) in downtown San Francisco. She later became a Shop Steward for The International Brotherhood of Electrical Workers Union 1245. Pacific Gas and Electric offered Gwen a position as a business representative for IBEW 1245 where she worked for three years. She was also on call 24/7 as Gwen loved working with people – she was a people's person. In her travels, Gwen attended conferences and seminars as far as New Orleans to Florida and many states in between. She retired from Pacific Gas and Electric in 2005 after 32 years.
---
TRAVIS SHULL
1990-2020
A celebration of life will be held for Travis James Shull on July 11, 2020 at 1 p.m. at the Golden Beaver Distillery 13464 Brown Valley Rd. Chico, CA 95973.
Travis passed away on Tuesday, June 2, 2020 in Solano County as the result of a work-related accident.
He was born September 12, 1990 in Chico. Travis grew up playing baseball, and riding BMX bikes with his friends. In 2008 Travis graduated from Pleasant Valley High School. After high school Travis worked as an apprentice aircraft mechanic at Chico Airport. He later graduated from the Northwest Lineman College in Oroville in 2015.  From 2015 to present he was a proud card-carrying member of IBEW Local 1245.
In 2018 he interviewed and was accepted into the California – Nevada Joint Apprenticeship Training Committee and was ranked 12th out of 2000+ applicants. Travis' work ethic was unparalleled. He was very passionate about linework and widely respected by his lineman brothers. Travis was affectionately called "the walking spec book" by his coworkers because of his attention to detail and concern for the safety of his crew.
On his days off he enjoyed spending time with his dog Grizzly, friends, and family.  Travis especially loved being outdoors – camping, mountain biking and playing disc golf.
Travis was a loyal and dedicated brother and boyfriend.
He is survived by his girlfriend, Jasmine MacDonald and brothers, James Lehane and Nils Koenig.
Arrangements are under the direction of Brusie Funeral Home. Condolences may be made to the family at www.BrusieFH.com. A GoFundMe has been created by friends and family, and donations can be made at https://gf.me/u/x673nx.
---
JAMES EDWARD ALTER
1928-2020
Longtime Morgan Hill and San Martin resident Jim Alter passed away April 23, 2020, in Gilroy. He was 91 years of age. Jim was born at the Presidio of Monterey and was the son of the late Jacob Alter and Alice Jemm Alter. After 37 years with Pacific Gas and Electric, Jim retired in 1990. He previously served in the US Army Reserves and the Morgan Hill Police Auxiliary. Other organizations that benefited from Jim's involvement in the community were the Morgan Hill Parks and Recreation Commission, and Boy Scout Troop 799. He was an active volunteer with the Morgan Hill Swim Club, Morgan Hill Fish and Game, San Martin Lions, and the Gilroy Elks Lodge. Jim and his wife, Leonne, were Charter Members of Advent Lutheran Church. His legacy in the community has truly left an impact. As an outdoor enthusiast, he enjoyed hunting, fishing, and camping. Traveling to most states in the US, as well as Europe, Canada, Mexico, and the Caribbean, became an important part of his life.
Jim is survived by his loving wife of 69 years, Leonne Alter of Morgan Hill, and two sons, Bruce Alter (wife Julie) of Morgan Hill, Rich Alter (wife Pam) of Biltmore Lake, NC. He is also loved by four grandchildren, Ryan Alter of Morgan Hill, Whitney Alter of Los Gatos, Derek Alter (wife Caroline) of Nashville, and Brett Alter (wife Jaclyn) of Cleveland. Four great-grandchildren who always brought Papa joy are Colin, Carsen, Cole, and Brinley. Wonderful memories of Jim are treasured by his sister Ruth Johnson of Morgan Hill and numerous nieces and nephews. Three sisters, Virginia Walsh, Grace Sturla, and Marion Berlier Houser, predeceased their brother.
Private family services were held Thursday, April 30. A "Celebration of Life" public gathering in his honor will be planned later this summer once social distancing restrictions are lifted. He will be greatly missed.
For those wising, memorial contributions can be made to the Lucile Packard Children's Hospital at Stanford www.supportlpch.org) or to St Judes Children's Hospital ((www.stjudes.org).
–Rich Alter
---
KENNETH MYERS SR.
1937-2020
I grew up a lineman's daughter. I saw first-hand how the linemen do their job as my Mom would often drive by when we knew my Dad was working close enough and we would drive by just to see him from a distance. My Dad was my world.
I witnessed several on-the-job accidents. One of the biggest incidents happened — and some of the older members might remember — WHEN my Dad was electrocuted on the Oak Knoll Naval Base in Oakland.  He was gaffing the pole and working and he happened to shift and got caught in a 12,000 volt electrical current.
His partner that day managed to knock him lose from the current (I THANK GOD that his partner was placed with him there that day). He lived to tell that story, among numerous other stories — like when a semi misjudged going through an intersection and hit the bucket rig him and his partner were in, and sent them for a rough ride.
Also while working on another job, he was gaffing a damaged pole (unbeknownst to him) and a chunk of the damaged pole gave way and he fell 31 feet to the ground beneath him, landing on his feet. It completely shattered his foot & ankle (extensive damage) and compressed several discs in his back.
But he managed to come back from all his injuries and returned back to work yet again. We teased him that he had more than nine lives, his guardian angel was watching overtime on him. We often told him he had 13 lives instead of 9 ?.
He absolutely loved being a lineman, but ultimately had to medically retire himself due to the extensive pain he felt on a daily basis from his work-related fall. I know deep down inside it just crushed him to have to retire. He received his 60-year IBEW pen back in 2017.
My Dad did not smoke nor did he drink, but he managed to contract squamous cell carcinoma (cancer) and fought hard for three years (he was in remission for the last two years, again beating his work related accidents and beating his cancer). He was doing really well despite of everything. Unfortunately, on Feb 15 he succumbed to the Covid-19 virus, he had a fever, pneumonia and was placed on a ventilator. We ultimately as a family had to make the hardest decision to let him go.
If I can help just one other member's family, please have your member check to see that they are keeping up with their member dues. My Dad thought everything was fine and apparently we found out after the fact that my Dad was not current in his dues. My Dad worked and contributed 60 long hard years of his life (I won't say it was for nothing, because it truly was my Dad's passion) but ultimately left my Mom wasn't able to collect an IBEW 1245 death benefit.  Members PLEASE make sure you are current and contributing to your membership dues.
We lost one of the world's finest Journeyman lineman. My Dad will forever be gaffing the skies and Heaven above.
 –Kandi (Myers) Alexander
---
NEIL ORR
1965-2020
It is with a heavy heart I share that Neil Orr passed away last Saturday morning. Neil was 54 years old with 36+ years of PG&E service. He was a second generation PG&E employee and he worked as the Substation Maintenance Crew lead out of the Ukiah headquarters.  He is survived by Wife-Julie (nee Foley) Orr, Son-Christopher Orr and Son-Patrick Orr.  Preceded in death by Father-Neil Orr Sr. and Mother Sandra (Nee Thorstrom) Orr. There is a tentative scheduled celebration of life on July 11.
–Shannon Franklin, PG&E Substation M&C Superintendent
---
DAVID ROMERO MENDOZA
1988-2020
David Romero-Mendoza lost his life in an off-highway vehicle accident in Santa Rosa. The 31-year-old was working as a groundman for Mountain Enterprise, and had only been on the job for one month at the time of the accident.
---
JACK HILL
1931-2019
Jack B. Hill passed away peacefully on the morning of Dec. 25th, 2019, at the age of 88 in San Jose, CA. Jack was born in 1931 and raised in Clarkston, Washington, where he grew up with his beloved family. Jack entered the Navy during the Korean War and served for four years as an aviation ordinance man aboard the USS Princeton and USS Oriskany aircraft carriers. He moved to the Bay Area, where he worked for Pacific, Gas and Electric for 35 years. There he met his wife Kathy to whom he was married for 52 years.
Jack was initiated into IBEW Local 1245 in 1966. He was a dedicated trade unionist serving the union membership in various roles throughout his career. Just months after joining the local, Jack was serving a shop steward and soon after became the Clerical-at-Large representative on the Advisory Council, and in the mid-1970s served as a union business representative for two-and-a-half years.
He remained active with the union well into his retirement. Jack utilized the negotiating and organizing skills that he acquired over his career in the IBEW to gain improvements in retiree pensions and medical benefits.
After retiring from PG&E in 1987, he joined the South Bay Chapter of the Local 1245 Retirees Club. Jack made a point of visiting every chapter of the Retirees Club and coordinated a mail campaign to get PG&E retirees to contact the company about problems they were having making ends meet. After receiving thousands of postcards, PG&E agreed to increase pension payments for retirees.
In addition to his union activism, Hill also fought for the rights of senior citizens. He served on the board of directors of the Congress of California Seniors, and as a Vice President of California Alliance for Retired Americans, worked with the Council on Aging, and was a member of the SIRS 38.
In 2008, Jack was one of two pensioners selected to be a part of the Local 1245 Bargaining Committee. A key issue in those negotiations was the rising cost of medical care that was consuming an increasingly large share of pension checks.
An avid lover of the outdoors, Jack loved to tell tales of his pheasant hunting with his beloved bird dogs. Having raised two daughters and been a father figure to many, Jack looked after his grandchildren and a slew of neighborhood kids and friends who all looked up to him and felt his warmth and generosity.
Jack had lifelong friends and continually made new friends wherever he went. He was preceded in death by his mother Mildred, father Clarence, sisters Dorothy, Lora Jeane, and Doris, and brothers Meryl and Claude. He is survived by his wife Kathy, and daughters Kim, Jody, and Jill, 6 grandchildren and two great grandchildren. Memorial Service will be held Jan. 2, 2020 at 11:00 am at Oak Hill Funeral Home, Drawing Room Chapel, 300 Curtner Ave.  in San Jose. Jack will be buried with his family in Vineland Cemetery, Clarkston, WA.
–Roy San Filippo 
---
ALVIN HESKETT
1932-2019
Alvin J Heskett passe away peacefully in Lake Forest, Ca. on November 13th, 2019, with his daughter Shawn by his side. Alvin was born in Twin Falls, ID on July 22, 1932, youngest of three children. He grew up working on the family's small diary farm in upstate Washington. Alvin served proudly in the Marines as a radioman during the Korean War. He met his first wife Barbara while both enlisted and went on to have 4 children together. Alvin spent his career as a lineman (Local 1245 and IBEW), building high power lines across the U.S. and beyond. It was a dangerous and difficult job but he loved the camaraderie, travel, and adventure it entailed. Alvin remarried in 1978, to Virginia Petroff/Veronese and were married for 37 years until her passing.
He is predeceased by his parents, sisters, first wife, second wife, and daughter Jill. He is survived by is son Alvin Jr. (wife Marjory) daughters Jacqueline (husband Jan) and Ginny, stepson and daughter Daniel and Shawn Veronese, grandson Alex, and seven nieces and nephews.
–Shawn Veronese, Brother Heskett's daughter
---
CORB WHEELER
1935-2019
It is with a heavy heart that we announce the passing of IBEW 1245 brother Corb Wheeler, who passed away the evening before his 84th birthday. Brother Wheeler was initiated into the IBEW in 1969 and worked as a business rep and assistant business manager at IBEW Local 1245 from the early 70s until the late 90s.
"He was a mentor for me as long as he worked for 1245.  I don't know if 'wry' or 'sardonic' is the best word to describe his manner, but he was both," said IBEW 1245 Business Manager Tom Dalzell. "Local 1245 is better and its members are better off because of Corb's work."
"He kept the brotherhood close to his heart and wanted all to become members. He believed that together we can accomplish more than when we are divided," said former Business Rep Bob Martin, who developed a close and long-lasting friendship with Wheeler. "I remember that he was always in a learning mode, seeking to discover new things. I confess, he taught me a lot about being patient and not wanting things done now … He was a great leader."
READ BROTHER WHEELER'S FULL IN MEMORIAM.
---
GEORGE KINSEY
1925-2019
To those of you who either go way back into the 1945 to 1980s era at PG&E or who knew George through his daughter Georgia and her husband Mike (also a PG&E Lineman/T-Man on the peninsula and eventually the best Superintendent the City of Healdsburg ever had), you may remember that George was an old school Lineman and then Troubleman at PG&E before hydraulics were considered a viable option to knowing how to actually sneak up a congested City of SF pole and figure out what was going on.  He started his career at PG&E back in 1945 and retired out of San Francisco division as a T-Man in 1982.
George maintained his ties to IBEW through his membership as a retiree and he will be deeply missed by his family that includes all of his brothers and sisters at Local 1245 of the IBEW.
George was born in Glendale, California in 1925.  His parents left Glendale in 1929 and were headed to Oregon when their vehicle broke down in San Francisco.  That is where they made their Jone. George is survived by daughters Georgia (Mike Hayes) of Sebastopol, Linda (Dan Orme) of Washington and son Mike (Becky Kinsey) of Oregon.  George was preceded by wife Dorothy and granddaughter Michelle Hansen. George had six grandchildren and nine great-grandchildren.
It is with a touch of sadness and a tip of the hard hat that we know George got that last transmission over the air, "Brother Kinsey, crews have confirmed that all grounds men and equipment are in the clear.  You have permission to close that last switch on the log and get some rest."
–JV Macor, IBEW 1245 Business Rep
---
JESUS BERRIOS
1986-2019
Thirteen-year IBEW 1245 member Jesus Berrios tragically lost his life in a motorcycle accident that occurred on the Carquinez Bridge on Sept. 22. He was working as a GC cable splicer for PG&E at the time of his passing.
"Jesus was a second generation Cable Splicer and a great one at that," said his friend and co-worker Nate Fuchs. "Working in San Francisco and going through our apprenticeship together he taught us great life lessons and touched the hearts of many people. He would give you the shirt off his back with no hesitation. He was a great union brother and was like family. He went through more hard times in life than any of us should have to endure but always kept a smile on his face and came out on top. Jesus lived life to the fullest and took pride in everything he did. Our deepest condolences to his amazing wife and family we are truly sorry for your loss and he will always hold a place in all of our hearts. RIP brother."
Memorial Services for Brother Berrios will be held on Sunday Sept 29 from 11am to 3pm at Skylawn Funeral Home & Memorial Park, Highway 92 & Skyline Blvd in San Mateo.
A GoFundMe has been set up by the family. Please contribute what you can at https://www.gofundme.com/f/jesus-berrios-fund. 
---
FRANCISCO CARDOZA
1997-2019
Sad to report that IBEW 1245 member Francisco Cardoza was shot and killed while on vacation with family in Mexico. We was just 21 years old. Brother Cardoza was initiated into 1245 in March of 2019. He was employed by Davey Tree and living in San Pablo, CA at the time of his passing.
More information will be posted as it becomes available.
–Junior Ornelas, IBEW 1245 Business Rep
---
FEDERICO (FRED) GOMEZ
1959-2019
It is with deep sadness that I inform you that we lost one of our teammates, Federico (Fred) Gomez.  Fred passed away on August 6, after battling the effects of a serious illness.  He was a loyal employee who spent 34 years with PG&E. Fred is survived by his children, Daniel and Jocelyn,  and a loving extended family.  Our thoughts and prayers go out to his family, friends and colleagues during this difficult time.
Fred was a valued employee in San Francisco Service Center.  He was a Gas Crew Foreman that worked hard day and night.  He will be missed by all for his actions and the numerous young lives he positively impacted as a coach and by his peers here at PG&E.
Services are as follows:
Viewing: Thursday, August 15, 2019 6:30PM Garden Chapel, 885 El Camino Real, South San Francisco, CA  94080
Funeral:  Friday August 16, 2019 10:00AM Holy Angels Catholic church, 107 San Pedro Rd, Colma, Ca  94014
Burial Procession: Holy Cross Catholic Cemetery 1500 Mission Rd, Colma, Ca  94014
Reception following:  The State Room 306 Baden Avenue, South San Francisco, CA  94080
–Helen Jackson, PG&E Bay Region Restoration Field Operations
---
OSWALDO BADILLA
1971-2019
23-year IBEW member Oswaldo Badilla passed away on April 22, 2019, shortly after being diagnosed with stage 4 renal cancer. He was working as a PG&E gas service rep out of Napa, and he leaves behind a wife and three children.
A visitation service will be held in the chapel of Napa Valley Memorial Park (2383 Napa Vallejo Highway) Wednesday May 1, 2019, at 4:30 pm. The memorial service will be held there on Thursday, May 2, 2019 at 11:00 am.
Support the Badilla family here.
---
ANDREW MACHI
1980-2019
17-year IBEW member Drew Machi tragically lost his life while on vacation to celebrate his 39th birthday. He was working as a PG&E troubleman out of the Jackson yard at the time of his passing. He leaves behind a loving wife and three children.
Learn how you can support the Machi family here.
---
DAVID FRUHWIRTH
1965-2019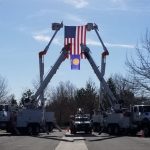 35-year IBEW member David Fruhwirth passed away on Feb. 20 after a battle with cancer. He had been working as a Journeyman Lineman/ Troubleman at NV Energy.
This photo was taken during a memorial service for Brother Fruhwirth.
–Casey Kelley, IBEW 1245 Business Rep
---
ROBERT "BUBBA" AVERY
1950-2019
Robert "Bubba" Avery passed away on January 15, surrounded by family and friends. Bubba was proud 45-year IBEW member, journeyman lineman, and member of the union's Advisory Council, representing outside construction.  If you ever got to hang around Bubba you know he was quite the character and always fun to be around.
Bubba will always be remembered as the author of the tramp lineman poem that is up on display at the IBEW 1245 union hall.
Bubba's service will be held on February 1st at 3:00pm at the Scottish Rite Temple, 6151 H Street, Sacramento.
–Liz McInnis, IBEW 1245 Business Rep
---
MICHAEL DAVIS
1943-2019
Michael Davis—Executive Board member, Treasurer, Vice President, President, and 40-year Shop Steward for Local 1245—died Jan. 3 at age 75.
His knowledge of electric operations earned him high regard as a system operator in San Jose, while his deep commitment to labor's cause won the respect of his union brethren. He turned a quiet personal style into a strength: He didn't hurry. He listened well. He spoke up when it mattered.
Read IBEW 1245's tribute to Brother Davis here.
---
ERIC TANAKA
1950-2019
Brother Eric Tanaka passed away suddenly in Sacramento. Tanaka was initiated into the union in 1973, and was an active IBEW 1245 member for many decades, serving as a shop steward and friend to his co-workers at Frontier Communications in Elk Grove. He retired in 2013 after 40 years in the union.
The funeral will take place on January 11, 2019 at 11am at St Luke's Lutheran Church on 7595 Center Parkway Sac 95823.
His full obituary can be found here.
---
WILLIAM A. WALKER
1960-2018
Journeyman Lineman and 20-year IBEW 1245 member William Walker tragically lost his life on Oct. 10, 2018. He was reportedly driving home from signing the books at the Local 1245 union hall when he experienced trouble breathing and pulled over to call an ambulance. They were not able to resuscitate him.
"He always had a positive demeanor and a chuckle that made me smile," said IBEW 1245 Dispatcher Gina Britt, who had known Walker ever since her first week on the job at the old IBEW Southern Hall. "He had an easy-going nature and lightheartedness that I felt in person and over the phone."
Visitation services will be held on Sat., Oct 20 from 9-11am at Hatfield Funeral Home, 830 S Highway 92, Sierra Vista AZ 85635.
---
MATTHEW SIMMONS
1981-2018
We deeply regret to announce the passing of five-year IBEW 1245 member Matthew Simmons. Brother Simmons was working as a top foreman for Utility Tree Service in the Colgate Division when he collapsed on the job on Sept. 26. He passed away on Oct. 5 in Marysville, reportedly due to complications stemming from an ascending aorta. He was just 37 years old.
According to Brother Simmons' obituary, "He loved to laugh and make a difference in lives around him. He would do anything for a friend in need. An avid sportsman, he loved kayak fishing, hunting, camping, and wakeboarding with family and friends. Ever the competitor, he caught a 30lb salmon to retain bragging rights."
He leaves behind his loving wife, Rebecca, and two teenage sons, Aaron and Jared. A funeral service will be held Friday, October 12, 2018, at 2:00 p.m. at Gridley Biggs Cemetery, in the gazebo. A celebration of life will be held at the home of Dennis and Pam Morrison, following the service.
---
RICHARD DUNKIN
1944-2018
It is with a heavy heart that we announce that former IBEW 1245 Business Rep Richard Dunkin passed away on August 25 at the age of 74 due to illness. Brother Dunkin was initiated into the IBEW in 1967, and worked as a journeyman lineman for many years. He later served as an IBEW business rep, supporting Local 1245 members in outside construction.
"Richard was a great man! He will be missed," said IBEW 1245 Executive Board member Mike Cottrell. "Our deepest condolences to his family in the loss."
Brother Dunkin's dear wife of nearly 30 years, Bonnie, passed away earlier this year after a battle with cancer. Dunkin himself had been dealing with health issues for the better part of a decade, and our entire IBEW family mourns his passing.
A memorial service will be held for Brother Dunkin on Saturday, October 6, at noon at the Lions Club Rodeo Grounds, 19400 Ave 398 Woodlake Ca 93286.
---
JAIRUS AYETA
1997-2018
It is with an exceedingly heavy heart that we announce the passing of IBEW 1245 member Jairus "Jay" Ayeta. Brother Ayeta, a PG&E GC apprentice lineman, was working to restore power in the Carr Fire zone when he was reportedly involved in a fatal off-road vehicle accident. He was just 21 years old.
Brother Ayeta hailed from Kampala, Uganda and was working out of the Davis yard at the time of his death. He had previously worked at Pike Electric in Florida. Friends describe him as upbeat, hard-working, personable and an avid learner.
He was also steadfastly committed to the craft. Shortly after securing his first job in the industry, he wrote on Facebook, "Working for a power company made me realize I made the best decision of my life, everyday's something new, can't wait to see what the future beholds."
His presence will be missed by his apprentice class and all those who had the fortune to know him.
---
WILLIAM HENDERSON
1958-2018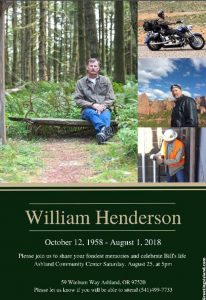 William Amzie Henderson, age 59, passed away Wednesday August 1 in his home surrounded by his loving family.
Bill is survived by his beloved wife of 35 years Alois, his two children Melanie & Justin, grandchildren Erika & William and his brother Carl Henderson.
Bill Henderson was born October 12th 1958, in Modesto California to William Henderson and Oleta Milburn. William graduated from Hilmar High School in 1978 and married the love of his life Alois Zak in 1983. They had two children and lived in the Central Valley until 1999 when they moved to Grenada, California and eventually Southern Oregon in 2006.
Bill was a hardworking family man. He began his career with Pacific Gas & Electric Company in 1985 as a utility worker. He quickly became a welder and was a respected Gas Transmission Foremen in 2016 when he retired. His career took him all over California, with the majority of those years spent in Chico and the Bay area.  He was loved and respected by his crew, coworkers and all those who worked alongside him. Following his cancer diagnosis, he retired after 31 years.
In his free time, he enjoyed traveling with his wife, diving, riding his Harley, and tinkering in the garage. But what he loved most was spending time with his grandchildren, whom he doted upon.
He was a kind man who always put others before himself. He could fix anything and would give the shirt off his back to a friend in need. He was a great friend, an even better father, and a supportive and loving husband.
He will forever be in our hearts and will be greatly missed by our friends and family.
A memorial service will be held on August 25 at 5pm at Ashland Community Center in Ashland, OR.
Click here to leave a message of condolence for the family.
---
SHANE KEYSER
1983-2018
submitted by Assistant Business Manager Anthony Brown
It is with a heavy heart that we announce the passing of seven-year IBEW 1245 member Shane Keyser, who lost his life in an auto accident on April 28, 2018.
Preliminary reports indicate that Brother Keyser, who worked as a PG&E Gas Compliance Rep out of Redding, was involved in a head-on collision while he was traveling back to his home in Cottonwood after assisting in preparations for the upcoming IBEW/PG&E Gas Rodeo event at the Winters Training Facility. Keyser was a well-known face at Gas Rodeos, even making it to the National Utility Locate Rodeo back in 2016. Keyser is survived by his wife and three young children.
---
JOSEPH MOREDA
1936-2018
Submitted by Business Rep JV Macor
On April 5, we lost retired brother Joe Moreda. He was an active and loved presence at our Santa Rosa Retiree Club.
A funeral mass for family and friends will be said on Thursday April 12, at 11:00 a.m. at St. Vincent De Paul Catholic Church in Petaluma.
---
CHARLES RAY DAILY
1944-2018
submitted by Shane Daily
Our beloved father, husband, papa, and friend, Charles Ray Daily of Vacaville, CA, passed away peacefully on March 27, 2018, in Napa, CA.  He was surrounded by his family, close friends, and his dog Chaysie. He fought a courageous battle with Parkinsons for many years.  He was proceeded in death by his brothers Jerry and Dan; and their parents Steve "Dub" and Irene Daily.
Charles was born on August 6, 1944 at Sargent, Nebraska, and was raised on the Daily Farm where he learned the value of hard work, the importance of family, and a love of Country. He grew up surrounded by countless cousins, aunts, uncles, and close friends, that helped shape the man he would become. He attended school in Milburn, NE until graduating from Merna High School in 1962. He left the Sandhills of Nebraska for Marine Corps Recruit Depot San Diego, CA with brother Dan, cousin Marvin, and some high school friends.  His Marine Corps career was cut short in boot camp, and he settled in the Bay Area CA.
He was hired as an apprentice lineman with PG&E in 1967 to begin a career that would span 5 decades, and 40+ year member of the IBEW L.U. 1245 as a Journeyman Lineman.  When not working you would find him spending time with family, playing cards, listening to live music, enjoying bay area sports, watching news radio, or making memories with his grandchildren.  He will be greatly missed by all who knew him.
Charles is Survived by his Brothers Walt (Cathy) and Joe (Lucretia) of Arizona, his wife Peggy, children Shane, Sher (Tim), Kelly (Randy), Renee, and grandchildren Tina (James), Alix, Jacob, Josh, Liam, Cayden, Ben, of CA, and countless other family and friends!
Donations may be made to www.MichaelJFox.org foundation to continue the search for a cure for Parkinsons.
---
DOUGLAS "BIG DOG" LINDSTROM
1944-2018
Submitted by Business Rep JV Macor
We are sad to announce that Doug Lindstrom passed away on February 12, 2018. Doug was a 1245 member for many years and spent most of his membership as a seasoned line hand with LMUD and Plumas Sierra. When he left LMUD and Plumas, he continued to practice his craft by training many 1245 Public Sector linemen as a line school instructor for Ruralite.
Eventually Doug founded Evergreen Job and Safety Training and continued to provide much needed training to our members in the field of linework, metering and substations. Doug had an established life hierarchy that was unshakable… his strong faith came first, his unequaled love of family followed and his passion for the line trade permeated it all…. he lived and breathed linework and cared deeply about every person he ever taught.
He will be missed by all who were lucky enough to know the Big Dog.
---
PAUL MILLER
1937-2017
Brother Paul Miller passed away on November 8, 2017. He first joined IBEW 1245 in 1960, and retired in 1996.
---
WALTER "SARGE" CARBAUGH
1957-2017
14-year IBEW member Walter Carbaugh passed away on Sept. 7. He served in the military for 42 years. Sarge is survived by his wife, three children and four grandchildren. Read his obituary here.
---
KIRK JONES
1940-2017
33-year IBEW member Kirk Jones passed away at Doctors Hospital in Modesto on Sept. 24.
He worked as a lineman for PG&E, served in the US Army for two years, and was a regular contributor to many animal rescue organizations. Read his obituary here.
---
VERNON LOVEALL
1938-2017
We regret to announce the passing of former IBEW 1245 Senior Assistant Business Manager Vernon Loveall, who passed away on Sept. 26 at the age of 79.
"Vernon Loveall was intelligent, and the kind of person who would always think before he spoke," said former Business Manager Jack McNally. "He was low-key. I think this approach worked in his favor, and impressed most people he met."
Brother Loveall was initiated into the union in 1961, and became active in the union soon after, serving as a shop steward, Executive Board member and Advisory Council member during his three-plus decades as a Local 1245 member.
Read the full In Memoriam here.
---
DOUG BRADY
1964-2017
Doug Brady passed away peacefully at his home in Marina on June 19 , 2017 after a long hard battle with cancer. He was able to spend his last day surrounded by his family and friends. He leaves behind his wife Sherry and his two daughters Lyndsey and Ashley.
Doug was initiated into IBEW Local 1245 in June of 1984 after he was hired by P.G.&E. as an Apprentice Lineman in General Construction. He progressed thru his apprenticeship and became a Journeyman Lineman. After some time he was promoted to Subforeman A. Later on in Doug's career he transferred over to Moss Landing Electric Transmission as a Lineman, later accepting a position as one of the two Transmission Troublemen. Doug was a good teacher, foreman and friend and he will be greatly missed by all those who knew him.
---
BORIS CHAVEZ
1973-2017
On Saturday, June 17, 2017, our union brother and Shop Steward Boris Chavez passed away after a brief battle with an unknown illness.
Brother Chavez was an Electric Distribution System Operator for PG&E and an IBEW 1245 union member since 2006. After only two years as a member, Brother Chavez became a Shop Steward, and soon became known as one of our most knowledgeable and dedicated Stewards.
---
DAVID COMBS
1965-2017
27-year member David Combs passed away at the hospital in Wednesday, May 3, after a long battle with a illness. He was employed at PG&E as a GC Gas Working Foreman B. His funeral will be held on Friday, May 12, 2017 in Livermore.
---
TONY MARTINEZ
1971-2017
New member Tony Martinez lost his life in a motorcycle accident on Thursday, April 20. He was hired on as a Tree Trimmer for Wright Tree Service at the beginning of 2017, and leaves behind a girlfriend, step-daughter and new baby.
---
MARK VICKERS
1968-2017
13-year member Mark Vickers passed away on April 9, 2017 at the age of 49. He was employed as a Gas Compliance Rep at PG&E.
---
TIMOTHY RIBLETT
1961-2017
Tim Riblett, a PG&E compliance inspector out of the Bakersfield yard, lost his life in an off-the-job car accident on April 2, 2017. His wife Kathy, a former PG&E employee, was also in the vehicle and sustained injuries.
A vacation sale has been set up for the Riblett family. Learn more here.
---
DELANO HUDSON
1969-2017
Eight-year IBEW 1245 member Delano Hudson lost his life in an off-the-job car accident on April 2, 2017. He was 47 years old, and was employed by PG&E as an Apprentice Cable Splicer in Richmond at the time of his death.
Funeral services have been set for Tuesday, April 11, 2017 at 11am at Hilltop Church of Christ, 3301 Morningside Dr., El Sobrante, CA 94803
Flowers, cards and condolences may be sent to Maxine Watson (mother), 2716 Wiswall Dr., Richmond Ca 94806.
A vacation sale has been set up through the Company. For more information, click here.
---
BRYAN REGER
1978-2017
Thirteen-year IBEW member Bryan Thomas Reger passed away from a heart attack on March 24, 2017 at the age of 38. Reger was employed as a Troubleman for Liberty Utilities at the time of his death.
Brother Reger leaves behind a wife and four children, and they need plenty of support during this difficult time. The family has set up a GoFundMe page; please contribute what you can using the link below.

---
NASH MAYER
1976-2016
It is with great sadness that we announce the death of IBEW Local 1245 member Nash Mayer. Brother Mayer was a line clearance tree trimmer employed by ArborWorks. He was working on a job for PG&E when he suffered fatal injuries while doing drought-related vegetation work in Mariposa County on Dec. 1.
Brother Mayer leaves behind a wife and ten children, ranging in age from 20 years to just four months old. Friends of the family have set up an online fundraising page to help the family during this holiday season. To contribute, please visit https://www.gofundme.com/helping-hands-for-the-mayers.
---
FRANK SAXSENMEIER
1935-2016
It is with a heavy heart that Local 1245 mourns the passing of former Business Rep Frank Saxsenmeier. Brother Saxsenmeier passed away on November 7, 2016, just one month before his 79th birthday.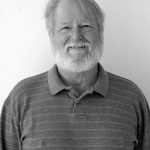 "Around the union hall, Frank was known as 'Dad,' a nickname he earned because of his calm demeanor and wise presence," said Local 1245 Business Manager Tom Dalzell. "He was the kind of person you could count on; well-respected and valued by members and fellow reps alike. He will be sorely missed, but his memory and legacy will live on for years to come."
Saxsenmeier was initiated into Local 1245 in November of 1959, when he first began working for PG&E. In fall of 1978, he joined the union staff as a Business Rep, and over the years he represented members all across the Bay Area and held a number of different assignments, including PG&E Diablo Division, East Bay Steam, Materials and local GC, as well as Foster Wheeler, AC Transit, City of Alameda, City of Berkeley, City of Oakland and Davey Tree.
---
CHRISTOPHER CLARK
1944-2016
Submitted by Business Rep JV Macor
It is with great sadness that I let you all know that this weekend, one of our own from Healdsburg was taken from us.  Many of you can remember Christopher Clark, the fantastically happy Bus Driver/Meter Reader that we were so lucky to have had in our fold until he recently retired. On  Saturday, November 5, 2016, he succumbed to a quick and brave fight with an aggressive brain tumor. He passed in his home surrounded by those who always loved him and who always will.
With no doubt that his proud roots sank deep in his native New York, his telltale accent was the exclamation point on everything he said to co-workers and citizens of Healdsburg, always funny, always happy and always a gentleman.  After decades of Communications Workers of America Telecommunications Tech work spanning from New York to California, there was no doubt that Chris was an old-school union working man. When he came to Healdsburg, he jumped right in and became a proud IBEW Local 1245 brother to us all.
He is survived by his wonderful wife, Toni, and their two loving children.  Toni has asked that all Chris' friends, brothers and sisters who remember him and wish to stop by and pay their respects, share a funny story or just raise a glass can do so on Saturday November 12, 2016 from 2pm to 5pm at their residence in Windsor: 7255 16th Hole Drive, Windsor CA 95492.
---
BILL CHAMBERS
1943-2016
William E. Chambers passed away on Sept. 2, 2016. He served as an IBEW 1245 shop steward for many years when he worked for the US Bureau of Reclamation (USBR) before retiring in 2005.
"I worked with him on a USBR arbitration in 1989, which at the time was our biggest arbitration win," said IBEW 1245 Business Manager Tom Dalzell. "He was a good man."
According to the Trinity Journal:
He helped with Boy Scouts, Girl Scouts, Awana, coached Little League, T-ball and Youth Baseball. He served on the Lewiston Elementary School Board and Lewiston Community Services District. He was a 23-year member of the Lewiston Volunteer Fire Department where he served as an EMT-1A-D, and the ambulance captain; he was also a CPR-first aid instructor.
He helped draw up plans for the Lewiston Community Church, the snack bar/announcers booth at the baseball field, the Lewiston Park Pavilion, and many other places in the town. He was a member of the Red Cross DAT and served on the cemetery and water boards. In 2004 he was appointed to the Trinity County Board of Supervisors by then Gov. Arnold Schwarzenegger. He was truly honored and loved that position, he felt the need and fought hard to keep Trinity Hospital open to help the citizens of the county. He worked hard with other passionate issues including airports and lookouts.
Please join his family and friends at 3 p.m. Saturday, Sept. 10, at the Lewiston Community Church. Please wear bright colors and for our Relay family, if you'd like, please wear your favorite Relay shirt. Donations can be made in Bill's name to the Shriners Hospital for Children in Northern California, 2425 Stockton Blvd., Sacramento, CA 95817.
Click here for the full obituary.
---
DAVID SPURGEON
1964-2016
We regret to announce the death of IBEW 1245 member and PG&E Meter Maintenance Tech David Spurgeon. Preliminary reports indicate that Brother Spurgeon died when his vehicle flipped over into a canal while he was driving on a levee road. He was 52 years old and had been working for PG&E for the past 28 years.
---
TOM MURPHY
1952-2016
Thomas Kevin Murphy passed away on May 21, 2016. He was a 19-year member of IBEW Local 1245 and had worked for PG&E as a Compliance Inspector at the Cupertino Service Center before retiring in 2015.
From the San Jose Mercury News:
Tom loved hiking and traveling. He was a avid motorcyclist and traveled through the country with his life-long friend and fellow motorcycle enthusiast, Dennis Alongi. Tom was a beloved grandfather, father, son, brother, and friend and he will be greatly missed. Private services will be held. In lieu of flowers, memorial contributions may be made to Sierra Club Memorials, 2101 Webster St. Ste 1300, Oakland, CA 94612
---
BOB CHOATE
1945-2016
Bob Choate loved line work. Even when he was just starting out as a PG&E groundman in the mid-1960s, he avoided taking sick leave because he was afraid he might miss something new.
Choate, who died suddenly on March 1 at the age of 70, gave the next 40 years of his life to the trade, first as a lineman for PG&E and later as a union representative. He earned widespread respect for his knowledge of line work, but even more so for his commitment to his peers.
"There is nothing he wouldn't do for a union brother or sister," said IBEW 1245 Business Manager Tom Dalzell.  "He gave his all to Local 1245, and we are better for it."
For those who wish to pay their respects, the viewing will take place on Sunday, March 6th, between 2:00 – 6:00pm at Daneri Mortuary, 415 Broadway, Jackson, CA. The service will be on Monday, March 7th, 11:00am at Immaculate Conception Church, 125 N. Amelia St., Sutter Creek, CA.
---
THOMAS DINGWALL
1934-2016
Submitted by Local 1245 retiree Ken Rawles
I remember working with Tom at the Geysers Unit 1 & 2 when I was a Substation Maintenance helper out of the Santa Rosa shop. When the Geysers started with unit 1 & 2, every worker held a dual position of their position /operator. Tom knew all the units on the project before retiring. We will miss his humor and own style of witt. Rest in Peace Tom.
From the Press-Democrat:
DINGWALL, Sr., Thomas A. Also known to his family and many friends as Tammy, Gramps or Daddy Dinger, Tom passed away at home in Santa Rosa, CA, February 15, 2016 at the age of 81. A native of Santa Cruz, he was reared and educated in Petaluma, graduating from Petaluma High School, Class of 1953. He later attended SRJC and PG&E Electrical Training. Tom also served in the National Guard for 20 years and he retired from PG&E in 1993 after 35 years of service. After retirement, he worked another 18 years at the Konocti Vista Casino until 2013. He is survived by his wife, Shirley Dingwall and is the beloved father of Kathryn Schnell (Steve), Mary Clifford (late Mike Clifford) and Tom Dingwall, Jr. (Nellie). Cherished grandfather of Court Dingwall (Taryn), John G. Frazell (Sarah), Jennifer Searles (Kasey) and Katie Frazell. Loving great-grandfather of Ava Dingwall and Charlotte Frazell. Also survived by his brother Joe Kelly; his sister-in-law, Topsy Agius and family and dear friends David Carmichael and Mark and Genia Turner. At the request of Tom, there will be no services.
---
JEFF JOHNSTONE
1948-2016
We regret to announce that longtime IBEW Local 1245 member and former Business Rep Jeff Johnstone passed away at the age of 68.
Brother Johnstone was initiated into the IBEW in 1968. He worked for several Local 1245-represented Outside Line contractors during the 90s before joining the Local 1245 union staff as an Outside Line Rep in the Riverside office (prior to Local 47 assuming the representation of the southern part of the state).
"He was a great worker, intelligent, and a good union man," recalled Local 1245 Rep Mark Rolow, who worked on several assignments with Johnstone.
"Jeff was a true blue unionist.  He had a sharp sense of humor and knew the line construction industry and world as well as anyone," said IBEW 1245 Business Manager Tom Dalzell. "He made me laugh and made me proud."
Brother Johnstone's memorial service is scheduled for Sunday, Jan. 24 at 1pm at Sunset Memorial Park in Apple Valley.
---
KENNETH "ARLEN" WILLIAMS
1989-2015
We regret to announce that IBEW Local 1245 member Kenneth Arlen Buck Williams died on the job on Dec. 30 in a forty to fifty foot fall East of Orleans, CA  in Humboldt County. Williams was 26 years old and had been employed by Wright Tree for a little over three years. The Orleans area had been hit hard with snow and many trees had failed as a result of snow loads. The power had been restored but there were still hundreds of trees damaged and threatening the lines. The accident occurred during the effort to eliminate these hazard trees.
The following obituary was published by the Sanders Funeral Home:
Kenneth Arlen Buck Williams was born in Everett, Washington on December 12, 1989 and left us to start his journey on December 30, 2015 at the young age of 26. He is survived by his wife Future Williams, children Kila:gyah, Nas-che-wen, and Ben Jr., his Father Anthony Paul Williams Sr., his Mother Reylyne Phyllis Davis, Maternal Grandmother Ethel Ruth Davis, Paternal Grandmother Claudette Parazoo, Brothers Aaron & Alaina Williams, Talon Williams, Joseph Lewis, Sisters Samantha Norton and Stormie Lewis and many aunts, uncles and cousins.

On February 23, 2013 he married his best friend and love of his life in Lake Tahoe, California. Arlen was a man of many great talents. He loved playing sports, he was a very competitive player no matter what sport he was competing in. He was a volunteer coach for youth softball and basketball. He was a man of his word and just an all around kind hearted and loving person to many people. Arlen was a hard worker who provided for his family to make sure they were comfortable and well taken care of. He enjoyed his time with Wright Tree Services and the crew that he worked with.

Arlen lived his life to the fullest with a smile on his face. As a child, Arlen loved being in the trees or at the top of high surfaces. He had "NO FEAR". When he was younger, he would follow his older brother Aaron to baseball practice dragging along a bat and mitt. Arlen loved being outdoors cruising the mountain tops, hunting, fishing, eeling, mushrooming and cutting wood. Arlen had unconditional love for his family and friends. He was a loving person and will be greatly missed by many.

He is preceded in death by his Grandfathers Reggie Davis, Kenneth Williams and Herman Sherman Sr., Grandmother Elizabeth Montgomery, Brothers Anthony Paul Williams Jr.(Lil Tulalip) and Kanoe Williams, Uncles Reggie "Babes" Davis Jr. and Ramey Davis, Ronnie "Deanie" Davis.

There will be a wake service held Wednesday, January 6th at 6:00 pm at his home on 38 Hospital Road in Hoopa. Funeral services will be held at the Hoopa Valley Tribal Neighborhood Facility on Friday, January 7th at 11:00 am. Burial will be held at his residence, immediately followed by the reception at the Hoopa Fire Hall.
---
CLIFFORD BENGS

1975-2015
It is with great sadness that we announce the death of IBEW 1245 Lineman Clifford (Cliff) Bengs of Redding.
Bengs, a 13-year member of Local 1245, was working as an Electric Crew Foreman at PG&E when he was involved in what appears to have been a rigging accident on Sept. 30 that took his life.
"Our deepest condolences go out to Brother Bengs' family, friends and co-workers," said Business Manager Tom Dalzell. "As a union, we do everything that we can to ensure our members' safety at work, but unfortunately, accidents sometimes happen, and in this case, a good man lost his life. He will be honored and remembered."
Bengs was 40 years old, and is survived by his wife (Norie), daughter (Gilianne, 3 years old), son (Ethan, 15 months old), mother (Marcia), siblings (Alicia, Bryant) and extended family members. To send a donation or kind word to Bengs' family, click here.
Services for Cliff Bengs will be held on Thursday, October the 8th at 10 a.m. at Anderson River Park, KC Grove Pavilion, 2800 Rupert Road, Anderson CA 96007. The services will be followed by a procession to Saint Joseph Cemetery, 4075 Eureka Way, Redding CA. A reception at the park will follow.
---
JAMES ELSIE
1939-2015
Submitted by his wife Mary
James Elsie worked for PG&E, Drum Division, and retired in 1995 after 32 years. He passed away on August 13, 2015 at the age of 75.
From the Auburn Journal:
Mr. Else was born in Mt. Carmel, Mont. on September 11, 1939 to Vera Lee and Earl Edward Elsie. He graduated from High School in Houston, Tex. in 1956 and enlisted in the Air Force in 1957, James served his county in the Air Force until 1963. He lived in Auburn for 38 years. He is survived by his devoted wife Mary K Elsie, his son Dean Elsie, daughter Deanna Fernandez and cherished grandson Ryan.
---
CHARLES F. MEIER

1916-2015
Submitted by Ken Rawles, Unit recorder, IBEW 1245 Santa Rosa Retirees Club
We will all miss Charles's Smile and laughter that he brought to our retiree club meetings over the years. For the last several months, Charles was unable to attend the meetings due to his medical condition. He asked Art Fahrner, our club president, to still call him each month to "keep him in the loop." Rest in peace brother!
From the Santa Rosa Press Democrat:
MEIER, Charles F. 99, peacefully passed away at home in Santa Rosa, California on July 11, 2015. Charlie was born to Charles and Elizabeth Meier in Azusa, California. He was a welder for the Navy at Mare Island during World War II. He also worked for PG&E Santa Rosa division where he retired after 24 years. Charlie loved camping, RVing, traveling, watching sports and dancing. He served as president of the Santa Rosa Folk Dancers for several years. Most of all, Charlie loved his family. He is survived by his wife Sharon Meier; daughters Beverly Brooks and Billie Meier; son Charles (Pat) Meier; five grandchildren; six great-grandchildren; three step-daughters, Beth Justice, Cindy (Steve) Dolman and Karen (Stan) Smith; three step-grandsons; and one step-great-granddaughter; niece Nancy Minthorne; great-nephews; and other loved ones. The family would like to thank each caregiver from Sutter Care at Home in Santa Rosa. They loved and cared gently each day. Donations may be made to Sutter Care at Home, 110 Stony Pt. Road. #2004, Santa Rosa CA 95401. A Memorial Service will be held on Friday, July 17 at 1:00 p.m. at Chapel of the Chimes, 2601 Santa Rosa Ave. Santa Rosa, CA 95407 with reception to follow. Services Entrusted to Chapel of the Chimes Cemetery.
---
CHRIS HABECKER
1947-2015
Chris Habecker, IBEW 1245's long-time recording secretary and one of our brightest lights, died June 30 of a recently-diagnosed illness. Her service to the union, her loyalty to the cause of labor, and her irrepressible good cheer made Chris a good friend to many and a sister to all.
She was initiated into IBEW 1245 in January of 1976, shortly after being hired by PG&E.  Six years later she became a shop steward, reflecting early on her commitment to serving members and defending their rights. It was a position she held until her recent retirement from the company. Read the full obituary here.
---
JAMES GOFORTH
1941-2015
IBEW 1245 member James Goforth died on May 13, 2015. He was 74 years old. Brother Goforth, a resident of El Dorado Hills at the time of his death, was initiated into IBEW 1245 in January of 1966. He worked for PG&E for 41 years and was a member in good standing at the time of his death. IBEW 1245 extends its condolences to Brother Goforth's wife, Carol, and all friends, family and former coworkers of James Goforth.
---
JEREMY O. PENDELL

1986-2015
The following has been provided by Jeremy's family.
My husband, Jim Murgatroyd,  and I are sad to say we tragically lost our son-in-law, Jeremy Pendell, on March 7, 2015. He had been ill with pneumonia for a week and suffered a blood clot to the lung.
He was 29 years old. He leaves behind his stay-at-home wife Robyn, his 4 year old son Landon, and his 2 year old daughter Anzley.
Jeremy was a selfless person. He loved everyone he met and was loved by everyone who had the privilege to know him.
Above all, Jeremy loved his wife and kids. He was the sole provider for his family. Jeremy wanted the very best for his kids. He worked hard so that Robyn could be a stay-at-home mom and care for their kids, rather than having to put them in daycare. Even as a teenager, Jeremy wanted nothing more than a wife and kids–a family of his own. They were his pride and joy and everything he did was with them in mind.
Jeremy and Robyn had just moved down to San Jose a year ago for a welding job with PG&E. That move had drained them of their savings. Robyn now has to move them back north to be nearer to family. This transitional time, with Robyn supporting and raising the kids on her own, will be extremely difficult for the family. As Robyn seeks housing, a job and childcare for their children, they will need support.
Please click here to donate to this family and help with these expenses as they get back on their feet after the tragic loss of Jeremy.
Jeremy's memorial service will be held Friday, March 20, at 1 pm at Stonyford Community Church in Stonyford, CA. There will be a potluck gathering at the Pendell ranch immediately following. All are welcome and encouraged to attend.
---
Posting Policy: IBEW Local 1245 will post notices concerning the recent death of any member or retired member. Notices will remain on this page for four years. Please note that the union is not automatically notified of such events, so we will only post notices when someone contacts us and supplies the information.
Email death notices and obituaries to Rebecca Band at rgb1@ibew1245.com.  Please give your name, the member's name, photo of the member (if available) and any other pertinent information (including links to other published obituaries about the member) when sending us information. Thank you.