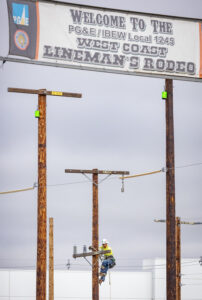 Eighteen journeyman teams and 32 apprentices showed off their skills at the highly anticipated 2023 IBEW/PG&E West Coast Lineman's Rodeo. This exciting, family-oriented annual event gives linemen the opportunity to compete against other linemen in a series of events designed to simulate real-life scenarios and demonstrate the skills that they use on the job every day.
Local 1245 is home to some of the nation's most decorated Lineman's Rodeo competitors; several 1245 journeymen have a dozen or more Rodeos under their belt, and plenty of Rodeo awards and trophies decorating their shelves. In fact, IBEW 1245 is home to the current reigning International Lineman's Rodeo champions!
For other 1245 linemen who wish to follow in those footsteps, this event could help them get there, as the PG&E apprentices and journeyman teams who score the highest in at the IBEW/PG&E Rodeo win an all-expenses-paid trip to the international competition in Kansas City this fall.
***
While many of the 2023 Rodeo participants were seasoned competitors with their eye on Kansas City, there were also several newcomers to the Rodeo scene who came mainly to enjoy a new experience.
Apprentice Lineman AJ Bondietti, who works for PG&E out of Fresno, competed at the Rodeo for the first time this year.
"I figured, it's my last year as an apprentice, I might as well give it a try, so it's not something I regret down the road," he said. "It was fun — a lot more fun than I thought it was going to be. I enjoyed it."
Bondeitti brought his family out to cheer him on, including his wife Natalie, and his two young children — Sailor, age 1 and Ellie, age 3.  The Rodeo featured many fun activities for the kids, including giant inflatables, plenty of games and even a miniature power pole and climbing gear for the children to try out.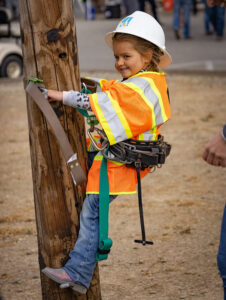 Another competitor who brought his family out to the event was PG&E Stockton Division Lineman Kris Lueck. He actually wasn't planning on competing in the Rodeo this year – in fact, he'd never even attended the event before. But when his buddy's teammate backed out at the last minute, he jumped in to make sure the team didn't get disqualified.
Lueck didn't know what to expect, and was pleasantly surprised when he arrived.
"It's awesome! There's tons of stuff for the kids and it's a huge event with a lot of vendors. I'm having a good time," he said as he held his young son in his arms.
The Rodeo gives 1245 families the chance to watch their linemen do what they do best – with the added excitement of a competition environment.
For Cassidy Stine, watching her boyfriend, PG&E Lineman David Angove, prepare to embark on his first Rodeo event is always a thrill. Stine has been cheering Angove on since he first started competing in Rodeos back when he was working for SoCal Edison.
"I love the rodeo. I love seeing them compete and bring out their competitive energy. And they love it too. They have fun while they're doing it," said Stine. "We love just hanging out and getting to see what they do on a daily basis. It's fun to see everyone come together and see line work."
It was an especially exciting Rodeo for Stine — her boyfriend and his teammates took home the First Place Overall trophy in the journeyman division!
A hearty congrats to all the apprentices and journeyman who competed, with special recognition to the union members that will be representing PG&E and IBEW 1245 this fall in Kansas City:
Journeyman teams:
Francisco Flores, Dustin Curry, Brandon Dance
Anthony Albright, Adam Beene, JP Richard
Jordan Chene, Logan Schaffer, Stephen Ko
Shannon Spah, Joe Rogers, Steve Bentley (sponsored by IBEW 1245)
Apprentices:
Alex Clardy
Marshall Martens
Cody Jackson
Jonathon Pacheco
Francisco Villanueva
Samuel Peck (sponsored by IBEW 1245)
For a full list of the Rodeo results, scroll down below the slideshow.