Proving once again that IBEW 1245 is home to some the world's most skilled and exceptional linemen, Local 1245 members and Journeyman Linemen Josh Klikna, Dustin Krieger and Steve Johnson from Turlock Irrigation District won First Place Overall at the 2022 International Lineman's Rodeo in Kansas City.
"We couldn't be prouder of our team from TID – they truly exemplify what it means to be 1245," said Business Manager Bob Dean. "As linemen and as competitors, these brothers have demonstrated the commitment, skill, expertise, and attention to detail that sets 1245 apart from the rest. On behalf of our entire union leadership and staff, our heartfelt congrats to Josh, Dustin and Steve!"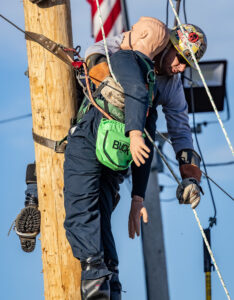 The 1245-sponsored championship team beat out 241 other teams with their incredible speed and accuracy, clocking in almost a full minute faster than the next-best team – no small feat in a competition that is often determined by fractions of a second.
"I was in disbelief," said IBEW 1245 Journeyman Lineman Josh Klikna, describing the moment that his team was announced as the winner during the Rodeo awards ceremony. "It came as a complete shock to us! My wife, who was watching the awards ceremony on a live stream, was texting me as she saw the results. She was pretty ecstatic."
"It felt like a long time coming!" said Line Foreman Dustin Krieger. "We've been trying to do this for 12 years! It was kind of surreal, hard to believe at first. Took a bit to kick in that we actually, finally did it!"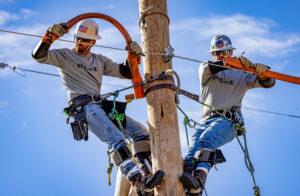 In addition to winning the esteemed "Best of the Best" award, the decorated team from TID naturally nabbed first place in the municipal division, marking the fifth time they won their division since they first began competing at the international level in 2010. They also placed first in Mystery Event #2, third in Mystery Event #1, and fourth in the pole climb event.
Klikna noted that the two mystery events (which are always a surprise to the competitors) felt somewhat familiar to him and his teammates, because they were similar to other events they had faced at the American Public Power Association (APPA) Lineman's Rodeo. At the APPA Rodeo, the events are known to the competitors beforehand, so the team usually practices those events in advance of the competition, finding the best ways to improve their time without incurring deductions. That practice may very well have been what put the team over the top – but Klikna also thinks that mindset played a role as well.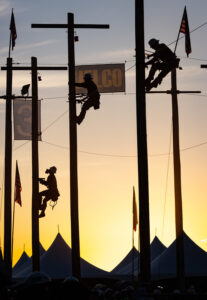 "This year, we went in thinking that First Place Overall just wasn't ever going to happen for us," he said, underscoring that the team has competed in every international rodeo since 2010, plus the APPA rodeos and other regional and local competitions. "We had kind of written off the possibility of winning the whole thing; we were more focused on doing well in our municipal division. I think maybe we were more relaxed, not so much pressure, and better able to focus and find ways to shave off those seconds."
As the third 1245 team to bring home this prestigious title since 2014, the TID team believes this win is the culmination of years of hard work, experience, practice and strategy – plus a bit of luck.
"We've been close so many times. One year, I think we missed it by eight seconds! We got lucky this year," said Krieger. "Plus, we've been climbing together for so long, so that's helped us out."
Klikna credits the union as a big reason why they pulled off this huge victory.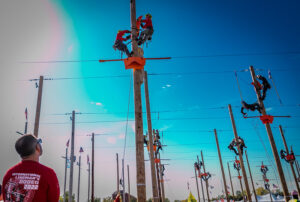 "I just want to give a big thank-you to everyone at 1245 – the leadership, the staff and the members – for all your support," he said. "We never would have gotten here if it wasn't for the union backing us."
The TID team has no plans to leave the Rodeo circuit, and they hope they can repeat their incredible performance at next year's Rodeo.
"I want to win again — It was fun! I liked that a lot," said Krieger. "I want to keep competing as long as my body lets me do it. We're getting older, so it's getting harder. And I am a foreman so I don't really climb [at work] … Next year, maybe we'll put in some more practice so we can try and do it again!"
Congrats to Klikna, Krieger and Johnson, as well as the other 1245 members who shined at the Rodeo, including:
Journeyman Linemen Carson Penny, Jordan Calls and Ben Boardway, PG&E– 3rd Place Overall Journeyman Team, 2nd Place in the Investor Owned Utility (IOU) division
Journeyman Linemen Brandon Dance, Francisco Flores and Dustin Curry, PG&E — 6th Place Overall Journeyman Team, 5th Place in the IOU division
Journeyman Linemen Matt McCurdy, Seth Jones, Marcus Mcilwain, PG&E – 12th Place Overall, 11th in the IOU division
Apprentice Lineman Francisco Villanueva, PG&E – 6th Place Overall Apprentice, 3rd Place IOU division
Apprentice Lineman Alex Clardy, PG&E – 7th Place Overall Apprentice, 4th Place IOU division
Apprentice Lineman Austin Trevino, PGE –11th Place Overall Apprentice, 6th place IOU division
–Rebecca Band, IBEW 1245 Communications Director
Photos by John Storey