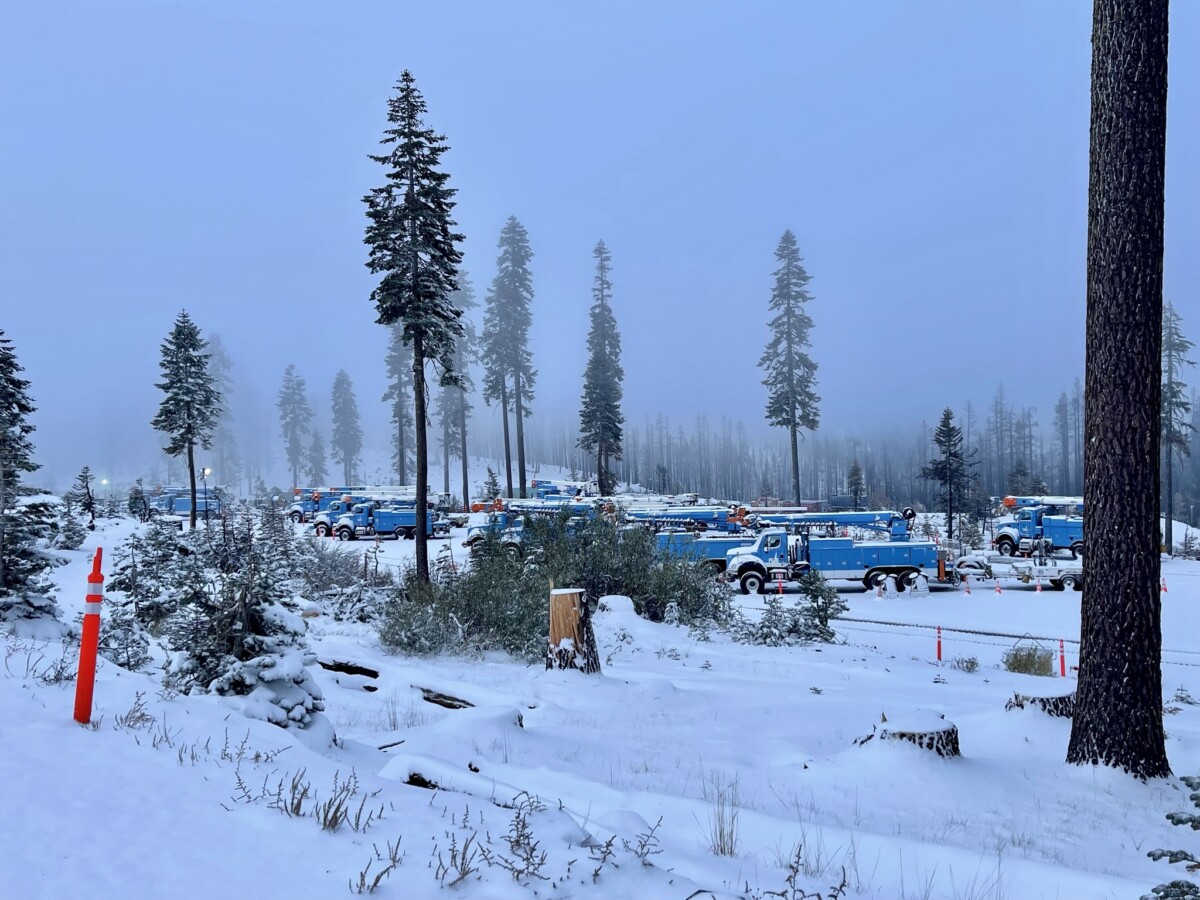 Dozens of IBEW 1245 members were still hard at work on the Caldor Fire restoration when the Tahoe area got hit with an early-season snowstorm.
"This is the first time I've ever worked fire damage with six inches of snow on the ground," said David Wilkins, journeyman lineman out of Grass Valley GC. "We're pretty used to working in the snow for snow damage and stuff like that, but it's just weird going from 75-degree weather the other day to 30-degree weather today with several inches of snow on the ground. Definitely throws a curve ball into it."
"It makes things a little bit more complicated, just for a simple fact of driving our vehicles and stuff like that," said Journeyman Lineman Brian Azevedo out of Fresno GC. "It's making the terrain a little bit harder to work in. And it's cold."
The PG&E GC crews — including three from Grass Valley, nine from Fresno, and three from Bakersfield — had been working at Echo Summit for several weeks to repair the circuits affected by Caldor Fire. They were among the 900 IBEW 1245 members — including line clearance tree trimmers, outside line contractors, and PG&E employees – doing restoration work in the Caldor Fire zone over the past seven weeks.
"We've been dealing with a lot of inaccessible poles, helicopter sets, excavator sets. We've been putting up tree wire, all brand new poles, all brand new wire, all brand new transformers. Basically hardening the system," Wilkins explained. "We're getting ready to restore power to these people who live up here, and we've just been working on it every day."
As of this writing, 24.2 miles of powerlines have been hardened. This includes 758 poles that have been replaced. At Echo Summit, the restoration effort also included the removal of over 10,000 burned trees.
"The main challenge we were having was with the trees, because they were so damaged from the fire and we couldn't work until they were cleared … so that took a little of time," said Azevedo. "But other than that, everything's going pretty good."
The GC crews were nearly finished replacing 152 poles over a 5.3 mile span when snow blanketed the area in mid-October. But they didn't let the surprise storm impact their work.
"Sounds like we're going to start heating up tomorrow," Wilkins said in a phone interview on Oct. 18, noting that his crew had been working up at Tahoe for nearly five weeks. "We're going to be removing our grounds and stuff today, heating up tomorrow, and then hopefully going home Wednesday or Thursday."
For Azevedo, being away from his wife and four kids for nearly a month hasn't always been easy.
"I have a one-year-old who's about to start walking, so I kind of kind of hope I don't miss it … It's a challenge," he said. "But I'm here with a great group of guys, and I couldn't imagine not being with these guys right now."
"Working 16-hour days with these guys, you're around them more than you are your own family at times. So really, these guys become your family, which helps out there on the job," said Wilkins. "Some of these guys I've worked with on the same crew for several years now, and over time we've built relationships. I know their wives and kids, and our goal at the end of the day is to all go back to our families… So it's definitely nice working with these guys, knowing they have your back and everybody wants to go home the same way they showed up to work that day."
Both Wilkins and Azevedo are grateful for the union representation they have through IBEW 1245.
"I like that if we ever have any questions or anything, the union's just a phone call away. And if they don't have an answer right there, they'll go out and they'll find the answer and they'll get back to you as soon as possible," said Wilkins. "The union's definitely provided a life for me and my family that I'm very grateful for. Between the benefits, the pay, and everything, it allows me to get to live the life that I've always wanted to."
"I couldn't imagine not being in the union after being in the union," said Azevedo. "It's afforded me to do so many things for my family that I never thought I could ever do."
–Rebecca Band, IBEW 1245 Communications Director
Photos by Kip Watson, Vinnie Casagrande, Grant Daves and Greg Steward