On August 14, the Caldor Fire erupted a few miles south of Grizzly Flats, and quickly spread across the region, destroying more than a thousand structures and unsettling dozens of communities. As of this writing on Sept. 20, the fire has burned over 219,000 acres and is 75% contained. The union is aware of at least a dozen members of Local 1245 who have lost their homes to the Caldor fire, and we are working with those impacted to provide assistance as needed.
***
When IBEW 1245 members arrived on the scene in the Caldor Fire zone, they found extreme devastation, burned poles, precarious damaged trees and lines, and a lot of work to be done.
They knew that time was of the essence – but as IBEW members, they always put safety first, so they made sure to take the time to go through a jobsite safety analysis.
"With the fires, there are a lot of damaged trees, so we've got to be really careful with the hazards," remarked IBEW 1245 member Roberto Gonzalez, a line clearance tree trimmer foreman who works for Mountain F. Enterprises. "So first thing, we go inspect the hazards, make a JSA, then go from there."
Gonzalez explained the process they use to clear the heavily burned trees safely and efficiently.
"We're setting ropes on them, pulling them 90 degrees away from the power lines," he explained. "Before we climb in, we do a tree assessment, and the we set our rope on the tree, and pull it just to make sure that it was still fine for us to climb it. And then once we have that rope set on the tree, we put it on the come-along, instead of another tree."
The tree clearing work is a critical first step that allows first responders and other utility workers to perform their important work in the fire zone. But when there are multiple tree, fire and utility crews in the area, good communication and flexibility are vital.
"The tree guys need to get in and fall hazard trees ahead of us, so the plan is constantly changing," said PG&E GC Subforeman Nick Michalak, an eight-year IBEW 1245 member who works out of Grass Valley. "We might have an idea of what we want to do one day, and then we realize the tree guys are falling trees, and we have to redirect. I'd say the biggest challenge is just coordinating with other crews."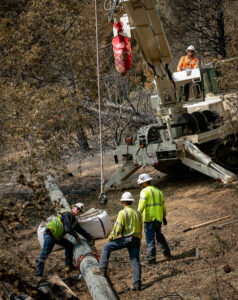 When the Utility Reporter caught up with Michalak and his crew, they were replacing a fire-damaged 27-span tap, using intumescent poles that are wrapped with fire retardant. Michalak explained the differences when working with these new poles.
"They're definitely a bigger class. This one's an H3, which is huge, very stout," he said, gesturing to a nearby pole. "The weight's definitely a challenge. You have to check your rigging to make sure that you have the right sling. It weighs probably close to 6,000 pounds, so our regular sling will not lift it. We have to go with a heavier sling. We feel like we have to get a little bit closer over the hole to set these things just because of the truck … has sensors on it, so if it feels an overload, it'll actually lock out and won't let you do anything, which is a good thing [for safety]."
As foremen in the fire zone, both Gonzalez and Michalak must be constantly aware of the various hazards, and they're always prepared just in case any flames erupt nearby.
"We have the extinguisher and the backup water pump, we have two shovels, we have the McLeod and Pulaski [hand tools for firefighting]," Gonzalez pointed out.
For Michalak, having union representation is essential when working in the fire zone – or anywhere else.
"I feel like they've really had our back when it comes to these kinds of events," he said, noting that the union has been particularly helpful for his GC workgroup during fires. "[IBEW 1245 staffers] Kyle and Bob have always answered my phone call, no matter what the issue is. So I feel like they've always represented us."
"Right now, working 11 hours on the fires, we can get a little tired. So I like that we get the [union-negotiated] breaks," said Gonzalez.
Photos by John Storey