Article by Eric Wolfe
Photos by IBEW 1245 campaigners
In an election where endless political attack ads were selling cynicism and fear, IBEW 1245 members were on the ground offering something even more important than victory.
They were pitching hope.
Hope that ordinary citizens can make a difference, hope that politics can save the middle class, hope that democracy still survives in an era of secret super-PACs funded by billionaires. Hope that plain talk between ordinary people can still be heard over the brute volume of the modern political campaign.
During the just-concluded November elections, three dozen IBEW 1245 members—mostly organizing stewards—did democracy the old-fashioned way. They picked up the phone, they knocked on doors, they attended rallies, they met with voters one-on-one and discussed real issues, like health care, like wages, like education, like tax fairness, and what it will take to end the big hurt that's being put on the American middle class.
By their presence on thousands of doorsteps, these IBEW 1245 members demonstrated how it is done, how to pitch hope to working people who could use a little.
"Burgers and Ballots"
What does a campaign based on hope look like, you might want to know. For starters, you have to know who you're talking to and what you're talking about.
IBEW 1245 campaigners on the ground in Colorado quickly learned that connecting to voters means "learning about the people, the wages and jobs, the cost of living, the lifestyles, and the attitudes." The Colorado team—P.J. Saenz, Lupe Flores, Anthony Seemster and Melissa Becerril—said that focusing on such details can help campaigners figure out "what drives the voters in Colorado."
The IBEW 1245 team in Pennsylvania pitched their message to the younger generation with a "Burgers and Ballots Tour" that focused on college campuses.
"We lured them in with loud music and the smell of grilled burgers. Free food always gets a starving student's attention," said IBEW 1245 Organizer Jammi Juarez. Drawn in by the food, the students were given a quick course in how education funding cuts would lead to unwelcome hikes in tuition.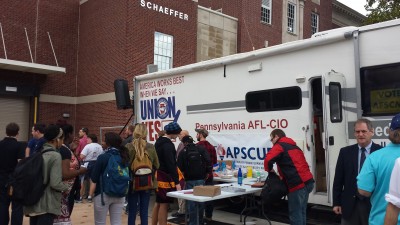 Juarez served as co-director, along with Fred Ross Jr., of the union's seven-state campaign, while Business Representative Hunter Stern coordinated the multi-city campaign in California.
In several locations, weather complicated the task of "pitching hope."
"Canvassing in the snow/slush was a bit challenging to a pair of Californians," noted the Alaska team of Kevin Krummes and Craig Tatum, "but we muddled through." They knew they weren't in California anymore when they encountered a moose one evening, "eagerly and enthusiastically eating a pumpkin pinched from someone's front yard."
IBEW 1245's Alaska campaigners could claim partial credit in two important victories: they helped repeal an Anchorage city ordinance that had stripped city workers of their bargaining rights. They also helped win passage of a hike in the state's minimum wage, one of five states where such hikes were enacted by voters on Nov. 4.
"Cheese, beer and rain"
Inclement weather also challenged the stamina of IBEW 1245 canvassers in Wisconsin and Maine.
"The rain continues," reported Organizing Steward Steve Marcotti, who figured out what "drives" Wisconsin voters in just five words: "Packers, Badgers, cheese, beer and rain."
But Donchele Soper, another member of the Wisconsin campaign team, found a strategic silver lining in the weather: "Steve, Missy and I canvassed the entire day. Weather conditions were not ideal for outdoor activities, which meant good news for us—people would be home!"
"We're expecting a nor'easter on Thursday," Carl Olguin reported from Maine. "Not gonna stop us, won't stop us, we will get it done no matter what." He and the rest of the IBEW 1245 team in Maine vowed to "kick ass for the working class."
A bigger challenge than the weather were the voters themselves. Some wouldn't answer the door. Some who opened the door immediately slammed it shut again. And then there was the voter encountered by Mike Grimm in Maine:
"One of the few who declined to speak with me was a nearly naked older lady, fresh out of the shower who did not hear my knock as she wandered past her open front door," said Grimm. "…She was not in a position to be receiving company!"
Getting Creative
Even though IBEW campaigners were able to plug into pre-existing campaign structures, they often found there was a need to get creative. Sometimes hope has to be a hands-on enterprise.
Campaigning with the Alameda Labor Council, Advisory Council member and Organizing Steward Rachel Ramirez-Hill worked the phone bank, walked precincts, worked up packets—and even prepared food trays for the delegates' meeting!
At the United Teachers of Wichita union hall, the automated phone-calling program went blooey just as teachers were showing up to phone bank for gubernatorial hopeful Paul Davis. IBEW 1245 campaigner Kristen Rasmussen didn't wait for someone else to fix the problem—she just hunted down some paper lists that she'd pulled together earlier, typed out a simple script, printed several copies and before you could say "damn computer" she had the volunteers busy making phones calls.
Later, she also diagnosed the problem with the auto-dial software and advised the programmer on how to fix it.
Rasmussen performed these low-tech miracles just a few miles from the world headquarters of the billionaire Koch brothers, who spent a jaw-dropping $77 million this election cycle on bilious TV ads that played to voters' fears rather than their hopes.
But the practical value of hope was on full display in southern California, where IBEW 1245 Organizing Steward and Advisory Council member Jaime Tinoco seemed to be everywhere in the campaign to elect Bob Lingl as mayor in the City of Lompoc. Utilizing his own extensive network in the city, Tinoco determined that Lingl was the candidate most deserving IBEW's support. He then recruited volunteers at work to distribute 3,000 flyers door-to-door. He also dispersed yard signs at unit meetings, arranged for newspaper ads (with support from the IBEW 1245 Executive Board), organized a forum where the two mayoral candidates discussed the issues directly with IBEW 1245 members, and recruited eight volunteers to spend election day getting union voters out to the polls.
Organizing stewards weren't the only asset IBEW 1245 put into the field. Members, staff and retirees also jumped into key races at various locations. In Redding, IBEW 1245 staff members Ray Thomas, Sheila Lawton and Jennifer  Edwards spent their October weekends in Redding trying to change the make-up of the City Council, with considerable success.
Pros and Cons
Wherever they were, IBEW 1245 campaigners went about their work like old pros.
In Colorado, for example, they had to deal creatively with two different sorts of gated communities.  At one affluent gated community, according to Organizing Steward Lupe Flores, they simply parked their car, grabbed their leaflets, figured out a way to get inside the gate, and went about doing what they had come there to do. Later. they had to get flexible with their work hours when a convict managed to escape a different sort of "gated community" and was loose in the area!
In California, Organizing Steward Rosario Garcia ran into a couple of ex-convicts who had turned their lives around but were uncertain if they had a right to vote after serving time. Garcia wasn't about to let the opportunity pass—he convinced them to share campaign literature with family members who were registered voters.
The IBEW 1245 team of Rey Mendoza, Georgette Carrillo and Linda Letzer made efficient use of their time at PG&E's Fresno Call Center. They set up a table in a break room with campaign materials, put together packets to hand out, and then Mendoza and Carrillo headed to different floors to hand out flyers while Letzer remained in the break room to talk with members about voting.
Campaigner and Advisory Council member Mike Patterson multiplied his impact by passing on his skills to others.
"For the last two weeks, I've been training phone bankers (and) setting up precinct walks," Patterson reported midway through the campaign. When he wasn't training others, he walked precincts himself and shared with voters his first-hand knowledge of the union-backed candidate for Oakland City Council District 4, Anne Campbell Washington. She won.
Organizing Steward Rodrigo Flores was active in the Central Valley, working on state assembly campaigns and the race for a seat on Merced Irrigation District.
"My focus has been knocking on IBEW members' doors," Flores reported from the field in October. "My favorite part? Talking to people who are supportive or who ask questions … and who offered me a glass of water in the 96-degree heat!"
Walkin', knockin' and talkin'
In Sacramento, with important races for SMUD and the US Congress on the line, IBEW 1245's team made up walk packets, canvassed extensively, made hundreds of calls to union members, and attended every unit meeting in the region in their quest to recruit additional volunteers. "We're walkin', knockin' and talkin' and having great results," reported the team, consisting of Eric Sunderland, Ivan Pereda, Jason Preston, Harold Blackshire Jr. and Walter Carmier.
One obstacle emerged in late October that was not anticipated earlier in the fall: the San Francisco Giants! Who knew they would parlay their wild card spot in the National League playoffs into the World Series spotlight in prime time?
"Tonight was a hard night for phone banking—people were fast to not want to talk," confessed organizing stewards working in Stockton.  One irate Giants fan even yelled at them, saying "What are you doing calling me during the Series?"
In Colorado, where baseball wasn't such a big distraction, IBEW 1245 canvasser Anthony Seemster found some people "very engaging, pro-union, and knew who we needed in office to further labor."
"There were also some who just weren't interested in talking, and also some who had no idea who the candidates were," Seemster said.  "This is why getting out there and talking to people makes all the difference. With all the nonsense that comes on TV, we give voters that one-on-one conversation that could lead them to having other conversations, which will hopefully get more people interested and involved."
Seemster reported talking to people as young as 20 and "more seasoned people in their 70s." But that was nothing compared to a voter reached at her home by Colorado campaigners P.J. Saenz and Melissa  Becerril: they were invited inside to meet 102-year-old Marie Nader—still voting after all these years!
"What Organizers Do"
These and many other accounts from the campaign trail leave you with the certain knowledge that IBEW 1245 members had a lasting impact on the voters they met, on union campaigners in far-away states, and on each other.
"I hope volunteers working on campaigns … know those few minutes shared with strangers ultimately affects lifetimes for generations to come," observed Donchele Soper, working in Wisconsin.
"The people we meet on these trips become family, and sometimes the hardest thing is to say goodbye," said Mike Musgrove, campaigning in Pennsylvania. "I am so privileged to have the opportunities that my local allows me to experience. I do not see a better way to learn and develop as an organizer and a leader."
In Maine, IBEW 1245 campaigners found ways to keeps things fresh when making that thousandth call during phone banking. "To motivate us, we had a friendly competition who can make the most phone calls," they reported from the field. "IBEW will not slow down, [we're] working tough hours, but that's what organizers do."
That sounds a lot like one of the slogans that IBEW 1245 Organizers Fred Ross Jr. and Eileen Purcell emailed to the campaigners every day, culled from the Axioms for Organizers by the legendary organizer Fred Ross Sr.
Axioms like this one:
"There are never enough resources or enough troops, but you can't wait and you can't admit the possibility of defeat because the opposition is probably going through the same thing.  The loser is the first one to say it can't be done."
Perhaps IBEW 1245 campaigner Carl Olguin captured it best when he reported from Maine:
"It's a very tough race, and we are short-handed, [but] everyone on this team gives it 100%. Even though it's only a few of us, we all take on extra tasks to try and get as much work done as possible. Little by little, we're climbing the hill, and we won't stop till we hit the top. 1245 never quits."