In California's Central Valley, the Tulare Lake basin sat dry for decades – until this spring. Record snowfall over the winter in the nearby Sierra Nevada mountains has led to continuous flooding in the basin. Now, Tulare Lake is suddenly underwater again, for the first time in 40 years.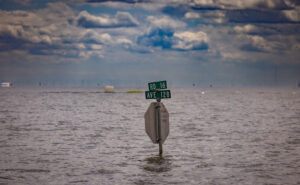 The flooding has not just filled in the basin; it's also submerged surrounding farmland and affected the area's power systems. As the lake continues to fill, IBEW 1245 crews have been working tirelessly to remove dozens of heavy padmount transformers that are currently or soon to be underwater.
"The padmounted transformers that we have — even though they are sealed — won't be able to withstand the water for however many years that they plan on this lake staying," explained Cory Wortham, a 17-year IBEW 1245 member and PG&E subforeman working on the Tulare Lake project.
The lake is estimated to remain filled for at least three years.
The job at hand is arduous and involved, requiring many skilled and dedicated IBEW 1245 GC crews working in conjunction with dive teams and helicopter teams. The expertise required to safely complete this monumental task — both for those performing the work, as well as the community at large — is immense, and has been earned over decades of training, apprenticeships and on-the-job experience.
Removing the transformers is a two-phase coordinated process, starting with GC line crews and dive teams working in tandem, with airboat assistance, to clear the grounding of the transformers and unbolt them. Next, a rigging team secures the transformers and prepares them for helicopter removal, with a second ground crew working with the helicopter team on the actual removal.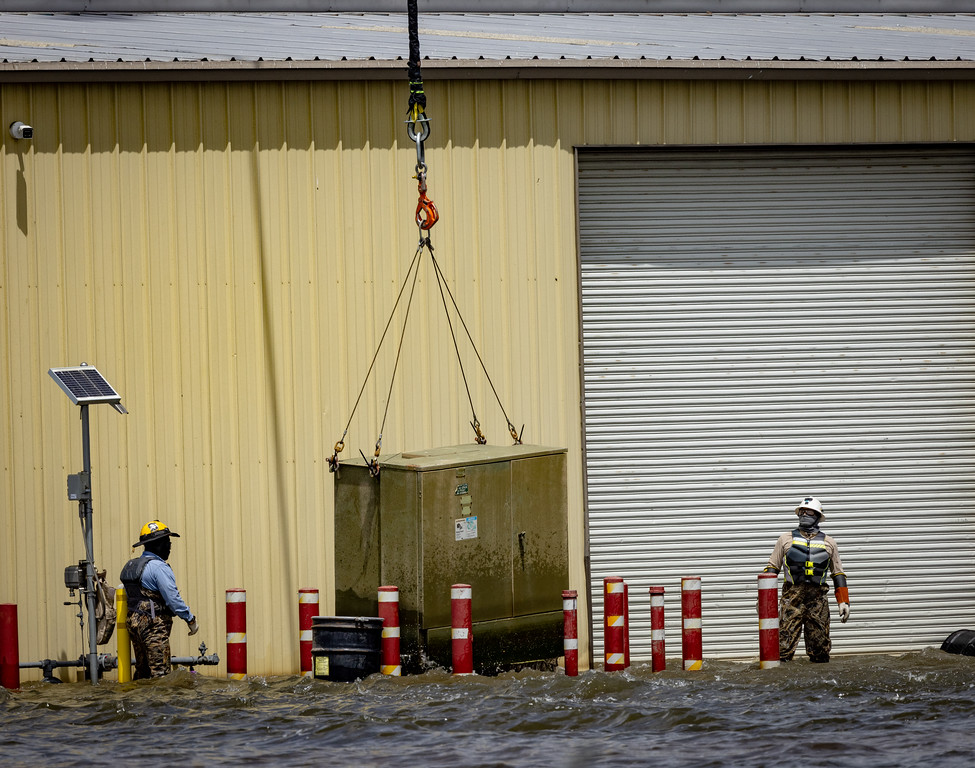 The task at hand is as extraordinary as it is involved. But Wortham, a seasoned journeyman lineman, and his experienced crew are ready to face anything that comes their way.
"This by far is the most unique and challenging job I've ever been a part of," he said. "You just don't know what the next day is going to lead to. There are obstacles that you have to identify and mitigate and overcome as you go."
The Tulare Lake crisis is unlike any other – and only IBEW 1245 members have the knowledge, expertise and technical skill to take on this task. The job is long, wet and tough, but in true 1245 fashion, our members have embraced the opportunity to use their unique training and skills for the good of the community.
"This is a once in a lifetime deal…as long as I'm here, I want to be a part of it," Wortham said. "This is a story that I'll be able to tell my family for years to come."
***
When the Utility Reporter checked in on Wortham and his crew one month later, they were still removing utility equipment in the Tulare Lake basin. Earlier that morning, a lightning storm passed through area, and the crew had to wait until the closest strike was more than 30 miles away before they could get to work.
Wortham explained how the weather makes a huge impact on this job, but safety remains the top priority.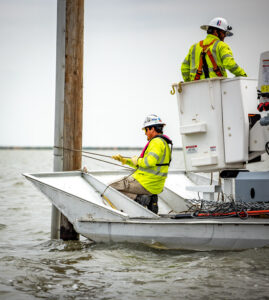 "The weather is very challenging here because the wind picks up every day, and just a slight breeze in this area will turn this lake into an ocean," he remarked, noting how large the waves can get. "So it's something that we've been working around — and if it gets too rough, we just hold operations until the wind dies down."
Wortham explained the day's tasks, which involved removing some pole-bolted oil field equipment, a set of regulators, and a 300 KVA transformer. The crew unloaded the transformer and the regulators and used a Hogg Davis with an empty reel to remove 25 spans of wire that were getting too close to the water.
"They're on 35-foot poles, and the water's about 18 feet deep, so the wire's about seven, eight feet off the water right now," he explained.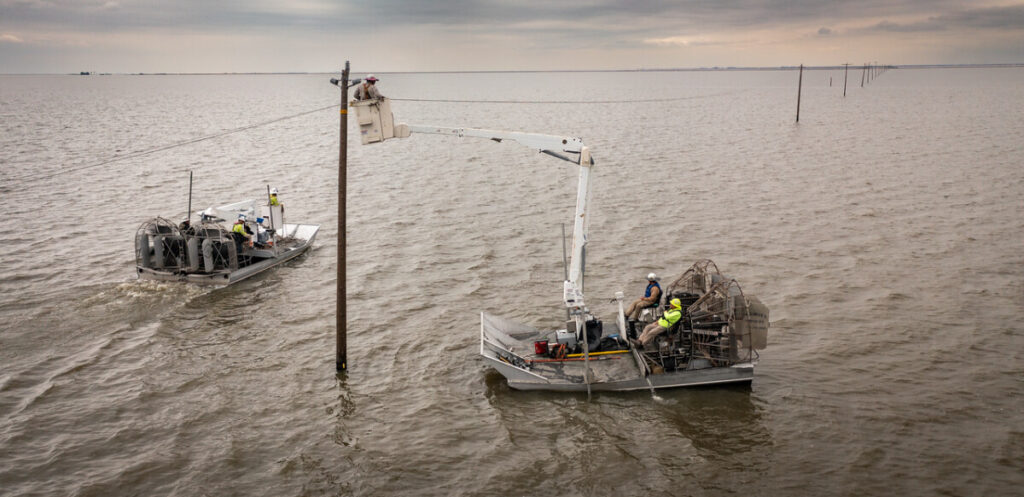 To get the equipment down, the crew utilized a bucket boat, working in conjunction with a barge boat capable of carrying up to 50,000 pounds. They needed that extra support, as some of the transformers being removed weighed well over 3,000lbs.
Wortham and his crew of seasoned linemen are all new to working on the water, but thanks to their IBEW skills and training, they've quickly adapted to operating from a boat.
"We're trying to keep 11 boats active at the same time, so we're making sure everybody's on the same page," he said. "There's a lot of unknown hazards in the water, so we've been utilizing the dive crews to go out ahead of time, prospect our future locations and tie any ribbons or buoys to things that are either sticking up out of the water or very close to the water."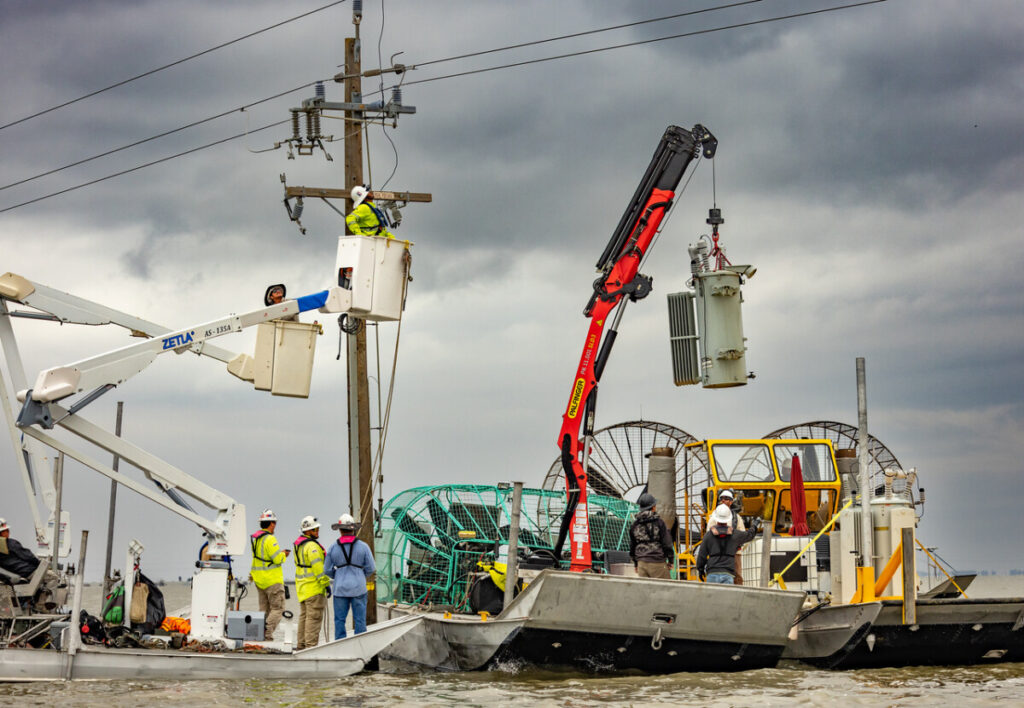 Learning to anticipate the unexpected is just one of many attributes that all IBEW journeyman linemen cultivate during apprenticeship. According to Wortham, the consistency of the union's training means that, no matter where their IBEW home local may be, they're all coming from the same place when they're on the job.
"When I get a union hand that's been through a union apprenticeship, I know what to expect, and it's usually a good thing," he said.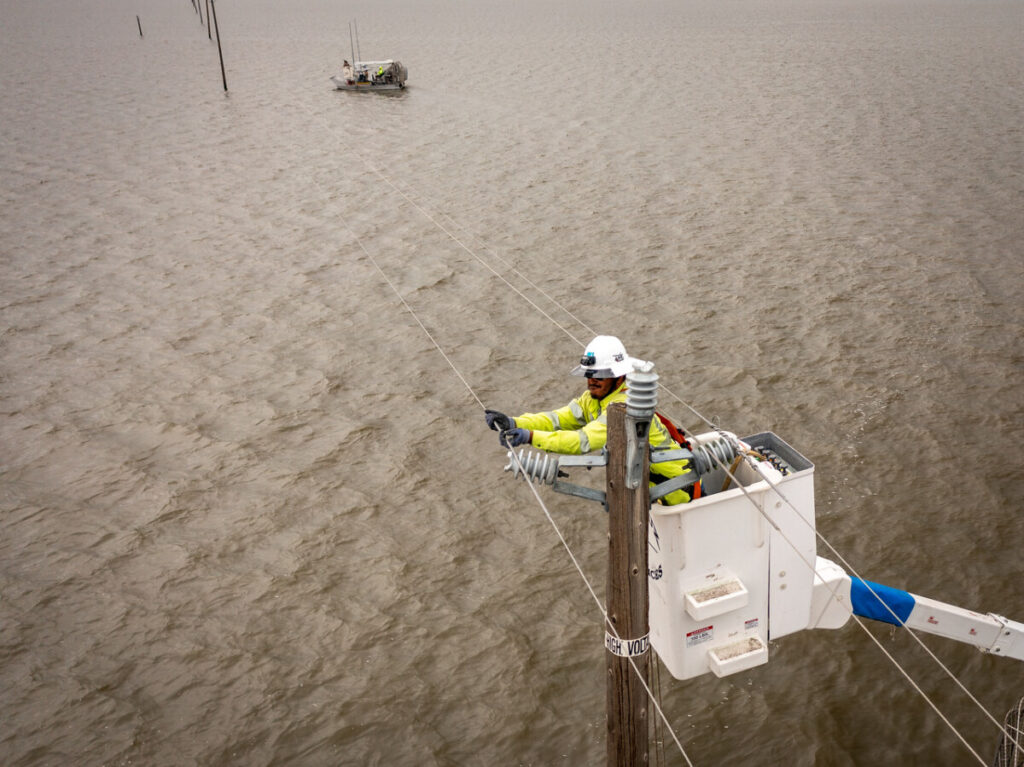 photos by John Storey