When a fire in a vault took out power for nearly 10,000 customers in San Francisco's Financial District late one Wednesday evening, the IBEW 1245 members working for PG&E in San Francisco leapt into action.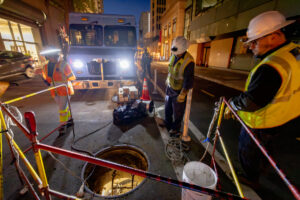 "We lost an entire chain substation. Even circuits that weren't affected were dropped to try to de-energize and protect all the circuits. We had six network circuits out, and five substation tie cables out," explained IBEW 1245 member Damien Padilla, who works as a cable crew foreman for PG&E's underground department in San Francisco.
The damage was so extensive that the entire electric underground team — plus the night crew, GC, substation electricians, support staff, traffic control, and contractors — were on site around the clock for nearly a week.
Padilla noted that, in the last 35 years, the Financial District had experienced only one other widespread outage of this nature, due to all of the redundancy that's been put in place to provide reliable power to thousands of San Francisco businesses and residences.
***
The vault fire torched a lot of the utility infrastructure, and bringing the power back on was no small task. Before the underground crews could rebuild the damaged circuits and substation ties, an IBEW 1245 crew from signatory contractor UTS came in to assist with trenching.
"They had to extract the network transformer that was in that enclosure that was on fire, as well as get us some pathways to the next manhole so we can continue our work reconducting them," Padilla explained.
Downtown San Francisco has one of the most complex electrical systems in the country, and without the extensive experience and knowledge of our members who have managed and maintained that system for decades, thousands of people would have been out of power for a lot longer.
35-year IBEW member Dave Montoya, a substation electrician with a background as a DO, was able to think outside the box and come up with a solution to quickly bring the power back on for nearly half of the customers impacted by the outage.
"It was his smart thinking and fast thinking [that allowed us to re-energize those customers]," said Padilla. "He actually was initially denied approval, but he went above that [supervisor] and they approved it."
It's this type of determination that sets IBEW 1245 members apart. Not only are they knowledgeable enough to come up with creative solutions on the fly, they also have the fortitude to stand up to management in order to advocate on behalf of themselves and the customers they serve.
For Padilla and his team, the outpouring of support they received from the community made the long hours and difficult conditions all worthwhile.
"We've had people offering to buy us lunches and coffees and energy drinks to keep our guys going, because they realized how much hard work we're putting in to getting this back to normal," said Padilla. "They're seeing the blue trucks, the IBEW folks out there working, boots on the ground, nonstop… [we are touched by] the gratitude that we've received."
Thanks to the hard work, skills and dedication of IBEW 1245 members, all customers had their power restored within just 96 hours of the fire.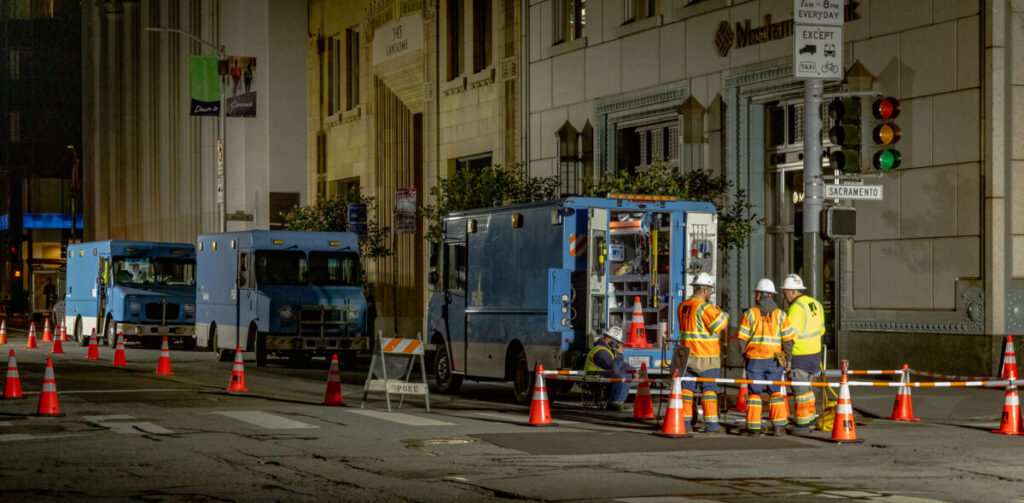 –Rebecca Band, IBEW 1245 Communications Director
Photos by John Storey