The Mendocino Complex Fire in 2018 and the August Complex Fire in 2020 burned a combined 1.4 million acres in Mendocino County, and demonstrated the serious need for more fire-resilient utility infrastructure in and around the densely forested area. 
"The poles burnt, fell into the road, and if that's your only way out, they block your way out," IBEW 1245 member and PG&E Electric Crew Foreman Damien Bird said as he remembered what the last few fires were like for Mendocino residents.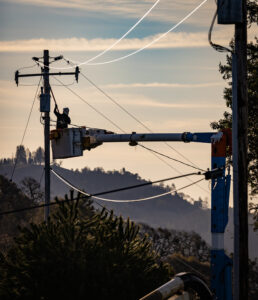 Bird grew up not far from Willits, and is raising his family locally. As fire season began to have a greater and greater impact on his community, he and his co-workers have shifted gears towards more fire-hardening work. IBEW 1245 line crews like Bird's aren't just inspecting and replacing power poles; they're also covering them in a fire-retardant wrap, to prevent them from falling and blocking roads in case of another fire. 
The Utility Reporter caught up with Bird as he worked with crews from Ukiah and Garberville on a fire-hardening pole set job in Mendocino County.
"This is going into my 22nd year with this company," Bird said as he stood on Black Bart Trail watching his crew. "I started off as a utility worker and then got into the three-year apprenticeship [through the union]. It took a lot to get here."
Having the skills, training, and expertise to implement solutions across the service territory are attributes that are unique to IBEW 1245 members.  
"I don't think anybody can just walk into this job … There's just too much to it," he said noting the complex logistics he oversees. "With this job, it takes years of experience to be experienced, I guess you could say." 
And living in the community where he works means that improving safety is personal to Bird. 
"I not only raise my family [here], but locally I know a lot of people," he said, explaining his motivation to do what he can to keep the community safe. "We come up here, change the poles, and put in fire retardant poles next to the road, to make sure that, in this fire safety area, everything stays in the air." 
According to Bird, the IBEW's culture of safety is important for the tight-knit crew that he works with day in and day out. 
"I come to this job to support my family, but I also come to this job because I know the guys I work around are really safe," he said. "They all have the same outlook on what they've got to do … to go home to their loved ones in one piece."
photos by John Storey