While winter storm after winter storm walloped nearly every corner of PG&E's service area, power restoration was forefront on everyone's mind – but it wasn't the only kind of work being performed by IBEW 1245 members. Some crews were also responsible for completing other time-sensitive projects that are critical to public safety and continuity of service.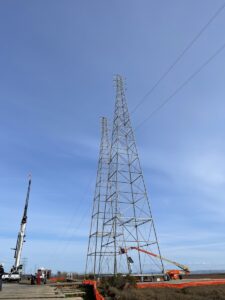 Among those projects were a pair of transmission towers located west of Vallejo along Highway 37, carrying dual 115KV circuits and situated over a slough that has occasional passport of water vessels. The two enormous 245ft towers were overdue for replacement, and despite the ongoing storms, the work had to get done. (One of these towers is somewhat infamous for longtime Bay Area residents. On October 25, 1991, a helicopter carrying Bill Graham and his girlfriend impaled itself on the structure, resulting in three tragic deaths.)
Given the size and scope of the job, the PG&E GC Lakeville tower crew, led by IBEW 1245 member and Subforeman B Tyler Howard, enlisted help from other Tower Department crews from the Olivehurst and Victor yards. A transmission line crew from Lakeville also played a key role in the completion of the job; those journeymen linemen were responsible for any work associated with the conductor that is attached to both towers.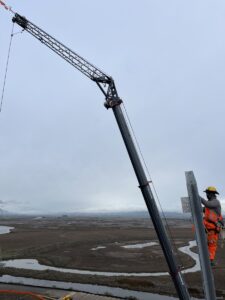 Environmental, corrosion, and endangered species habitat factors, as well as material issues, all contributed to the job delays, resulting in a narrow and finite window of time for the tower replacements. Loading restrictions (to keep customers' power on by other feeds) also factored into the tight timelines to complete the work.
Given the location of the tower sites, multiple environmental studies had to be completed before the work could begin. Habitat protection of the salt water harvest mouse and the clapper rail bird needed to be addressed. The tide tables were another issue that required planning.
To add even more complexity, the towers are situated in a marshland, and before the tower crews could come in, 200 truckloads of heavy-duty matting needed to be installed just to support their heavy trucks and cranes. Each mat weighed 4,000 pounds, and they were installed and removed by IBEW members working for 1245 signatory contractor Wilson Construction.
***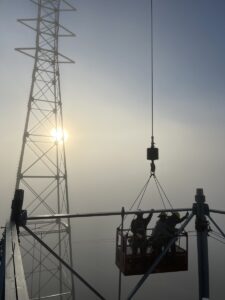 We sat down with the Subforman B, Tyler Howard, as well as his crewmates, Subforeman C Anthony Castaldo, and Towerman Quinn Weil-Dye, to learn about all the challenges the crews faced to get this work done. They showed us the tower prints from 1912 (this type of tower had not been constructed for over 100 years), and explained that the small footprint and the height of the towers meant that all work had to be 'like for like.'
Safe completion of this job was heavily dependent on the extensive training and skills of both the tower and transmission line crews. Rigging, safety at heights, grounding and working around helicopters flying external cargo are just some of the skills that IBEW members are trained in to keep both themselves and the public safe while performing this type of work.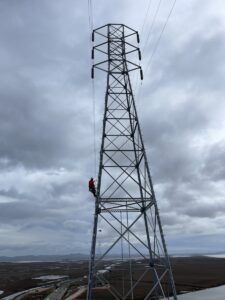 Despite working in relentless rain, they completed the job ahead of schedule and under budget. The tremendous sense of pride from the Lakeville tower crew was obvious in our discussion.
Brother Howard said it best, "We put our abilities and knowledge up against anyone performing this type of work… [anyone else] assuming they can do what we do is insulting. The importance of safety cannot be overstated, and the training we receive makes us the most qualified workforce to complete this work without incident."
And after spending a couple hours with this crew, we have to agree.
–Bob Gerstle and Garrett Markwood, IBEW 1245 staffers
Photos by Quinn Weil-Dye