On a snowy day this February, we traveled out to a remote worksite in Potter Valley to visit IBEW 1245 members from PG&E and Outside Line as they worked to replace a pole as part of PG&E's ongoing fire hardening efforts.
Hours earlier, a six-person IBEW 1245 crew from PG&E GC Line Humboldt had traversed the dirt road through exceptionally rugged terrain to reach this way-off-the-beaten-path worksite. When we arrived, PG&E Acting Crew Foreman Luke McAvoy and 7th Step Apprentice Casey Kinney were already up in the air, applying rubber protective equipment to the energized high voltage lines, in preparation for the safe installation of a fiberglass-wrapped pole to occur later in the day. On the ground, Lineman Garrett Ennis was acting as a Qualified Observer to ensure the crew's safety while working with energized lines, and MEO Chris McMahan provided an extra set of eyes as well as ground assistance. Once the lines were made safe, two 1st Step Apprentices, Elaine Degnan and Eric Garcia, having climbed the pole and in their respective positions, prepared the rest of the existing pole for its removal. They all worked together to remove the weather station and free up the communications riser that were mounted on the pole.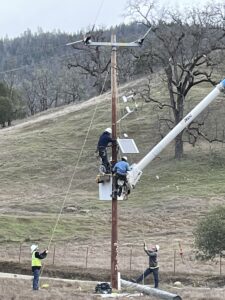 McAvoy then came down from the air to greet us. He pointed out that this particular pole replacement would require "hot work" – meaning, the pole change-out was occurring while the 12,000-volt lines remained energized. For this reason, the crew would have to perform various parts of the job using Primary Rubber Gloves from a dielectrically tested bucket truck, which is not a procedure that one learns overnight. Working on energized high-voltage lines is a highly technical and potentially hazardous skill that requires extensive training.
McAvoy explained all the potential safety issues associated with this job – not just the energized lines, but also the terrain, weather, suspended loads, and heavy equipment constantly in motion. As he spoke, his eyes never left his crew, and we observed how the seasoned foreman worked to maintain constant communication, ensuring safe and efficient completion of the work.
Running a crew and job like this takes years of training, exposure, and experience. McAvoy explained that before anyone can assume a leadership role, they must have proper training, lots of exposure to the work, and the right tutelage. He explained that on this day he upgraded to Foreman (his base classification is Journeyman Lineman). He talked about some of the various trainings he himself had undertaken — such as how to operate specific equipment, how to perform hot work in rubber gloves, as well as all the OSHA rules which must be adhered to in order to maintain a safe work environment — before even considering taking an upgrade to foreman and assuming the responsibility of running a crew.
***
We watched as the crew prepared to perform a "cut and kick." This method is used when there are facilities on the pole that must remain in the same position they were found. In this case, the pole housed a weather station and communications riser that could not be moved. In addition, keeping the line energized was the method chosen so as to not impact those customers being served by the circuit.
When the prep work was complete, McAvoy took his position as the lead to get the pole safely moved. He directed McMahan to operate the truck, which would safely and securely hold the pole being moved. He directed Degnan, responsible for cutting the existing pole, to take her position and begin cutting on his mark. He made sure all were clear and took a moment to check the surroundings, making sure he and the crew had checked all the boxes. Once he was sure all was safe and secure, he gave the go ahead for the cutting to begin. He watched the chainsaw from a distance and gave the chainsaw operator hand signals to make sure a proper cut took place. Once he gave the stop signal, he turned his attention to the truck operator and began giving hand signals to move the pole. Showcasing that kind of expertise only comes from on-the-job experience and meticulous training, the crew worked seamlessly to safely move the pole out of the way.
Clearly this isn't a set of tasks that happens easily. Training comes in during every step of the operation – even the hand signals they use to communicate with one another must be learned through training.
As a 1st Step Apprentice, Elaine Degnan recognizes that the rigors of her apprenticeship training are what will ultimately keep her safe as she pursues her lifelong dream to be a journeyman lineworker.
"If we aren't properly trained, we don't go home," she said, noting the possibility of grave repercussions that can come from just one wrong move.
Although she isn't yet qualified to perform "hot work" using Primary Rubber Gloves, exposure to these types of jobs is how Degnan learns and prepares to assume that responsibility down the line. She emphasized how much she values her more experienced crewmates to guide her in ensuring each step is taken properly and safely.
"I trust these guys with my life," she underscored.
***
Once the pole was out of the way, a contractor moved their equipment in to assist in removing the piece of pole left behind from the cut pole and to clean out the hole with a vacuum truck in preparation for the new pole. Watching those two IBEW 1245 members, Truck Operator Ralph Lucero and Groundman Rodney Leach work, was impressive as well. The knowledge and training they exhibited with respect to their equipment was clear. They communicated expertly with McAvoy and the crew, completing the task without incident.
This was just one of 50 poles to be changed out as part of this particular fire-hardening project, which also has various areas where undergrounding of power lines would be a necessity.
When thinking about the project these hard-working members have ahead of them, I can confidently say it will be handled safely and efficiently. In true 1245 fashion, they all demonstrated excellent communication skills, and were clearly well trained and comfortable in their roles. It brings me great pride to see IBEW 1245 members performing this critical work to make our communities safer and less susceptible to wildfire.
–Roberto Balistreri, IBEW 1245 Assistant Business Manager