IBEW 1245 members are on the forefront of the green energy revolution, and one of the critical first steps involves upgrading our aging transmission system so it can handle the influx of alternative energy resources.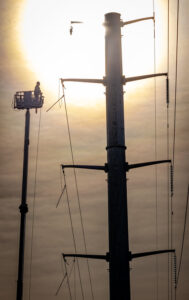 But replacing transmission infrastructure is no small or simple task – it takes a very specific kind of skillset and training, along with close attention to detail, dedication, perseverance, meticulous planning and a safety-first attitude.
All of those attributes were on full display when the Utility Reporter caught up with an IBEW 1245 crew from PG&E GC line as they were working on a big transmission project near Oakdale.
"Our job was to set 146 new TSPs [tubular steel poles] and reconductor 23 miles of wire to triple the ampacity from Bellota Sub to Warnerville Sub," explained Justin Norwood, a 22-year member of IBEW 1245 who works for PG&E as a GC subforeman. "We're tripling the ampacity to the substations for future Green Energy projects, and so we can get more power from Helms [hydropower plant] down through the valley."
When most people think of electric wires, they typically imagine the thin kind they might see in or around a home or building, but transmission wire is completely different. For one, it's much, much bigger and heavier – which makes it incredibly challenging to work with. It takes immense knowledge, specialized equipment and expertise to get the wire at the right tension so it doesn't vibrate and break in the wind, or swing into the other phases.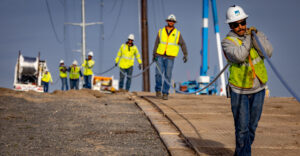 Norwood went on to explain how, when working on transmission towers and lines, he often refers back to his reference manuals to verify each tower's specs so he knows precisely how much it can bear. With that knowledge, Norwood can ensure his crew is equipped with everything they need to perform the work safely and effectively.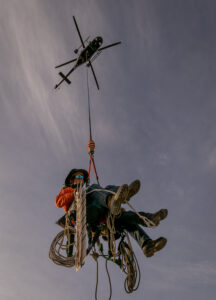 "My job is to keep my crew safe. And how I keep them safe is I make sure they have the right lines out. We have the right non-test. We have the right tools. We have the right trucks. We have the right helicopters. We have the right presses," Norwood said. "There are so many special tools that this wire takes, that this job takes, that you can't just grab. You need to plan it all, and it takes months to plan."
Norwood has linework in his blood. His father, Jim, and uncle, John, both worked in the trade for more than 45 years. Another uncle, Jeff, spent more than 20 years with PG&E, and two of his cousins are also working in the trade.
Like all IBEW journeyman linemen, Norwood started his career with a five-year apprenticeship program – training that has proven to be invaluable, especially when it comes to keeping his co-workers safe on the job.
"There is risk in what we do, but what we do is all centered around getting my guys home the same way that they came," said Norwood.
–Rebecca Band, IBEW 1245 Communications Director
Photos by John Storey