Employees of DTE Energy Services at the UC Berkeley Cogeneration Plant are now represented by IBEW 1245 – a victory for a group who have long sought stability and positive change at work. Their NLRB election took place on April 19 and was decided by a 7-2 vote. There were 10 eligible voters.
UC Berkeley Cogeneration Plant is a natural gas-fueled heat and power generating site, which powers 90% of the UC Berkeley campus with its 26-Megawatt output. It began its life in the 1930s as the university's Central Heating Plant; combined heat and power generating capability was added in 1987.
This election marks the culmination of an organizing drive that began early this year, but the conditions which led workers to unionize have been developing for much longer. The conventional wisdom is that workers will make gains in wages, benefits, and retirement security if they stay at a job and build a career. But at this plant, some have invested over a decade and yet have less now than when they started. The root cause of this issue? A gradual erosion of pay and benefits resulting from an ever-changing series of employers.
The UC Berkeley Cogeneration Plant is owned by the university, but the workforce is currently employed by Michigan-based DTE Energy Services: the latest company contracted to operate the plant. Over several decades, multiple companies have held this operating contract, and with each successor, the workers have experienced a chipping away of 401K contributions, favorable personnel policies, and pay competitiveness. These conditions led to poor morale, which has been exacerbated by long term understaffing and upheavals in upper management. Occasional conversations about going union were common for years, but words finally shifted into action and the group reached out to Local 1245's organizers in January.
The road to election day was surprisingly smooth. DTE Energy Services rightfully let their employees make their own decision about organizing without interference. There were no captive audience meetings, no anti-union letters nor union busters – a welcome (albeit uncommon) experience in the world of union organizing.
This election also marked a transition away from the exclusively-mail ballot union elections of the last two years. The NLRB is now permitting manual (in person) elections again, however employers are required to comply with stringent COVID-19 safety protocol during the voting period. On the morning of the election, the eligible voters cast their ballots in an outdoor polling place, which was set up at the plant by the employer and administered by an NLRB agent. Local 1245 organizing staffers Charlotte Stevens, Rene Cruz Martinez, and I observed the final tallying of ballots and greeted the workers afterward for a victory photo.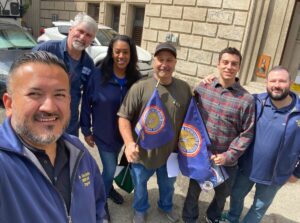 This newly minted bargaining unit now transitions to the collective bargaining process, which will be led by Senior Assistant Business Manager Al Fortier. Bargaining proposal forms have been distributed, and it's likely that successorship language and will be a high priority for the unit. Other priorities for the group include scheduling fairness, upgrade pay, and clarification of roles and responsibilities.
–Rick Thompson, IBEW 1245 Lead Organizer