When former Assemblymember David Chiu was appointed to serve as San Francisco's City Attorney in November of 2021, four candidates jumped at the chance to fill the Assembly seat that his appointment left vacant. IBEW 1245 was quick to throw support behind Matt Haney, a member of the SF Board of Supervisors and a longtime ally of 1245.
The special election for Assembly District 17 began with a primary over the winter, and a powerhouse team of IBEW 1245 organizing stewards lent their support by phone banking, flyering and door-knocking to drum up support for Haney.
"Cory, Danielle Jocelyn and I handled business! Everyone worked well together. I feel communication was on point," Co-Lead Organizing Steward Maria Renteria-Orozco reported during the primary. "We made over our goal in calls each day. We door-knocked the houses we were supposed to hit, even though those SF hills got me by the last day."
"We also used a database to reach out to past volunteers to sign them up help us with door-knocking," added Lead Organizing Steward Danielle Bonds.
"I had a great time working the Matt Haney campaign," said Organizing Steward Jocelyn Alexander. "It was an experience, phone banking and talking with voters. It was fun, and I enjoyed interacting with the team and getting to know everyone."
When the primary votes were all tallied, Haney narrowly edged out the competition as the top vote-getter, with more than 36% of the vote, which meant he would advance to the run-off election on April 19, along with the #2 vote-getter, David Campos.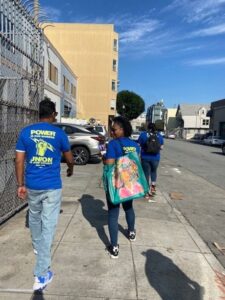 "Our hard work paid off! Seeing the numbers on Election Day made us proud to be a part of IBEW 1245," said Bonds.
"Victory victory victory! Another campaign that we came out with a win," Organizing Steward Cory Alves said enthusiastically. "I had lots of fun on this campaign. I like to think those who trained me and those who came before me allow me to be the best organizing steward I can be."
"Our organizing steward program prides itself in training by doing," IBEW 1245 Assistant Business Manager Rene Cruz Martinez pointed out. "We have been successful in identifying and developing new leaders by having them take on additional responsibilities."
***
In the Primary race, Haney and Campos came within 7/10th of a percentage point of one another, and with the expectation that the runoff election would also be a close race, IBEW 1245 once again dispatched a team of skilled and trained organizing stewards to help Haney over the finish line.
Renteria-Orozco returned to the campaign as the lead organizing steward. She was joined by seasoned Lead Organizing Steward Alvin Dayoan who was assigned to mentor and support the team. The team was complete with support from Organizing Stewards Dawn Faulau Akolo, and Jeff Munoz, as well as Nicole Frazier in the first week of the campaign.
"In total, we've made a total of 6,402 phone calls and knocked on 1,175 doors," Dayoan reported at the close of the campaign. "We canvassed places all over SF in Excelsior, South Mission areas in Russian Hill, Haight-Ashbury, Tenderloin, Pacific Heights, and Potrero Hill."
"I'm very grateful for the opportunity to work alongside these amazing brothers and sisters," said Faulau Akolo. "I appreciated that everyone on this team worked diligently to get these phone calls and door knocks handled. No one was left behind, and it was clear from the start what our goals were. Maria, Alvin and Jeff were a dream to work with, and I look forward to working again with them in the future."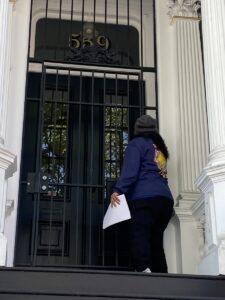 When the returns started to come in on Election Day, it was clear that those efforts were well-received. In a race than many expected to be neck-and-neck, Haney garnered a whopping 62% of the votes, while his opponent came away with around 38%.
"We were victorious at the end … and we gain another labor friendly ally in Sacramento!" said Dayoan. "I am very grateful for the opportunity to help IBEW 1245 and our labor constituents of San Francisco."
–Rebecca Band, IBEW 1245 Communications Director
---
It was my pleasure to be a part of the Matt Haney campaign; It was a great experience to speak with people within the San Francisco community and inform them of the upcoming election while advising on polling or ballot locations as needed.

I was able to complete 680 calls during my two-day assignment. But it was the door-to-door canvassing that really made the biggest impact for me. I was canvassing with Alvin side by side. This was my first time doing canvassing, but being paired with Alvin, a veteran canvasser, made me realize I had my brother by my side. The area we were canvassing in was a nice area surrounded by beautiful houses. I tend to be oblivious of the dangers around so I was reminded, don't walk around staring at your phone. This advice became imperative when we split to cover a larger area; I was tracking my phone GPS and at once I became unfamiliar with the area around me. Before I could react, Alvin drove up to get me. The unity of IBEW became evident– right when you feel alone, the union always has your back.                                                                                                     

I was honored to be a part of the campaign and humbled to learn imperative skills and navigation techniques to be successful. I will forever be thankful to my union, IBEW 1245, for allowing me the opportunity to have this experience and look I forward to many more to come.  –Nicole Frazier, IBEW 1245 Organizing Steward