Nestled in rural, northeastern California, the Lassen Municipal Utility District (LMUD) provides essential power service to the greater Susanville area. Susanville is a small, mountain town in remote Lassen County with a population of just around 17,000. A former hub of logging and mining, the main industry in Susanville these days revolves around the town's two state prisons, and a third prison located nearby.
The IBEW 1245 members that work for LMUD may have a different way of life compared to their urban-dwelling union siblings, but the skills, dedication and quick thinking they display at work each day demonstrate that they carry the very same union values.
***
A life-long resident of Susanville, LMUD Lineman Sean Norvell has worked for the utility for 24 years. Given the rugged terrain and potential for extreme weather, no two work days are ever the same for Norvell and his crew. On a typical day, they tackle whatever comes their way, from substation work to jobs on new housing and businesses in the area. They are often busy with maintenance like replacing poles, some of which date back to the 1960s.
Not every day is typical, however, particularly in the winter. When a late-winter storm brought heavy snow to the area, it kept the LMUD line crew on their toes.
"We had a pole go through a garage up in Eagle Lake," Norvell explained, recalling the severe weather event. "We had to pull it off the roof safely, kick the circuit, and replace the pole. There were about four feet of snow– it took snowcats, four-wheelers, and snowshoes to get to it."
***
IBEW 1245 shop steward Michelle Langley, a Senior Customer Service Rep and nine-year veteran of LMUD, wears many hats at the utility's office, from helping customers start or cancel services, to managing billing, to handling outage calls. Langley is also the dispatcher for the linemen. In that role, she must think quickly on her feet, keeping track of the linemen when they are out on jobs, monitoring their safety, and reassigning them to urgent needs as they arise.
"If there are major outages, I take over," Langley explained. "I figure out who the normal troubleman is, call him out and give him the information. Outages are pretty exciting, because I'm multitasking and trying to keep track of everybody."
She recalled that same severe storm Norvell mentioned, and remarked on the challenges she faced in her own role during that event: "The storm broke a bunch of tree branches and downed power lines. It lasted for a week," she said. "I have to feel out every situation–if I have another priority call, do I reassign a lineman right away?"
***
Wildfires have also come close to home for the residents of Susanville. Last August, the Dixie fire reached nearby Westwood, impacting many LMUD customers.
"The fires burnt the communication lines," Langley explained. "For about two weeks, all the crew was out, and we worked 24 hours. We split 12-hour shifts. Somebody had to be here all the time, answering our phones and dispatching the linemen."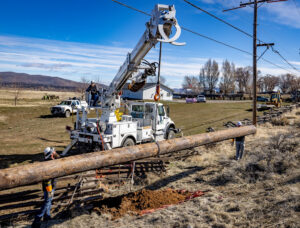 When severe weather strikes, the IBEW 1245 members at LMUD work together to respond, mitigate the dangers, and get the power back on. No matter the challenge, the Local 1245 members at LMUD are able to focus on their work and keeping their community safe knowing that the union has their back.
"We wouldn't be where we are without the union," said Norvell. "It's the reason we have good benefits, good wages, good everything. I can't say enough about the union."
"I really like the union because I feel like everybody sticks together for your best interest. And if you're having an issue, you can get someone else's opinion," said Langley. "It's like a big group of best friends."
Photos by John Storey