If your household is reliant on a gas-powered heater, oven, stove, clothes dryer or any other appliance this winter, you may take for granted the fact that the heat will come on with the quick press of a button.
But transporting that gas into your home is no simple task, and involves quite a bit of complex instrumentation to monitor and control the safe passage of gas through the transmission pipeline.
IBEW 1245 member Drew Lopes, who works for PG&E GC Gas as a Technical Crew Leader B, explained the role that his Measurement and Controls team plays in this process.
"We have a very broad spectrum of what we do, and it's all across the whole system. Basically, we provide instrumentation, controls and electrical support to the gas transmission system," Lopes explained. "We fabricate and install control systems for new stations, and we do retrofits to old stations — that could be anything from a gas regulation station, to a metering station, to a compressor station. Our PLC — Programmable Logic Controller — is the brains of the operation. We build those in our shop in Stockton, and then we distribute all the things we build out to the field, and we have field crews that install them."
When the Utility Reporter caught up with Lopes in November at PG&E's Milpitas terminal, he was working on a meter upgrade project.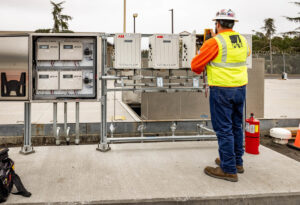 "We have an old, outdated style of gas metering that they use here currently. So section by section, we're blowing down the pipeline, and actually cutting those old meters out and welding in a new section of pipe," he said. "And then we come in and attach a new meter called an ultrasonic meter that uses a frequency wave, which is a new, more efficient style of metering. There's conduit work, there's wiring work, and there's tubing work. We work very closely with a group of asset specialists out of the Dublin test lab. Basically, we build it, and then they come in at the end and they help us get everything fired up and working properly."
Lopes noted that the new ultrasonic meters contain small boxes called transducers, which bounce a frequency back and forth to measure the total flow.
"Depending on how much gas is flowing, it will take longer or shorter for that frequency to get back and forth," he said. "It takes temperature and pressure and applies a correction to that. And the corrected flow goes to the station PLC, and that talks to gas control."
Lopes went on to explain how the different types of pipeline stations take transmission pressure — usually around 800psi — and regulate it down to between 60 -1/4psi for a typical residential home in the Bay Area.
But residential customers are just part of the total picture for this workgroup.
"Another aspect of what our group does is a project called Large Volume Customer Regulation sets, to feed some of these large volume customers — rock quarries, all sorts of processing plants, tomatoes, and cheese plants, wineries, refineries," Lopes said. "GC gas will go in and weld up all the piping, and then we'll come in and we'll put in all the controls — pilots, tubing work, everything we need to do."
"Several of our crews are also assigned to SCADA [Supervisory Control and Data Acquisition] site installations," he continued. "We install a transmitter that reads pressure upstream, and midstream, and downstream of a regulation set. And that feeds to gas control. It's just visualization — there's no control there — but it tells them exactly what the pressure is at that site. We've been putting in hundreds of those sites every year."
Lopes went on the explain one other key aspect of his team's work – valve automation.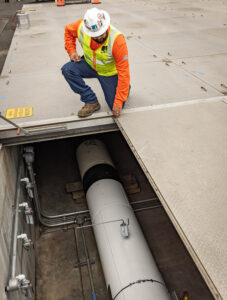 "Since the San Bruno tragedy, Gas M&C has automated hundreds of transmission pipeline valves. Some of these valves are used to regulate pipeline pressure, and others are specifically designed for rupture control," he explained. "Automated valving has proven its value multiple times since San Bruno by preventing over-pressurization events and isolating pipeline ruptures in a matter of minutes."
Lopes, who stepped up and became a 1245 shop steward last year, is grateful for the opportunities and the protections he receives as a union member.
"I love being a part of the union. It secures good wages for us, good benefits. There's some level of comfort from the union, especially when the company was going through bankruptcy," he said. "I definitely appreciate what they do for us. And I encourage everyone to read your contract and ask questions. And there's a lot of benefits of being a union employee."
"I've worked non-union, and I've worked union jobs, and I'm much happier in the union shop," he added.
–Rebecca Band, IBEW 1245 Communications Director
Photos by John Storey