While most families hunkered down amidst one of the biggest snowfall months in history, thousands of IBEW 1245 members have been working tirelessly alongside other first responders on the massive storm response operation. Many have sacrificed time with their own families over the holidays to assist those in storm-ravaged communities.
"In this season of giving, I am continuously inspired by our selfless members who truly exemplify our union's core values," remarked IBEW 1245 Business Manager Bob Dean. "As 1245 members, we rise to each occasion, we look out for one another, we're the first to lend that extra hand, and we approach every task (even in rain, hail, sleet, snow, and a pandemic) with the skill, expertise and professionalism that the IBEW is known for."
***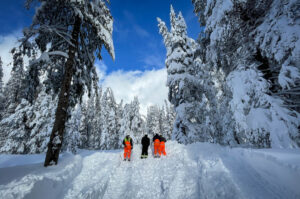 After the first big storm of the season blanketed the Sierras with heavy snow, the Utility Reporter travelled (cautiously) to the Soda Springs area, where GC crews were working to make the area safe and restore power as quickly as possible. But with near white-out conditions and snow still falling, the job was far from easy.
"I'm trying my hardest to get these guys power," said IBEW 1245 member Jason Miller, PG&E GC Subforeman A out of Auburn. "Yesterday, we were up here replacing a pole with three other crews, making all the repairs we could, and I couldn't get it energized last night because there was still trouble beyond. Once I realized that there's just still too much, we made everything safe and left for the night, I got home around 11pm."
"When we came back this morning… we patrolled again because we'd left for the night, which is usually our procedure. Everything looked, appeared to be good … and then one of the repairs we made last night, something came down on it again and damaged it, so we had to fix that," he added. "Once I deemed everything was good, we went and closed fuses to test, and it held, so now we're coming back through."
Miller has worked a lot of storm seasons, and he anticipates that this one may be among the hardest. Drought-weakened trees cannot withstand the weight from tremendous amounts of snow.
"If we continue to have storms like this, we're looking at something like 2017, where we put [the poles and lines] up, then it comes back down, and we put stuff up, and it comes back down," he remarked. "I don't think it's quite on par with '17 yet, but it looks like it's getting there."
Indeed, December snow levels surpassed the month record from 1970, and are on par with 2017 in some areas of PG&E service territory.
Miller and his crew were highly aware of the potential hazards all around, especially on the roads, many of which were not yet plowed. He recalled a fatality vehicle accident that he and his caravan had passed as they proceeded very carefully up the mountain.
The conditions were limiting what he and his crew could do in the moment. He noted a center phase down across Highway 80 that the crew couldn't yet get to, due to the road conditions.
"The shoulders aren't plowed, and CalTrans has given some resistance on closing the entire freeway down for a long period of time. So, we decided we're going to have to do it at a later date when CalTrans can get the shoulders cleared enough where it's safe for us to actually work and prep," Miller said. "Then, we can possibly do a rolling shutdown, which will be a lot shorter, and they'd be more apt to accommodate us with that."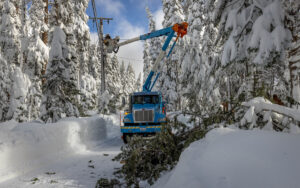 The work is challenging and the stakes are high, but Miller is assured by the fact that he has the IBEW in his corner.
"I think the union's great. They take care of us," he told the Utility Reporter. "I'm thankful to have a job with representation and good a contract, good people that I can call if I need to. I couldn't be happier. I have no complaints whatsoever."
***
Seventeen-year IBEW 1245 member Gregg Smith has worked a lot of storms, but this winter's severe weather caused some of the most damage to trees and infrastructure that he has seen in his career. The Utility Reporter spoke with Smith in Humboldt County, California on a cloudy day in early January with several inches of snow on the ground.
"There's a ton of trees down everywhere, a lot of small things down, and a lot of wire down from this storm. I see a lot of broken poles too. I'd say it's probably one of the worst storms I've seen up here," said Smith, a transmission electric crew foreman out of Lakeville. "The amount of tree-fall throughout this storm has been excessive compared to previous years."
On this day in Willow Creek, Smith's crew was working to repair an 800-foot span of line taken down by a falling tree. To complicate the situation, on top of heavy snowfall, the line had fallen into a canyon. To complete the repair, the crew would need to get the wire back up to a three-pole structure on the other side of the steep terrain.
As Smith explained, "The hazards of this particular job are access and the terrain; getting down into the canyon where all the wire fell into means crossing steep, snow-covered hills. And the wire is heavy, heavier than a lot of the normal distribution."
It takes time and careful planning and execution to get crew members into deep and distant places safely. A crew member needed to safely navigate to the distant three-pole structure to splice on new conductors in order to pull the span back up. And the variable weather continues to present all sorts of challenges.
"For the last three days, it's been raining the whole time, rainy and cold," said Smith. "But when we were in Garberville, it was snowing the whole time, white-out conditions."
The damage brought on by winter weather and storms has had Smith and his team working all over the area in Humboldt, as well as Lake and Mendocino counties. The jobs ranged from dealing with down wires, to changing out poles, to a full patrol of the line.
"Near the Maple Creek substation, we had a set of broken arms that we replaced, and then had a couple spans of wire down, all inaccessible," Smith recalled. "There was two feet of snow for all of that."
His work may change from day to day, but if there's one thing Smith can count on, it's IBEW 1245.
"They negotiate for our wages and take care of our benefits," he said. "They have our backs for everything."
Photos by John Storey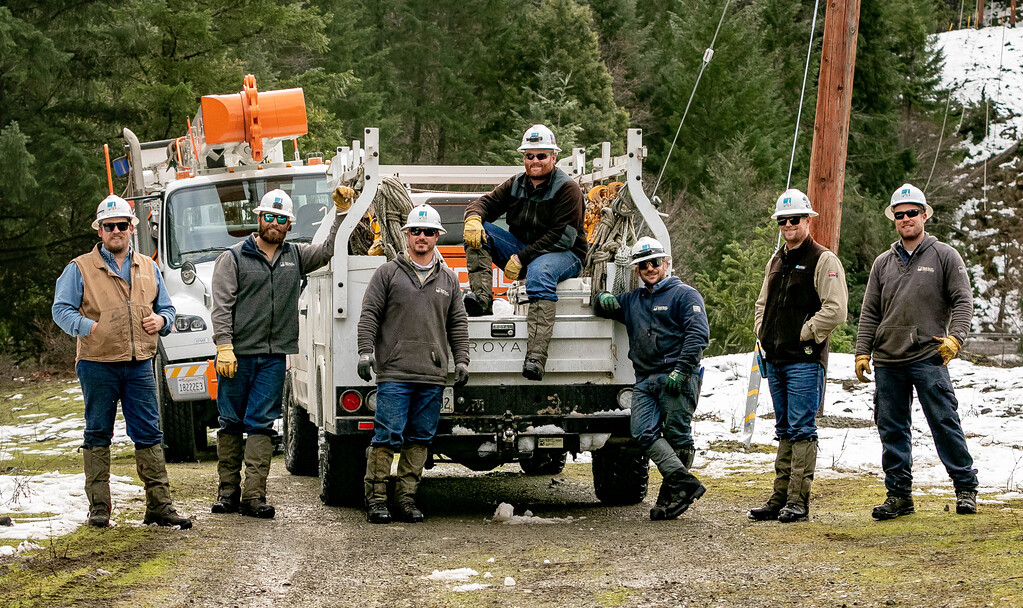 Left to Right: Lineman Travis Doyle, Lineman Jeremy Pitkin, Lineman Kevin Davis, Lineman Andrew Murphy, Apprentice Glen Chapa, Foreman Gregg Smith and Apprentice Lineman Chase Coetzee.