This week, 14-year IBEW 1245 member Shane Collins received PG&E's prestigious Britton Award for the role that he played in apprehending a violent and extremely dangerous criminal in the Santa Cruz mountains last June.
Collins, who works as a lineman for PG&E out of Santa Cruz, was out in the Ben Lomond area when spotted a suspicious vehicle with what appeared to be a large cache of weapons and explosive device-making equipment. Collins wasted no time in reporting what he saw to law enforcement.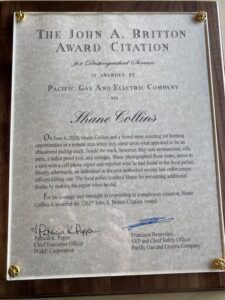 When the sheriffs caught up with the truck and its driver, a violent ambush ensued, three officers were shot, and one unfortunately passed away from his injuries. But law enforcement was quick to point out that, while the loss of their colleague was a horrible tragedy, Collins did the right thing by calling the police, as there's no way of telling how many more could have died at the hands of this perpetrator if Collins hadn't taken the time to dial 9-1-1.
Collins' supervisor, Todd Hagar, commended Collins for his action when he presented him with the Britton award.
"This is nothing out of the ordinary for Shane," Hagar said. "He does this stuff all the time. It's just the way he is. He's always there to help."
Three representatives from the sheriff's office also attended the awards ceremony to express their appreciation to Collins, noting that his 9-1-1 call could have saved countless lives, as the perp was "intent on killing as many police officers as he could."
The Britton Award is named for PG&E's first president, John Britton, and is given to individuals who display exceptional courage, initiative and resourcefulness in an emergency.
Collins was overcome with emotion as he accepted his award, which he called "a hell of an honor," and mentioned that seeing and hearing from the sheriffs helped him process some of his ongoing grief over the officer who didn't survive the attack.
"I don't think I deserve this…  but if I had to do it all over again, I'd do it the same way," he said, adding that his heart goes out to the friends and family of the slain officer.
photos by Casey Barker