Nestled behind the redwood curtain on a scenic coastal overlook just south of Eureka, CA, PG&E's Humboldt Bay Generating Station (HBGS) is the main source of power for residents and businesses across the North Coast. In this quaint, remote community, a small but hard-working crew of IBEW 1245 power plant technicians wear many different hats in order to keep the 163-megawatt power plant running smoothly.
"Some days I'm the control operator at the plant, other days I'm the roving operator at the plant. It varies day to day," said Advanced Power Plant Technician Sean Marsh, a 13-year IBEW 1245 member. "We do everything from controlling our units and their output by the computer screens, to walking around in the plant, looking for leaks and just checking to make sure all the equipment is running normally."
"I'm an electrician most of the time. And then some days, I'm a diesel mechanic," added Advanced Power Plant Technician and six-year IBEW 1245 member Travis Land. "It's a wide variety of facets to cover around here. Every couple hours, we're switching hats."
Work never stops at the plant, and that was especially true during the COVID-19 pandemic. Over the 2020 holiday season, the tight-knit HBGS crew got even tighter as they lived, ate and slept at the plant for more than three months to protect against the risk of an outbreak shutting down the entire plant.
"We sequestered for three 32-day rounds. Each sequester had six IBEW 1245 employees that consisted of three control room operators, two mechanics, and one lead," Advanced Lead Power Plant Technician Alex Migliorini explained. "We lived onsite for those 32 days, in these trailers, and did everything we needed to in order to keep this facility going and stay 100% virus free."
"We were able to swap groups of people in and out, and I don't think that would have been possible without the union necessarily; we probably wouldn't have had the buy-in that we had from everybody," said Marsh. "All the operators and all the maintenance guys, everybody had a plan, and we were all ready to come in and do our part of it. I think there's a sense of unity that grows from all of us here, and it's a really good thing."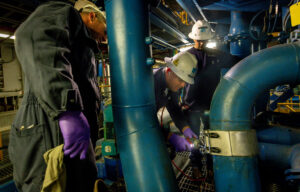 Also in 2020, the HBGS plant techs — along with ample support from about 70 other PG&E employees — took a huge step forward in reducing the impact of public safety power shut-off (PSPS) events in Humboldt County.
"Even though our area is not in a high-fire-threat zone, PSPS events still affect us because all of the high-voltage transmission lines that tie us to the rest of the electric system get de-energized due to being in high-fire threat zones," said Migliorini. "So last year, we set up our facility to support 'islanding' for our area only, which means we can be separated from the larger electric grid and continue providing power to more than 60,000 customers here in Humboldt during PSPS events. The amazing part about that was the major teamwork that went in to get all different PG&E entities to work together to create a safe and efficient island."
***
The plant at Humboldt Bay was first commissioned by PG&E in the mid-50s with two fossil units, and a natural-circulation boiling-water nuclear reactor was added as the third unit in 1963. All of these original steam units were decommissioned and replaced by a new plant utilizing Wärtsilä technology, making it 33% more efficient with 85% fewer ozone-forming compounds, and a 34% reduction of greenhouse gas emissions production. In its current iteration, the plant has 10 reciprocating engines that run on natural gas to generate electricity, with diesel fuel as a backup.
For the crew at the plant, work is a lot of things, but boring isn't one of them.
"The most challenging aspect is just that it's constant," said Migliorini. "There's always something happening, whether it's operational or maintenance-driven."
"I love troubleshooting stuff, and there's always something that needs to be figured out," added Marsh.
"I think the best part about working here is that you never know what you're getting yourself into from day to day," said Land with a smile.
In such an unpredictable work environment, there's one thing the power plant techs can always count on – and that's IBEW 1245.
"I'm an older worker and I've worked a lot of different jobs; I didn't get here until I was in my forties. I've seen a lot of what else is out there, so coming into a job like this, with union support, I can tell you that just about everything — from the focus on safety to our overall package of benefits — is better," said Marsh. "As a shop steward, I've been involved in the past negotiations, and I think with collective bargaining, a lot of people don't see it happening, but they definitely feel the benefits of it."
The union's always got you, whether it's right, wrong, or indifferent, they've always got your back with this company. I like it!" said Land. "Our union rep, Mark McCrea, he's always at the other end of the phone if you need something. And if he doesn't have an answer, he'll get you one."
–Rebecca Band, IBEW 1245 Communications Director
Photos by John Storey