In Memoriam: Landis Marttila
Landis Marttila, who served as an IBEW 1245 business representative for 30 years, died at his home in San Francisco on June 9.
"He was a union man and a colorful character who always had the members' best interest at heart," said Local 1245 Business Manager Bob Dean. "We will all miss him and offer our support to his family during this tragic time."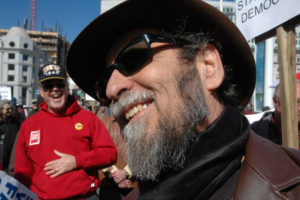 Brother Marttila was hired by IBEW 1245 in 1990 and served as both a business representative and a senior business representative. Among his many assignments for the union, Marttila represented members at PG&E, in Outside Construction, and Line Clearance Tree Trimming. He was active in many union organizing drives and political campaigns, and was a reliable presence on the picket line when other unions asked for solidarity. He represented IBEW 1245 on the San Mateo Central Labor Council for over 20 years, and the CLC commemorated Marttila's passing with the following message:
"Landis had a big personality and an even bigger heart. All of us were family to him, and there was nothing he wouldn't do for his members. Always in a dapper suit and suspenders with his hat placed jauntily upon his ponytailed head, Landis was our picket line Rabbi more times than any of us could count. He could joke you out of anything that ailed you, and was masterful at diffusing any tense situation with his quirky brand of humor. His loss leaves a hole in the hearts of all of us that had the privilege of knowing and working with him, and we offer our sincerest condolences to his family. Rest in power, brother."
Marttila, who retired just last year, had been in good spirits and was enjoying his retirement when he unexpectedly died of natural causes at his home in San Francisco. He is survived by his wife Barbara, sister Julie and her husband Rick, sons Max and Joshua, and daughter Anikka, as well as three grandchildren and six great–grandchildren.
At his funeral in mid–June, Local 1245's former communications director and Marttila's close friend, Eric Wolfe, delivered an emotional eulogy, stating:
"Like any good union rep, Landis could answer your questions about the union contract, or tell you how to find the answers. But he knew the heart of unionism wasn't in the fine details written down on a page. The heart of unionism was believing in your own power, and the power of collective action. He wanted you to believe in the union as much as he did. He acted like you believed in the union as much as he did. Landis consistently recruited large numbers for phone banking and door–to–door canvassing and picket lines and demonstrations. He could motivate people by the sheer force of his enthusiasm. The man walked into a room with good cheer and left with volunteers. Not everyone was receptive to that high–octane approach. But I've seen him move through a service center like an electric current, charging people up, making them feel a little more powerful than they did five minutes earlier. I think he believed his job was to lift you up. He was my friend. And he always lifted me up."
Following the announcement of his passing, condolences poured in from across the union and the labor movement.
My heart goes to his entire family. We lost a true fighter for all organized labor. Rest in peace my Friend… –Junior Ornelas
A real gut punch! Landis was so dedicated to building 1245 and a stronger labor movement– a true union brother who always dressed to the nines. He will be missed. –Fred Ross
Hits us all very hard , RIP brother Marttila.  –Keith Hopp
Worked with Brother Landis on a few organizing steward campaigns in SF and Sacramento.  Rest in Peace my brother, and thank you for all you have done for us and our union family. –Phuong Tran
Devastating. Heartbroken for his family and many friends. His light will shine on. –Eileen Purcell
A humble and selfless human made of true grit, may our brother rest in power. –Melissa Echeverria
He was one of a kind. – Abel Sanchez
Love you my brother. You are organizing the Angels in heaven, that is for sure. –Nate Fairman
Always dapper, you will be missed Landis. – Thomas Cornell
A big loss for our union family! Rest In Peace my brother! – Rene Cruz Martinez
Awe man that is sad to hear! Landis was a good guy, and always dressed to the nines. RIP brother  — Chris Feyling
He taught me so much. – Ray Banfill
I am very sad and shocked to hear this news. Landis was one of the first reps that I worked with when I became involved in 1245 Unionism. A great man, he will truly be missed. RIP Brother – Gary Maschio
Met Landis at SFSU back in the 80's when we were breaking in. What a loss. He was a great guy! On behalf of the membership & leadership of Teamsters Local 853 I wish to extend our heartfelt condolences to his family & union family at IBEW 1245. – Mike Henneberry
This is incredibly heartbreaking to hear. I met Landis when I worked for the San Mateo Labor Council. His true blue values, humor, laughter and booming voice will be missed so much. He was a pretty amazing person. — Tricia Suzuki Blinstrub 
Rest In Peace brother. I was proud to know you. You will be missed. Thanks for everything you did for us. — Gerald Huddleston
Such sad news, Landis was a good Union man and Representative for the IBEW and Local 1245. Love and prayers to family and friends and condolences to all.  – Mike Mowrey
So sorry and shocked to hear this. Landis was quite a guy. I had a lot of respect for him and the work he did. We had many great conversations over the years. My condolences to his family. – Stephanie Finetti
RIP dear Landis always loved your snappy clothes and great smile. – Anna Martinez
Rest easy My Brother… you were an amazing mentor and an even better human. Thank you for all you taught and shared with me. –Casey Barker
 I was an apprentice working in San Francisco and Landis was one of my crew foreman/union representative always both and I'm very grateful for the fact that he taught me the union Contract as well as line work. Rest in peace brother Landis knowing that you left this world a much better place having been in it! Great man/father/person. — Brett Crandall
Landis made me a shop steward in 1990. Wouldn't be here without him. – Bob Gerstle
He was a cool cat and great activist. Also nice to all of us. We are going to miss him. – Jaime Tinoco
I worked with Landis in SF and most memorably during the Loma Prieta earthquake. Had some great debates/conversations with him. Rest in peace brother. – John Bauer
Landis was a great guy and a wonderful partner in labor relations. — Claire Iandoli
A standup guy —— Union to the core. — Gunnar Lundeberg
Landis was an advocate for employer provided child care and a member of our negotiating committee for same at PG&E. Here is a picture of him at  the Child Care Center  in San Francisco.  There was a negotiated system to make certain our members were given a specific number of spaces.  We seldom if ever utilized our allotment. I know the quality of the picture is not great but it reminds me of his ability to make you smile. –Dorothy Fortier
Learn more about Landis and his storied career in this article written on the occasion of his retirement.
UPDATE 6.14: The memorial for our Brother Landis will be on Wednesday June 16th at Duggan's Serra Mortuary at 500 Westlake Ave. Daly City, CA 94014. The viewing begins 9 a.m. and the service at 10 a.m.