After 30 years on the IBEW 1245 staff, long-time Business Rep Landis Marttila retired from the union this spring.
"Landis is fiercely dedicated to the members of Local 1245.  He sees them as family — brothers and sisters – and there is no problem too trivial for him to care about," said IBEW 1245 Business Manager Tom Dalzell. "Landis is one of a kind, and in his years with Local 1245 he has added much more than can fit onto a spreadsheet.  Our members are better for what he gave, as is Local 1245.  He will be missed."
A Powerhouse Organizer
Brother Marttila started his career at PG&E as a gas utility worker in the early 70's. He left the company to work as a line clearance tree trimmer for a few years and returned to PG&E in 1977 to become a lineman. He spent 13 years doing linework for the company — first as an apprentice, then a journeyman, and later a crew foreman — before joining the IBEW 1245 staff in 1990.
At IBEW 1245, Marttila quickly established himself as a powerhouse union organizer, utilizing a mixture of traditional organizing, project agreements for specific areas, and unique outside-the-box approaches. He's also not ashamed to admit that he may have engaged in a bit of "mild subordination" while trying to organize the workers at Arbor Tree back in 1994.
"I was directed by then-Business Manager Jack McNally to only pursue activity with non-union Arbor Tree as far south as Monterey.  At the time, I was responsible for Health and Safety, and I'd been investigating problems with pole reliability down in the Templeton Yard relentlessly for months," Marttila recalled. "While I was in the area, I contacted Arbor Tree crew members in the field and continued organizing [despite the fact that it was outside of the assigned area]. Arbor Tree assumed that 1245 was going to continue open and public pressure, and agreed to sign an agreement with the union in late 1994."
That Arbor Tree campaign was one of 11 different organizing campaigns that Marttila spearheaded for 1245, most of which were in line clearance tree trimming. Under his tutelage, union representation among tree trimmers in IBEW 1245's jurisdiction increased from 60% in 1992 to 90% by 2000. Marttila also helped establish a prevailing rate for tree trimmers in 2000, which paved the way for the passage of the new tree trimmer legislation, SB 247, which went into effect at the beginning of this year.
"Landis was always talking about the tree trimmers, trying to figure out how to get them more bargaining leverage," recalls former 1245 Communications Director Eric Wolfe. "Sometimes he'd pick me up in the middle of the friggin' night so we could show up first thing in the morning to leaflet some non-union tree contractor out in the valley somewhere."
"Landis knows how challenging the tree trimming industry is, and it was an honor to have him involved in the 2019 negotiations, which included the SB 247 requirements and a huge wage increase for that work group,"said Senior Assistant Business Manager Ralph Armstrong. "Watching and feeling his excitement during those negotiations and changes was fun!"
Improving Lives and Livelihoods
Anyone who's met Marttila knows he's a man with an eye-catching personal style and a whole lot of panache. Donning his trademark fedora and suspenders, he never fails to make an impression, whether out on the jobsite, or working the political scene.
"He's unique in his ability to spread good will through his warmth and quirkiness," said IBEW 1245 Assistant Business Manager Hunter Stern. "Folks just like him, especially in the political realm.  He's a character — but one you'd want to hang with."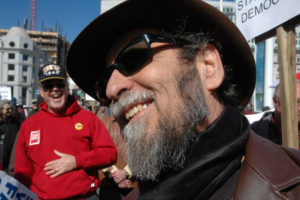 In 2001 and 2002, Marttila helped coordinate two campaigns to defeat electric municipalization in the City and County of San Francisco. He also organized and implemented well-attended and publicized demonstrations at the Public Utilities Commission – one in opposition to impending PG&E layoffs in 1995, and another related to de-regulation in 1997. He worked closely with the CPUC on numerous critical issues over the years, including the General Order 95 Rulemaking on 18" minimum distance from high voltage lines at all times, pole top cellular phone antenna sites, and inspecting overhead electric lines and reporting requirements, as well as Order Instituting Rule Making on Wildfire Safety and associated construction and inspection rules for overhead facilities in fire threatened areas.
Marttila never turned down an opportunity to help improve the lives and livelihoods of IBEW 1245 members. He oversaw the Health and Safety and PG&E Apprenticeship programs for the union from 1992-98; was responsible for Outside Line direct servicing in Northern California from 1998-2001; and supported local negotiations on behalf of clerical, gas construction/maintenance, and electric transmission and distribution in San Francisco, Skyline and Peninsula Divisions in the 2000s. He also coordinated statewide organized labor support for the first PG&E bankruptcy settlement in 2003-2004.
Unparalleled Commitment
Whenever there was a need, big or small, Marttila was there in a heartbeat.
"Landis doesn't disappear when it's time to do grunt work. And he has a good sense for important details," said Wolfe. "Before he starts hanging door-hangers, he'll take the time to put rubber-bands on every single one of those suckers so they attach securely to any kind of door and won't fall off or blow away in the wind. I also watched him sit down on cement steps in a good suit and wrap dozens of picket signs in plastic so they wouldn't wilt in the rain."
And like a Boy Scout, Marttila is always prepared.
"I remember we were doing a political event at a pub during the 2001 campaign," recalled Stern. "We were talking to a rather influential politician who was very skeptical of the City running PG&E (but was not publicly saying so) and we were discussed what a takeover would mean practically. Suddenly, she said she was hungry. Landis pulled out five mini candy bars mixed with empty wrappers from his coat pocket and offered her one on the spot. We both looked at him like he was crazy.  He said it is his campaign routine, coffee and chocolate.  She eventually helped us by giving us access to the local political clubs that supported her."
His commitment to the labor movement is truly unparalleled. He represented Local 1245 on the executive board of the San Mateo Central Labor Council for nearly 30 years, and was the proud recipient of the CLC's C.O.P.E. Unity Award in 1994. He also boasts a whopping 32 different appointments to various union committees, delegations and other roles over the course of his IBEW 1245 career, which may very well be a local record!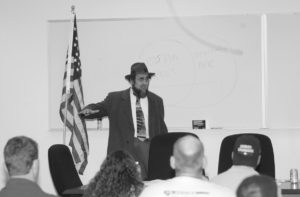 According to Marttila, out of his many campaigns and accomplishments, the one that sticks out most to him occurred in 1998, when Asplundh Tree announced a 10% reduction in manpower in San Mateo County. Ordinarily, such a cut would inevitably result in layoffs, but thanks in large part to the work that Marttila did to cultivate a sense of brotherhood among the tree trimmers,  the members overwhelmingly agreed (by a secret ballot vote of 110-2) to reduce their work schedule by 10% in order to avoid any job losses.
"Over the years, I've watched a lot of members interact with Landis," Wolfe said. "When he calls you brother or sister, it's more than just a union formality. He makes it feel like a personal pledge of solidarity, like he's got your back. And people respond to that. He could really turn out members for phone-banking, canvassing, picketing, you name it."
"I've known Landis for more than half my life, and I've worked with him in his many capacities with Local 1245 – Business Representative in the San Francisco Division, Business Representative with our line clearance tree trimmer members, strike captain in our strike against Pacific Tree in the 1990s, and safety expert. He has brought the same qualities to each of these jobs," added Dalzell.
"I have had the pleasure of working with Landis since I came on staff with Local 1245. Landis had many of my assignments for several years before me, which we talked about often," said Armstrong. "I wish Landis and his family the best in his retirement."
–Rebecca Band, IBEW 1245 Communications Director
---
I first met Landis in the early aughts, when I was working for PG&E in IT. He was looking into organizing the IT folks, and we made contact. Together, we talked to a lot of my coworkers about the benefits of becoming union members, but the vote did not pass, so we parted ways.
Years later, I changed roles and began working as an Environmental Field Specialist. At the time, we were being asked to do a lot of things that had very little to do with field work, and only tangentially attached to environmental work. So I reached out to Landis, and told him we had a strong desire to become members of the union. He worked with us for months to get a good idea of what we did, how we function and how we are organized – because we're not like other work groups at PG&E; we're completely different from the other Title 200 groups he worked with.
Landis started doing salary comparisons, looking at what we were paid and comparing it to others working in similar roles in the utility industry. He discovered that, on average, we were underpaid around $25,000 a year compared to our peers — both union and non-union. When he reported that to us, we were flabbergasted! That information he gathered helped us drum up support for our union organizing effort — and of all the votes we received from our group, there was only one person who voted against unionizing.
(Several years later, that person went to an IBEW pin dinner and ended up thanking Landis and the union because they had saved her job when she was unable to obtain a certification that management said she had to have. Landis helped her interpret the contract and convince management that she was not required to have that cert to do her job.)
When we first ratified our contract, my job didn't change at all — but because of what Landis had done, I suddenly received a $26,000-a-year raise! And quite a few of my coworkers received raises as well, all because of the work Landis had done researching salary packages of people who did similar work in the industry.
No one person does it alone, but Landis went out of his way to make sure I and my fellow IBEW brothers and sisters knew what was going on, and he made sure were kept in the loop about issues that affected us and our livelihoods. I just want to tell him 'thank you' for everything that he and the IBEW have done for me and my career. He's given me and my co-workers a voice. Landis reaching out when we were unsure of what to do is the #1 reason why we are where we are.
–Jennifer Hope, IBEW 1245 member and PG&E Environmental Field Specialist