When seven-year IBEW 1245 member Mike Siri responded to a service call about a suspected gas leak, he had no idea the day would end with him saving a man who tried to take his own life.
Siri, a PG&E Gas Service Representative, arrived at the location in San Rafael where the leak had been reported. As soon as he got out his meter to try to determine where the leak was coming from, he quickly realized something wasn't right.
"I noticed my meter was going crazy," he recalled. "I started searching around and was getting weird readings everywhere. I told the customer, 'I need you to go inside and make sure all of the appliances are turned off.'"
The customer was certain everything was off, but she went inside the house to double-check while Siri went into the backyard to continue his search for the source.
There, he found a small shed with a plastic curtain pulled over the window. He took out his meter and got a very strong reading.
"I had to shut off my meter. It was running away so crazy that I couldn't keep it on," he said. "Then I looked inside, and there was an old man, out cold."
Siri realized the shed was the man's makeshift sauna. It was natural gas driven, using an old water heater as the heat source. When Siri took a closer look, he discovered that this was not just a terrible accident; it was a suicide attempt. Sadly, the man had disconnected the gas pipe and put it up to his mouth to inhale the fumes.
As soon as Siri realized the man was in serious trouble, he jumped into action. He rushed into the shed and dragged the man out and away from the gas. Siri recalled immediately trying to help the man regain consciousness, and was relieved that he started to come to, as time was of the essence.
"I was yelling at him," Siri recalled. "I was pretty aggressive. I knew I needed to get his attention. He tried to tell me he was just sleeping."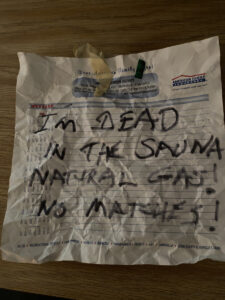 Siri then ran inside the house to ask the customer if she knew anything about the unconscious man in the backyard. Until that moment, she had been unaware that her husband was in the shed and in dire trouble. Turns out, he left a note in the kitchen that she had not seen.
Siri disconnected the gas until the police came. He also advised the customer to share the note with police so that her husband could get some help (and he did). Siri has returned to the home four times since that day to help with small issues and, no doubt, provide a measure of comfort after that traumatic experience.
"This was definitely the most unusual day ever in my career, but my training prepared me for it," said Siri. "We're not always sure what we're going to find, but we know how to investigate problems. And we're ready to act quickly to solve them and to keep people safe."
Photos courtesy of Mike Siri