Attending the EWMC conference this year was such an awesome experience! I have always wanted to attend since I started as an organizing steward, and was so happy that I finally got an invitation to attend this year. I am sad that it was during a pandemic and I didn't get to experience the conference in person, but let me tell you, they did such a great job with the virtual conference! Everything during the conference ran so smoothly. From the webinars to the breakout groups, and the final closing plenary session. I am extremely proud that I was able to attend the conference along with my fellow 1245 brothers and sisters!
During the opening session, International Secretary-Treasurer Kenneth Cooper explained how important leadership is. The 4th District International Vice President, Gina Cooper, who has been with the IBEW for 37 years and is the first female director in the Industrial and Organizational department with the IBEW, talked about being the first female officer in the IBEW in 129 years, and she did not forget to mention that we can be officers too! She was such an inspiration and I loved how she said with so much pride, "I FIGHT LIKE A GIRL!".
AFL-CIO Secretary-Treasurer Liz Schuler explained how America was built on the backs of black women, and that we need to work to get recognition and justice for black women! Maria Elena Durazo from UNITE HERE emphasized that when we are inclusive of everyone, we ALL benefit. Reverend Al Herring, of Faith in Action explained how important it is to see one another, so we can hear one another, so we can grow with one another.
–Brenda Balcazar, San Jose Organizing Steward
---
Amazing! I was in complete awe of how many folks were in attendance! I will admit I was a bit nervous yet excited to participate. I attended the social hour/networking for District 9. We almost got to 100 attendees! I enjoyed seeing everybody interact and speak about how they missed each other and how much of a family they have become over the years.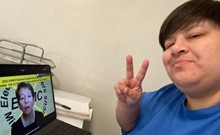 The first workshop that I attended was entitled Women of Power. The guest speakers spoke on many issues affecting women in the workplace and in our daily lives. I found it quite interesting that we only have ONE woman on the international board. I appreciate Reverend Al Herring bringing this to the forefront when he spoke on Friday night. I am grateful he also spoke on the need for more folks of color to sit on our board as well. I am grateful to have a safe space to speak about these issues and what we can do to solve them.
The second workshop I attended was Bystander to Upstander. We were engaged. We were thrown into break-out rooms and we spoke about what it means to truly stand side by side with your Union brothers and sisters. Amanda Pacheco kept us engaged by keeping it personal and factual. I was saddened to hear that over 75% of sexual harassment claims go unreported! When you see something, do something! Check on our co-workers and friends, make sure they are safe and heard!
I just want to say thank you for filling my heart with smiles and education this weekend. I am grateful for such an amazing Union family and I can't wait until I get to meet everyone in person!
–Valarie Moralez, Fresno Organizing Steward
---
The EWMC conference was so uplifting and wonderful to be in such a good place, with great speakers, great conversations, and being one with the group! I felt so welcomed and at home. The zoom conference went smoothly and was so successful with over 600 people in attendance.  The focus was on diversity and inclusion. We learned so much and I am ready to put it to work! I enjoyed the breakout rooms and getting to know the other members. They made it fun and engaging with the topics.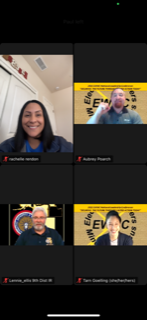 In my first workshop (Women of Power) we were able to hear about the everyday norms women face in society, home, work, and school.  My favorite Guest Speaker was Elaine Ocasio (Local 45 Business Manager/Financial Secretary). She provided such valuable information on how to overcome these obstacles. She emphasized on staying true to yourself, focusing on self-expansion, self-improvement and educating yourself, and not having to act like the guys to be respected by them. She shared we must believe in ourselves, know who we are, be fearless, stay visible, see yourself there, and seek to serve. All the women speakers in the workshop were so uplifting and motivating!
I feel like this meeting brought light to the work we have to do and how important we are to the movement. We have the responsibility to act, say something and do something! We are only as strong as our members and community. The conference was a great experience fun and engaging and fun! I am excited for what is to come in 2021 and ready to stay fighting the good fight with my brothers and sisters! Fired up and ready to go!
–Rachelle Rendon, Fresno Organizing Steward
---
First, let me express my gratitude and appreciation to our IBEW 1245 leaders for choosing me to be a part of this very inspiring EWMC conference. This was my first conference as an organizing steward and though it was done virtually, the messages conveyed by each speaker left a lasting impression with me and only reignited the fire to do more and continue to stand up for labor movement.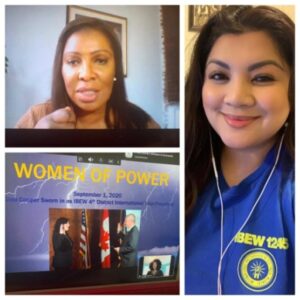 I particularly enjoyed the Fourth District International Vice President Gina Cooper's and New York Attorney General's Letitia James presentations. Both women displayed passion, conviction, and dedication to fight for diversity, equality, and inclusion. It was inspiring to hear Vice President Cooper's story and her accomplishments; she started as a clerk and moved her way up.  She is extremely vocal about the PRO Act and the importance of labor movement for the working people to keep us in the center. What stuck to me most was when she talked about the company Amazon and how Artificial Intelligence is currently being utilized and is a threat to the working people. It never really occurred to me that robots can replace me or have them as my boss; the thought is just mind boggling.
Attorney General Letitia James is definitely a force to be reckoned with. Her courageous demeanor strives for change not just for the working people but for those who do not have a voice and are oppressed.
–Anna Dayoan, Sacramento Organizing Steward
---
At first, I wasn't sure how the conference would be like since we were not in person, but they started just how they would have if we were gathered in person. We heard America the Beautiful & O Canada. The In Memoriam was done by the group chat in the zoom meeting; it was so sad to see how many brothers, sisters & family members we lost this year due to COVID-19.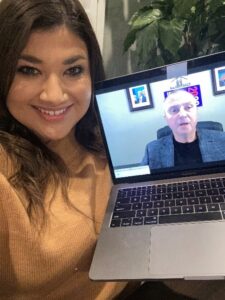 We heard from President Lonnie Stephenson, Liz Shuler from the AFL-CIO, Reverend Al Herring, and my favorite of the night IO VP Gina Cooper. To hear her speak and be so uplifting and empowering to women was so touching. Reverend Al Herring was also an AMAZING speaker, he gave me chills while he was preaching!
We ended the day by breaking off into our districts for social hour. I was grouped with some brothers from Local 47, Local 11 & a sister from 77. I was surprised when they already heard of us getting a new Business Manager at local 1245. They had already known of all the great work 1245 organizing stewards put into the election & how 1245 always answers the calls to help. It feels good to know our great work gets recognized on a larger scale.
Though the conference was over two days, I felt like it flew by! The conference was so well organized and ran smoothly the whole time. I was so motivated and wanted it to keep going. Having this conference at the beginning of the year is the best thing to set the energy for all the work that needs to happen for the upcoming months.
–Brittney Santana, Fresno Organizing Steward