Over the past eight years, IBEW 1245's organizing steward program has, without question, transformed the culture and power of our union. From its humble inception in 2014 with just 28 stewards, to the new 2021 class of 144 stewards, the program has ballooned in both size and scope, and is now known coast to coast as a powerful force to be reckoned with.
The 2021 organizing stewards, who represent a diverse array of sectors, workgroups, backgrounds and lines of business, came together as they do every January for their annual swearing-in ceremony – but due to the ongoing pandemic, this year's event was held on Zoom.
"When the pandemic hit, we had no idea that technology was going to be what kept us together while being apart," said 1245 Staff Organizer Rene Cruz Martinez, explaining how the team has shifted all meetings and trainings into the virtual space. "Labor was faced with a challenge, but we quickly adapted and delivered. We didn't know how this year's induction would pan out, but our team didn't want to bypass our annual gathering, and it was inspiring to see 105 organizing stewards in their blue shirts on Zoom on Saturday!"
While the virtual induction looked quite different from the lively in-person ceremony we usually have at the union hall, the stewards were still able to hear from their union leadership, reflect on the past year's accomplishments, build enthusiasm for what's to come, and take the oath to be sworn in to this unique position.
IBEW 1245's new business manager, Bob Dean, expressed his appreciation for all that the organizing stewards have done, and underscored the importance of standing together against our opponents in the ongoing fight for fairness and justice for working people.
"When I was a kid growing up in the East Bay, my grandfather said, 'If somebody's going to bully you, you've got to stand your ground, you got to fight.' Bullies don't want fights; even if you lose, they're not going to want to fight with you anymore. But they have to know that you're willing to stand up and fight — and here at Local 1245, you, our organizing stewards, are the tip of the spear of the fight," Dean told the organizing stewards at the start of the induction ceremony. "Union members have been fighting in this country for as long as there have been unions in this country. And your willingness to stand up for your brothers and sisters and fight is why we have the fantastic wages, and work conditions, and the ability to support our families that we have right now."
"We are a brotherhood and sisterhood, and we always have been, but we need to make sure that outside forces don't tear us apart," Dean continued. "I think it's going to be a huge goal for us going forward, and it might end up being to be one of the hardest battles that we have ever fought."
Dean's words clearly resonated with Organizing Steward Charlene Peele.
"It's a new year and a new journey for each of us. We have the same goals, beliefs, integrity, dedication and determination. So we will continue to march and fight, one battle at a time," said Peele. "We don't know what our future holds, but what we do know is we have a strong brotherhood and sisterhood that can't be broken. Together we can change the world!"
Longtime Organizing Steward Georgette Carrillo was also moved by Dean's words.
"I especially enjoyed hearing from our new business manager, Bob Dean. He's absolutely right —  The only way we're going to become stronger is to come together," she said. "I am very optimistic about the future of our organizing steward program, our new Business Manager, and our elected officials."
Former Business Manager Tom Dalzell, who developed the organizing steward program, also spoke at the induction, pointing out how much the program, and the people who are a part of it, have changed over the years. After Dalzell's remarks, IBEW 1245 President Cecelia De La Torre proceeded to administer the oath, while more than 100 voices echoed the words back to her through the screen: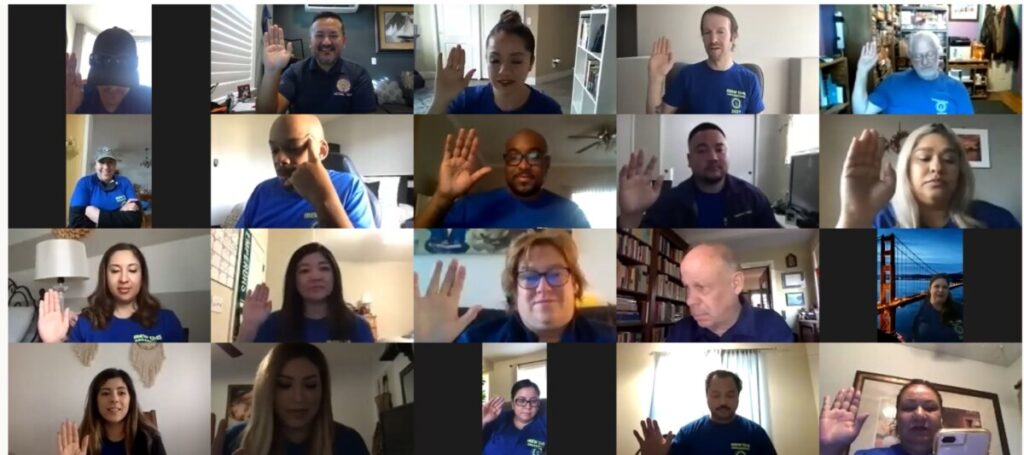 I, in the presence of members of the International Brotherhood of Electrical Workers Local 1245, promise and agree to abide by the Constitution and laws of the IBEW. As an Organizing Steward, I will further the purposes for which the IBEW is instituted, with a focus on educating and mobilizing our members and the larger community to support worker organization and the recognition of worker's rights and dignity. I will bear true allegiance to this, and I swear to uphold the mission of the IBEW which is the cause of HUMAN JUSTICE, HUMAN RIGHTS, and HUMAN SECURITY.
In keeping with the annual tradition, a lead organizing steward was selected to speak on behalf of the 2021 class. This year's keynote speaker was powerhouse organizer Charlotte Stevens, who underscored precisely what makes Local 1245's member-driven and member-led organizing program so unique and effectual.
"As organizing stewards, we don't have to get ready, because we stay ready. We stay trained, we stay informed, we stay engaged. We are building power, building our community, and building the brotherhood and sisterhood," Stevens said in her address. "We understand that the work we do effects more than just our membership. We are change agents that make history! So when you say you're a organizing steward of IBEW 1245, know that excellence is expected, because that's the reputation that's been built."
Her words had a profound impact on the stewards.
"Sister Charlotte did an amazing job on speaking on behalf of the 2021 organizers. She gave me chills and makes me want to do more, keep pushing, keep being the amazing organizers and leaders we are!" remarked Lead Organizing Steward Brittney Santana.
"What I saw in Charlotte on Saturday morning was a force to be reckoned with. I said to myself, 'I'd volunteer on her campaign!'" added retiree and Lead Organizing Steward Kevin Krummes.
The excitement and enthusiasm seemed to emanate through the screen, especially for the first-time organizing stewards who are new to the program.
"When I think about becoming a part of this program, it makes me feel proud and connected to my ancestors. My maternal grandfather was a union organizer for the Steel Workers Union in SF and was instrumental in building the Golden Gate Bridge. I learned early why unions were vital to workers," explained new Organizing Steward Karla Scott, who works for NV Energy. "My mom passed away in 2018, but I know she would be proud of me joining the family fight for worker's rights."
"I was honored and inspired to be sworn in as an Organizing Steward for Local 1245!" said Katrina Torres, who works for PG&E at the Sacramento call center. "I'm so excited to become a part of this movement and brother/sisterhood!"
"I became an organizing steward because the principles and values of unions and the labor movement are important to me personally," said first-time Organizing Steward Nick Kanabrocki, who works for PG&E out of the Redding yard. "As an organizing steward, you have a chance to help make real lasting change."
"I am always happy to be surrounded by my union family. I was pleasantly surprised with all the love on Saturday!" said new Organizing Steward Valarie Moralez from PG&E's Fresno call center. "I feel welcomed and uplifted, and I feel responsible to do my best all times! We push each other to succeed, and it is done with love."
"I can't tell you how inspiring it is to know that there are people that care truly care and are doing something about it," said Tamara Cacuyog, who works at PG&E. "I am so grateful for this group and thankful to be here."
This year, Local 1245 has appointed 27 lead organizing stewards, and these experienced leaders will be taking on additional responsibilities as mentors, coordinators, and strategic organizers. They will also be helping to facilitate all the programmatic work for the coming year.
"I can't wait to get involved this year and make our union proud," said Lead Organizing Steward Danielle Bonds. "Everyone was so uplifted and I can't wait to see everyone's beautiful smiles in person. One thing I am taking away from this induction is the fact that IBEW 1245 is able to adapt to any situation, and that's just a beautiful feeling."
"I feel so energized and hopeful after our meeting! We have accomplished so much this last year and I know that we will continue the great work," said Lead Organizing Steward Aileen Zuehlke. "We have so many great leaders and mentors, along with an amazing group of organizing stewards that are willing to volunteer their time to continue to the fight. Our work can't ever stop if we want to continue to have a bright future for us and the generations to come. I am ready and look forward to our next challenges!"
"The organizing steward's dedication and commitment to our local serves as a reminder that if we continue to engage our membership, our local will be in good hands for years to come," said Cruz Martinez. "I am constantly inspired by our members who are at the ready to continue this great work. Our team is ready to take on any fights and challenges that come our way!"
2021 LEAD ORGANIZING STEWARDS
Mike Patterson
Rodrigo Flores
Veronica Rivera
Rita Weisshaar
Laquania "Q" Thompson
Brenda Balcazar
Aileen Zuehlke
Kurene "KT" Turner
David Jensen
Miguel Pagan
Nilda Garcia
Melissa Echeverria
Brandon Fosselman
Thomas Mora
Brittney Santana
Ashley Finley
Steve Marcotte
Mark Goodwin
Danielle Bonds
Donyale "Donny" Davis
Alvin Dayoan
Charlotte Stevens
Kristen Rasmussen
Kevin Krummes
Serena Moss
Kim Camatti
Arnaldo Lizarraga