When a 500KV breaker at Midway Sub in Bakersfield failed back in 2018, the culprit turned out to be a snap ring, weighing all of two ounces. But at the time, no one at PG&E was trained to make this type of breaker repair, so it was contracted out to ABB, the manufacturer of these specific breakers, just as it has been for many years.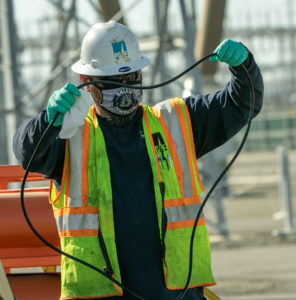 The practice of outsourcing this work presents a multitude of problems, including the fact that ABB personnel had to fly all the way out from Pittsburgh to perform the repair work. The utility work had to wait — sometimes as long as two weeks — until ABB could send employees out to lead the overhaul with some PG&E help.
500KV infrastructure is critical to the western United States, and when there are issues that require the line to be taken out of service, time is of the essence. For this reason, "in-sourcing" this 500KV breaker work seems to be the most logical solution for the company, the workforce, and the customers.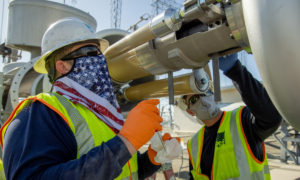 In September of 2019, PG&E and IBEW 1245 began negotiating an agreement for PG&E Substation employees to perform maintenance on 500KV breakers. The negotiation was quick and beneficial to both sides, and the result was Letter Agreement 20-06, which can be viewed here.
In February 2020, a dozen IBEW1245 members from various PG&E substation headquarters flew to Pittsburgh, PA for a one-week training course at the ABB plant, where they learned how to perform maintenance and repairs on these unique breakers.
"It was great to see the inside of one of these breakers for the first time, and also the plant," said Crew Lead Mike Thompson, who works out of Table Mountain. "It was worth seeing, it definitely was."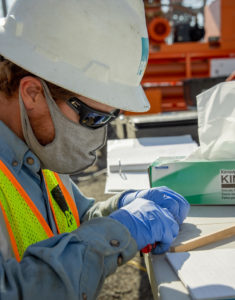 Like the 11 other members who joined him at the training, Thompson volunteered to be a part of this new project, and now he is leading a five-man crew as they work to retrofit the over 120 breakers located in eight substations within the PG&E system.
After a few unanticipated hiccups that were understandable given this new venture, this work is now underway, most recently in Vaca Dixon Sub, where the Utility Reporter got a chance to watch Thompson and his team at work. The crew is both prideful and grateful for the agreement that opened up the ability to take on this work.
"It's going great, actually," said Thompson. "I think we're doing really good, for what we've started off with."
IBEW 1245 hopes that this agreement will be an example to other lines of business within PG&E of what can be accomplished through partnership.
–Bob Gerstle, IBEW 1245 Assistant Business Manager
Photos by John Storey