Local 1245 supports widowed IBEW linewife running for U.S. Senate, kicks off 2020 "Get Out the Vote" program
She was a young mother, just 24 years old, and pregnant with her second baby, when Theresa Greenfield got the news that no linewife ever wants to hear. Her husband, Rod Wirtjes, who worked as a lineman for the utility company, had been electrocuted on the job and lost his life.
In that moment, Greenfield's entire world shattered. It was 1988, and Greenfield, a stay-at-home midwestern housewife from a rural farming community, was left to figure out how she could manage raising two young children all by herself.
But she quickly discovered that she wasn't alone at all. Greenfield found incredible support in her late husband's IBEW local. The union made sure that Greenfield was able to collect union benefits, as well as Social Security survivor benefits, which gave her much-needed financial support. Members of the union also brought Greenfield food, provided free baby-sitting while she ran errands – they even shoveled snow from her driveway when a blizzard hit. She credits the union as the main reason why she was able to make it through that incredibly painful time and build a new life for her and her children.
Now, 32 years later, Greenfield is running as a pro-union candidate for the United States Senate in Iowa, and once again, she's grateful to have the IBEW in her corner. Not only has she received support from the IBEW locals in Iowa, but her compelling story has prompted other IBEW locals from across the country — including Local 1245 — to lend support to her campaign as well.
---
On Sept. 26, more than 130 IBEW 1245 members volunteered their time to get out the vote for Greenfield by participating in a virtual phone bank, kicking off IBEW 1245's 2020 Get Out the Vote (GOTV) operation with the largest mass mobilization our local has seen in recent years.
"With the COVID crisis, we've shifted gears into 'distancing organizing' mode – and we're actually able to do more than we could ever do on the ground," IBEW 1245 Business Manager Tom Dalzell told the volunteers at the start of the virtual event, crediting the Local 1245 organizing team for exploring new ways to get out the vote during the pandemic.
AFL-CIO Secretary Treasurer Liz Shuler — also an IBEW member — called in to the event to express her appreciation for the work that Local 1245 is doing to connect with voters.
"I want to thank the IBEW 1245 organizing stewards — you are pushing us all to reimagine what's possible!" she said. "It might sound cliché, but I would say that in the worst of times, that's when we see the best of our entire labor movement … Together, we can elect Theresa Greenfield, because she's going to listen to us, and she's going to fight for us!"
The phone bankers also had the opportunity to hear directly from Greenfield herself, who took a few minutes out from her busy campaign schedule to come on the line. She began by talking about her late husband, Rod, and what the IBEW meant to their family.
"He was making great wages, and saving for a dignified retirement. We had good health care, and we had our union family, and we were on our way to the middle class. Then, on a bright sunny June day, when the priest knocked on my door, and told me Rod had died at work, I became a single mom, with a 13-month old and another one on the way," she told the phone bankers. "It was his union benefits, it was Social Security, and it was the union family that lifted me up, gave me a second chance to get back on my feet, get some skills, get that first job, and start providing for my family. And here I am today, running for the United States Senate, and it's because the IBEW had my back! And I'm going to have yours!"
She proceeded to detail some of her top goals as a Senator, including passage of the PRO Act to protect and strengthen the right to form and join unions; a jobs package that would put people back to work upgrading our nation's crumbling infrastructure; and promoting union apprenticeship programs to give more Americans the opportunity to earn while they learn – just like Rod did.
Despite being a newcomer to the political scene, Greenfield is now running neck-in-neck with her anti-union opponent, current U.S. Senator Joni Ernst, which means that every single vote can make a difference in the outcome of this election. By the end of the phone bank, the Local 1245 volunteers had made more than 6,000 calls in support of Greenfield – a huge boost in this high-profile race. To learn more and contribute to Theresa Greenfield's campaign, visit www.greenfieldforiowa.com.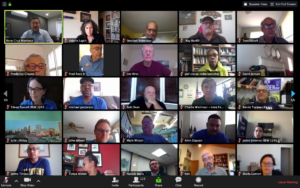 But of course, Greenfield isn't the only candidate that Local 1245's Get Out the Vote program is supporting this election cycle. From Sept. 28 until Election Day on Nov. 3, IBEW 1245 organizing stewards, staff  and volunteers are making calls and delivering campaign literature to union voters in dozens of communities across California and Nevada, with a heavy focus on campaigns and races that directly impact Local 1245 members at work. There are plenty of opportunities to volunteer to help get out the vote from your own home. If you'd like to get involved, email organizers@ibew1245.com.
 –Rebecca Band, IBEW 1245 Communications Director
Screenshots by Valerie Ganley