The SCU Lightning Complex fire burned nearly 400,000 acres in five counties, leaving a path of devastation in its wake. Given the massive scope of the fire, IBEW members from multiple employers were called in to perform restoration in the impacted areas.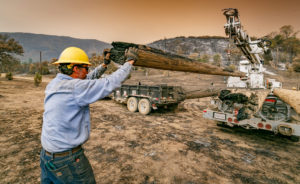 In the Canyon Zone of the fire, IBEW 1245 members from Turlock Irrigation District were hard at work for several weeks to replace burned poles and bring the power back on in and around Stanislaus county. When the Utility Reporter caught up with one TID crew, they were working in the area east of San Jose, near Patterson, and had already been on the job for two weeks, replacing dozens of poles and pulling new wire.
The air quality was a significant factor for the crews working in the fire zone.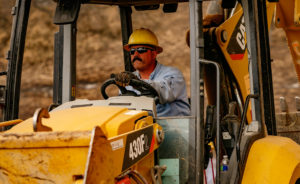 "The first couple of days we were up here, it was actually pretty clear because the fire was about 87% contained, so it wasn't too bad," explained IBEW 1245 member James Small, who works for TID. "But then the wind direction changed, and all the ashes started falling down. That got a little bit rough, when we're up here and we have to breathe it. And we're climbing these mountains sides, huffing and puffing … The air gets real heavy, but you do what you have to do, and you get it done."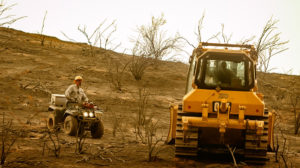 The air wasn't the only challenge that the crews had to contend with. The rugged terrain required the use of an off-road vehicle and a bulldozer, and some of the ground was so tough that even the auger had a hard time breaking through. Additionally, since the fire disrupted habitats for much of the local wildlife, the Local 1245 members found themselves crossing paths with all sorts of creatures, including multiple rattlesnakes.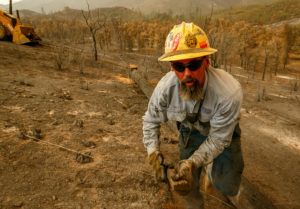 "Usually, we're prepared for the job at hand, but this was a little bit out of the norm because every minute, every day, something's different," said Small. "We head around the corner, and here's another new challenge."
But in true IBEW 1245 fashion, the TID crews took each challenge on with professionalism, completing the job as quickly and safely as possible.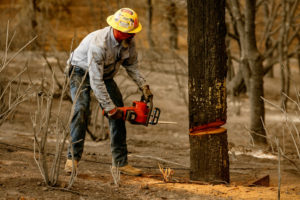 Small expressed his appreciation to the union for all that it's done to protect the members and their wages, benefits, working condition and safety on the job.
"Without the union, we wouldn't be where we're at today, as far as I'm concerned," he said. "Without them supporting us, day after day, we wouldn't be here. We wouldn't be talking right now. That's the way I look at it."
Photos by John Storey