As part of PG&E's Safety Infrastructure Protection Team (SIPT), IBEW 1245 members Ashton Aaron Hodge and Trevor Dirksen were among the first on the scene when the CZU Lightning Complex Fire broke out in the mountains near Santa Cruz. They'd been working the fire for three days when Hodge learned that his own neighborhood, situated in the scenic mountain town of Bonny Doon, was being evacuated. Unable to go home due to the wall of flames, Hodge finished his shift and spent the night in his truck in the PG&E parking lot.
The next morning, he returned to work and continued to perform his important job, which involves coating utility poles and other assets with flame retardant, in an effort to prevent them from catching fire and falling over (downed poles can block access for first responders and evacuees, in addition to causing outages for customers).
Later that afternoon, Hodge and Dirksen went over to Hodge's neighborhood to check on his home — and discovered that it had burned down while they were working.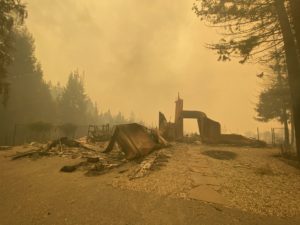 "The first thing he said was he wanted to save his neighbors' homes — and we continued to work 20-hour days, extinguishing poles and preparing them for fire impact with retardant," said Dirksen, noting that they treated four utility poles as well as other structures on Hodge's own street. "The fact that he continued to work despite losing all his earthly possessions was admirable, to say the least."
Hodge's wife, his three-year-old daughter, and the family's animals had all evacuated earlier and were safe, so Hodge chose to continue working the fire for another five days.
"Me and Trevor, we just kept going … It was actually pretty easy for me to go from losing my house on to the next thing that needed to be attended to, and that happened to be my neighbor's house," Hodge told the Utility Reporter in a phone interview. "It's just easier to keep going, because there's always something pressing that needs our attention. It helps to keep my mind off it too, and just work on the problem at hand, and not really think about the house."
According to Dirksen, that hard work paid off. He reports that he, Hodge, and the other SIPT crews treated upwards of 1,300 poles in the CZU fire zone, and of the roughly 800 poles that were impacted by the fire, only 36 were lost. They also estimate that they saved 17 homes in the process, extinguishing flames on decks and porches whenever they saw them.
Moving Forward
After five more days on the job in active firefight mode, Hodge finally agreed to take some time off to process the loss – but he was back on the job within two weeks, in remarkably good spirits considering the circumstances.
"It's a common thing for firefighters to deal with this, since we're always working in our own neighborhoods," said Hodge, who spent eight years as a firefighter with CalFire prior to joining PG&E's SIPT program. "And it's also part of the [reality] of living in the mountains."
As of this writing, Hodge and his family were hopping from hotel to hotel, still looking for a longer-term place to stay. As he navigates the many challenges that come with the loss of a beloved family home, Hodge is clearly grateful to have his PG&E and IBEW 1245 family in his corner.
"Everyone's been really supportive throughout the whole thing … the yard got together and handed me an envelope full of cash, and people bought presents," he said. "The aftermath has been difficult, but we're hoping to find a place where we can kind of get settled while we rebuild for the next year or so … For me, it's about moving forward."
–Rebecca Band, IBEW 1245 Communications Director
Photos by Trevor Dirksen