In early April, California Gov. Gavin Newsom identified Sacramento's shuttered Sleep Train Arena as one of the spaces to be converted into a temporary field hospital, with up to 400 beds for COVID patients.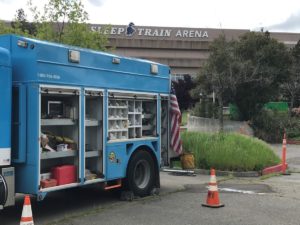 Known as the former home of the Sacramento Kings, the sports arena and its adjacent practice facility have been vacant since late 2016. In order to transform the old sports complex into a medical treatment center as quickly as possible, lots of crews from all sorts of trades were called in to get the job done.
On Thursday, April 9, a team of eight IBEW 1245 members from PG&E were tasked with setting up a new power system for the smaller practice facility, as the existing system simply would not be able to accommodate the large amount of power needed to operate a medical center that's running 24 hours a day, seven days a week.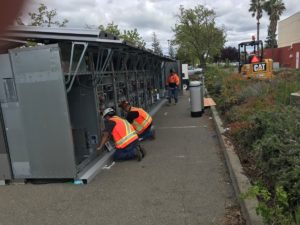 "At first, we were told we had two full days to do the job, but there are so many moving parts on this project, and things change quickly in construction — so when we showed up that morning, we found out they needed the gas done ASAP. It had to be done by 10am the following morning," PG&E Utility Worker and IBEW 1245 member Austin Muir told the Utility Reporter. "So that turned our day upside down. We had to bust ass to get it done, and we couldn't make any mistakes. The amount of trouble we went through to finish the job on time made it tricky — but it all went smoothly, and it was rewarding in the end."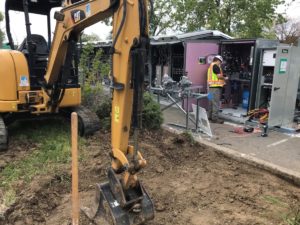 Muir worked alongside fellow IBEW 1245 members Robert Pate, Brian Leasure, Art Hernandez, Jeff Dawson and Craig Barnes from PG&E's GC Gas department to create a small co-generation style power system, with a series of bloom energy fuel cells that convert water into steam to turn the turbine in order to create electricity.
"My role was doing the tie-in. I exposed the gas service we were tying into, and figured out how much we needed to excavate … then the backhoe operator excavated it," Muir explained. "We needed a bypass in order to keep the main building hot, so I had to figure the two squeeze points, then I put in the valve, and the last part was the three-way T to feed this service."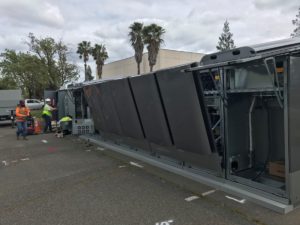 Gas Control Tech Todd Carlson and Utility Worker Fo Cantu from the Gas Pipeline Operations and Maintenance (GPOM) department were also on site, working with the GC welders to complete the meter run. According to Carlson, the quick turnaround and unusual timeline made the job more challenging than the usual meter sets he does, but he welcomed the opportunity to be part of the project.
"I was proud to do it," Carlson said.
Muir was also enthusiastic to be part of this project.
"For me, having only been at PG&E for one year, getting this opportunity to take the skills and knowledge that I've learned in the field and apply it to such a high-priority, important job made me feel so needed in this time of crisis," he said.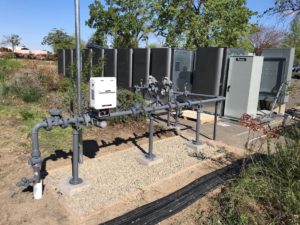 The crew started the job at 7:30am, and endeavored to maintain social distancing as much as possible as they worked through the day to finish the project quickly and safely. By 9pm that evening, the system was complete and ready to run.
–Rebecca Band, IBEW 1245 Communications Director
PG&E Gas GC/GD Supervisor Jim Stack contributed to this article and provided the photos, which are published with permission.