IBEW International's 30th Annual Electrical Workers Minority Caucus (EWMC) Conference took place January 14-19, 2020 in Chicago. Members from IBEW locals across the country – including a large contingent from Local 1245 — came together to attend panels, gain new skills and be inspired to lead.
 "Unite for a Better Tomorrow"
This year's conference was organized under the call to action: "Unite for a Better Tomorrow." IBEW International President Lonnie Stephenson pledged his commitment to moving the dial on diversity and inclusion—a priority for the IBEW.
"The EWMC's mission to uplift and train minority leaders within our union is vital to the growth and stability needed in the coming years," remarked Local 1245 Organizing Steward Charlotte Stevens, who works for PG&E in Sacramento.
Political, civic and labor leaders took to the stage to share their wisdom and personal journeys. Stacy Abrams' speech was one of the highlights of the conference for many attendees. Some were already very familiar with Abrams' story and work as lawyer, elected official and former candidate for Governor of Georgia. Everyone left feeling inspired by her words and her commitment to fight voter suppression in the next election through her project, Fair Fight Action.
As Local 1245 Organizing Steward Candace Koff, who works for the City Of Lompoc, explained, "Her message was clear and powerful and I feel like she sent the conference on the right way."
Organizing Steward Brandon Fosselman, who works for PG&E in Fresno, reflected, "I feel we are at our best when we do things we are passionate about, and her words impacted me personally."
Abrams underscored the 2020 Census as one critical tool individuals have to make sure their voice is heard, and she is on a mission to spread the word so that everyone, especially in underrepresented areas and communities, is counted.
"As she spoke about the importance of the census, it dawned on me I've never participated in the census!" said Organizing Steward and PG&E CSR Gabrielle Baker. "I have so much to learn and I'm eager to pass along the information to encourage others to get involved!"
EWMC Immediate Past President Victor Uno's speech also left a lasting impression on attendees, who he urged not to forget lessons from the past.
"Victor Uno gave a heartbreaking yet informative story as an Asian Pacific Islander," Organizing Steward Laquania Thompson reported from the conference. "Mr. Uno began by sharing his personal account of discrimination which took place in 1978 at his IBEW union hall when he was hassled about being allowed into his union meeting … 25 years later he was elected Business Manager of that local!!"
New Skills and Knowledge
Workshops held throughout the conference enabled attendees to reflect, grow, and gain new skills that they can take back home with them.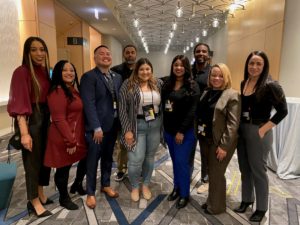 "The workshops were eye-opening as they provided me different understandings on leadership traits that I've never known I had," reflected Organizing Steward Alvin Dayoan, who works for PG&E.
"One highlight was 'Keys to Funding a Comfortable Retirement,'" said Organizing Steward Danielle Bonds. "It opened up my mind so I can prepare myself for the future. It taught me to start now and not wait until it's too late to save money."
"'From Bystander to Upstander' taught us if we do not speak up, then everything that is wrong in the workplace will remain unfair and unjust," PG&E Operating Clerk and 1245 Organizing Steward Nikki Neal explained.
Outside of the classroom, PG&E Gas Service Rep and Organizing Steward Foster Goree was pushed to try new things: "I was honored with the opportunity to be a part of the Sergeant at Arms team. This was a true eye-opening experience that took a lot of hard work and discipline."
Political Engagement
During the RENEW portion of the conference, attendees focused on the importance of being politically engaged, particularly ahead of this year's election. Local 1245's Alvin Dayoan was called on short notice to participate in the RENEW political panel. He rose to the occasion and quickly overcame his nerves to share valuable insights on his experience organizing as a young worker.
"I strongly advise our peers to participate in campaign events and be more involved in our union — as we are the future and need to set a standard for the upcoming generations," he said.
Attendees reflected on some of the wise words imparted by some of the other speakers as well.
"Bill Fletcher, Jr. gave a passionate speech on our fight for the 2020 presidential election and importance of staying involved," said Charlotte Stevens.
"To restore our divided country, EWMC President Keith Edwards said we must unite!," underscored 1245's Eleanor Brown, who serves as EWMC Solano County Chapter Treasurer.
"I came home re-energized and ready to get to work on our 2020 elections," added PG&E First Field Clerk and 1245 Organizing Steward Brittney Santana.
 Giving Back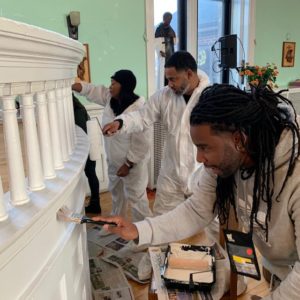 Attendees participated in a day of community service at a local church, where they put up a fresh coat of paint and repaired basic electrical issues. Many left the day feeling inspired by doing good, and wishing they could have done even more.
As PG&E Operating Clerk and 1245 Organizing Steward Latoya Carter put it: "You could see how much a little paint could make a difference for that little church. It is always a good feeling to give back."
Many attendees also reflected how this day of service provided a chance to get to know their brothers and sisters from locals across the country.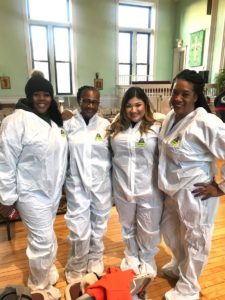 "It was fun and eye opening how we all came together like we have known each for years, and accomplished a goal for the greater good," remarked Nikki Neal.
Power of Brotherhood
This year's EWMC conference made a lasting impact on attendees, and was truly transformative for some. As Organizing Steward Lhondin Tyra put it, "Though I've always been fully aware of what unions are capable of, I didn't feel like belonging to one was anything extraordinary prior to the EWMC conference."
"Reflecting back reminded me of all the work we have put into multiple fights around the states. 1245 gets so much recognition from IBEW locals and it's a good feeling to be part of such a wonder team," said Brittney Santana.
"I've heard Union Strong, but being a part of EWMC in Chicago made me Union Proud," proclaimed Foster Goree.