I was honored and grateful for the opportunity to spend my Martin Luther King Jr. holiday weekend in Washington DC representing IBEW Local 1245 as a delegate at the Civil and Human Rights Conference hosted by AFL-CIO.  The conference was very energetic and powerful, full of passionate spirit by all the attendees and presenters. You could feel the love for organized labor and genuine union pride in the room.  My main take-away from the convention is that human rights and worker rights go hand in hand.  The fight for workers' rights and human rights has come a long way, but still is a continuous battle today.
"Give us the Ballot" was the driving message of the conference, words from the great activist Martin Luther King Jr.  Dr. King believed in speaking with one voice during the civil rights movement, similar to how we as union members also know how powerful we can also be by also speaking with one voice.  Unity and solidarity is power and the way to capture that power is through voting in elections.  Unions and organized labor have to be intentionally inclusive because the union way of life promotes human rights and human decency for all working men and women.  Dr. King knew during the civil rights movement that "give us the ballot" was the only way to effectively promote change.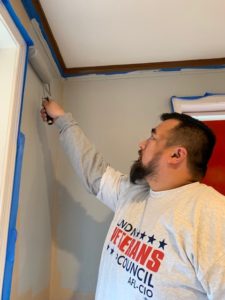 One of the most rewarding moments of the conference weekend was volunteer day, which I spent painting a homeless veterans' shelter.  It was early-morning hard work, but incredibly meaningful, and I felt blessed for the opportunity to give back to the men and women who have given so much to our country.
It was a truly special conference for me to attend, as the son of immigrant parents who escaped a war-torn country and settled in Oakland, California.  I lived on Martin Luther King Jr. Blvd as a child and ended up in my adult life driving up and down that same street as a Gas Service Representative with PG&E, responding to emergencies and servicing my community.  I am truly moved and blessed by all that Dr. King did for civil and human rights, rights that has blessed me with an amazing job and life, represented by an amazing union in IBEW Local 1245.
–Phuong Tran, IBEW 1245 Organizing Steward