If you've passed through downtown Sacramento recently, chances are you've seen the major expansion and renovation project that's currently underway at the Sacramento Convention Center. Once complete, the convention center will boast a footprint of more than 240,000 square feet, with a brand new 40,000-square-foot ballroom and 15,000-square-foot outdoor plaza.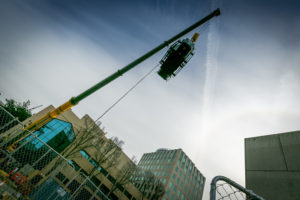 As expected, the massive expansion project comes with some massive power needs. In January, IBEW 1245 members from Sacramento Municipal Utility District (SMUD) were called in to install two network transformers to supply the load for the convention center renovation. Each transformer weighs approximately 12,000 pounds, so the crew got a bit of assistance from a crane operator.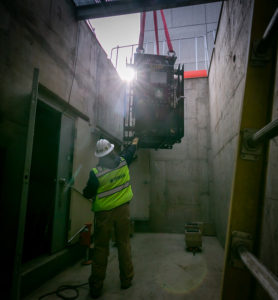 "[The crane] is going to lower them into our vault, and then we're going to skate them in on tanks and rollers to get them in place," explained SMUD network cable splicer foreman and 13-year IBEW member Joe Dray. "And then we're going to test the transformers today to ensure they're good."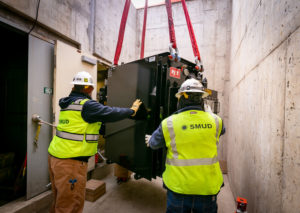 Getting the transformers into the vault involved an extraordinary amount of pre-planning. SMUD had to coordinate with the City to shut down 14th Street for a full seven hours in order to accommodate the 100,000-pound crane and its supporting counterweight trucks (which allow the crane to lift the transformers up 95 feet to get into the vault). Given the vault's location in the center of the job site, SMUD also had to work closely with two different superintendents on the renovation project to facilitate the process. Additionally, they had to check in with the League of California Cities, which has offices adjacent to the job site at 14th and K streets, regarding garage access and other logistics.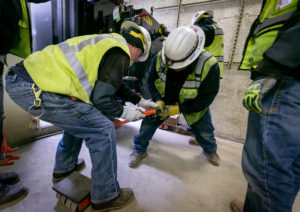 And the crane work is only part of the project – getting the transformers into their rightful places inside the vault presented a whole separate set of challenges.
"We use bottle jacks to jack up the transformer to be able to get them on skates," Dray explained. "So once the crane sets the transformer down on the skates, we're going to push that transformer far enough to get it over the ledge to be able to jack it back up to move the skates in front. And then we have to push it far enough again to be able to get the skates and back in all the way into the vault, and then we're able to push it into the vault on the tanks and get it lined up."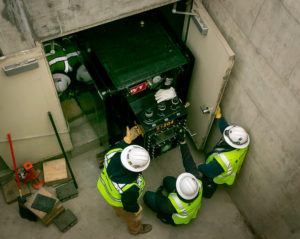 The team from SMUD handled the job with aplomb, meticulously ensuring that every step is completed correctly and safely, so the $200-million-dollar renovation project can move forward.
–Rebecca Band, IBEW 1245 Communications Director
Photos by John Storey