Linework is a craft with very little room for error, and most linemen aspire to be the absolute best at what they do.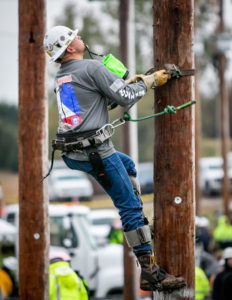 This culture of excellence is on full display every year at the International Lineman's Rodeo in Kansas City, where journeymen and apprentice linemen compete in a series of events designed to showcase their unique skillset. This year's competition was as fierce as ever, with 248 journeyman teams and 321 apprentices all vying to take home one of the big, ornate trophies at the end of the day.
In recent years, IBEW 1245 members have proven to be among the very best in the nation – as evidenced by the collection of rodeo trophies that our union members have acquired by excelling at the competition.
Last year, IBEW 1245 members Dustin Curry, Jacob "Floppy" Hunt and Jordan Chene came in first place overall, and the team was looking forward to defending their title at the Rodeo this year. But during the qualifier in Livermore earlier this fall, and they didn't score high enough to earn an all-expense-paid ticket from the company to go back to the international competition Kansas City.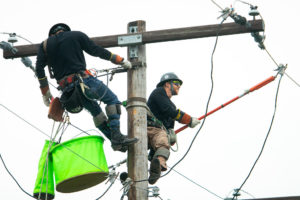 Undeterred, the team decided to pay their own way, so they could once again compete with the best of the best. In an homage to the movie "Talladega Nights," Curry, Hunt and Chene competed as Team ME, and they clearly came to win.
"We're not coming here and wasting what we've spent. We want to get out of it what we put into it, so we tried the best we could," said Curry during a break after completing their events. "I think, chemistry-wise, this is one of the best rodeos we've done. We've had a blast this whole time."
"We walked away from this one feeling like we've put it out on the line … it was pretty smooth today," added Hunt. "And when you can do that and run clean, it feels good."
Sure enough, Team ME did not disappoint, coming in 3rd place overall and 2nd in the IOU division.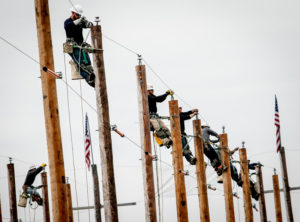 "I'm just glad it all worked out, because the Livermore Rodeo was after the registration for here, and all the pieces fell into place," said Curry. "It just so happened we got to register — it was just by the skin of our teeth we got to come. So I think it was meant to be, honestly."
Team ME isn't the only 1245 team with a winning reputation to uphold. In 2015, 2016 and 2017, the Local 1245-sponsored team from Turlock Irrigation District team, comprised of Dustin Krieger, Josh Klikna and Steve Johnson, placed first in the municipal division. Despite having an off year in 2018 and leaving the Rodeo trophy-less, they decided to come back again this year to give it another shot. They too found their stride, sailing through each event right up until the end of the day, when they incurred a two-point penalty in the final event.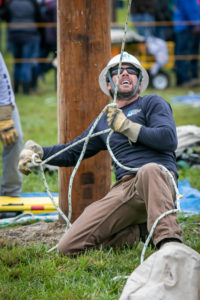 "We had good times all day," said Krieger. "[If not for that deduction] I think we would have had a good chance at winning the municipality division."
The two-point deduction clearly set them back, but the TID team still managed to nab third place in the municipal division.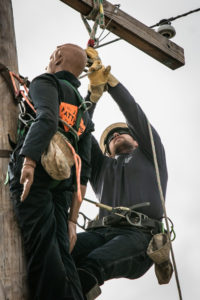 In the apprentice competition, Colton Baker from PG&E, who placed first in the Livermore qualifier, proved that 1245 apprentices can compete with the best as well. He came in 4th place overall and 2nd place in the IOU apprentice division. This was a marked improvement over last year, when he placed 4th in IOU and 6th overall.
Other 1245 competitors that received awards include
The PG&E journeyman team of Adam Beene, Anthony Albright and JP Richard, who placed 5th in the IOU division
The MID journeyman team of Marcus Ilwain, Matt McCurdy and David Word, who placed 4th in the pole climb
PG&E Apprentice Trent Kaher, who placed 4th in the IOU division
PG&E Apprentice David Carlon, who placed 5th in the IOU division
"Once again, our IBEW 1245 members demonstrated their exceptional talent and dedication at this year's International Lineman's Rodeo," said IBEW 1245 Business Manager Tom Dalzell. "Seeing our members excel at this competition year after year is such a unique point of pride for Local 1245. And of course, we're thrilled to add to our ever-growing Rodeo trophy collection on display at our union hall in Vacaville."
A hearty congrats to all who competed!
–Rebecca Band, IBEW 1245 Communications Director
Photos by John Storey