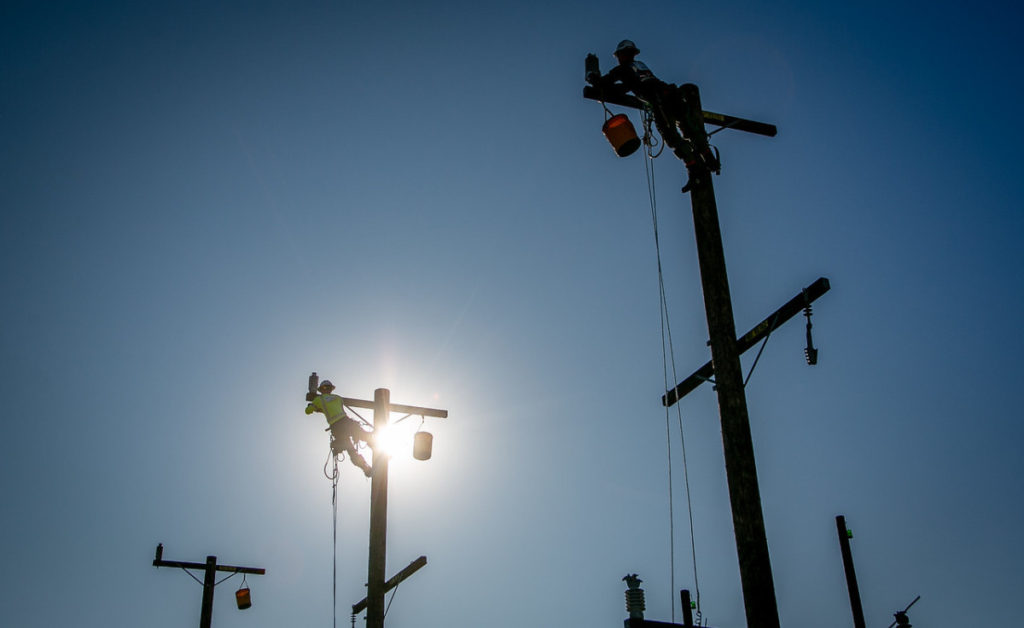 Nineteen journeyman teams and 35 apprentices showed off their skills at this year's 8th Annual PG&E/IBEW West Coast Lineman's Rodeo, which took place on Sept. 14 at PG&E's training facility in Livermore.
The event has come to be seen as the preeminent competition for cream-of-the-crop linemen from California and beyond. Competitors representing eight different utilities demonstrated their prowess in the field, each hoping to achieve the highest score in the shortest amount of time in each of the four main events (apprentices also had to complete a written test). For competitors from PG&E, the stakes were even higher, as the top three journeyman teams and top five apprentices from the company get to compete at the International Lineman's Rodeo in Kansas City in October.
While experience is always beneficial, even the most seasoned competitors aren't guaranteed a ticket to Kansas City.
"Today, we had some mishaps, but it was fun!" said Journeyman Lineman Dustin Curry, an accomplished rodeo competitor whose team came in first place overall at last year's International Rodeo, but failed to qualify for a return trip to Kansas City this year. "It's always fun. It's a blast to compete in a rodeo."
"The level of competition here is very high," remarked Journeyman Lineman Jason Payne, noting that his team stumbled a bit on one of the mystery events, which are difficult to prepare for since the competitors do not know exactly what they will be until they arrive at the rodeo. "We made small, small mistakes which cost us placing here … but I always enjoy coming to these rodeos, just seeing all our friends and competing, and having a good time."
"It's a good opportunity to get together with your friends and people you work with and compete against yourself and one another," said Apprentice Cody McIntosh, a first-time competitor at this year's rodeo. "And it lets your family see what you do when you're away from home."
At the end of the day, the nationally acclaimed journeyman team of Anthony Albright, J.P. Richard and Adam Beene once again took first place, marking the third year in a row that the team, known as the Double Cut Kids, won the day in Livermore. They'll be returning to the International Lineman's Rodeo this year, where they placed first overall back in 2014, and came in fourth last year. Luke Bogart, Heath Hatch and Tony Humbert – who have also become well-known on the rodeo circuit — came in second overall in the journeyman team competition. Shannon Spah, who was part of the 5th place team at last year's rodeo, competed with new teammates Chris Marcil and Logan Schaffer, and they ended the day in third place. All three teams are looking forward to competing among the best in the country next month in Kansas City.
In the apprentice competition, Colton Baker from Fresno took the top slot. Baker placed seventh among the apprentices last year, and clearly worked hard to improve his standing at this year's rodeo. He too is heading to Kansas City in October, and will be joined by fellow PG&E apprentices Michael Vaughn, Mike Anderson, David Carlon and Trent Kaher.
Photos by John Storey