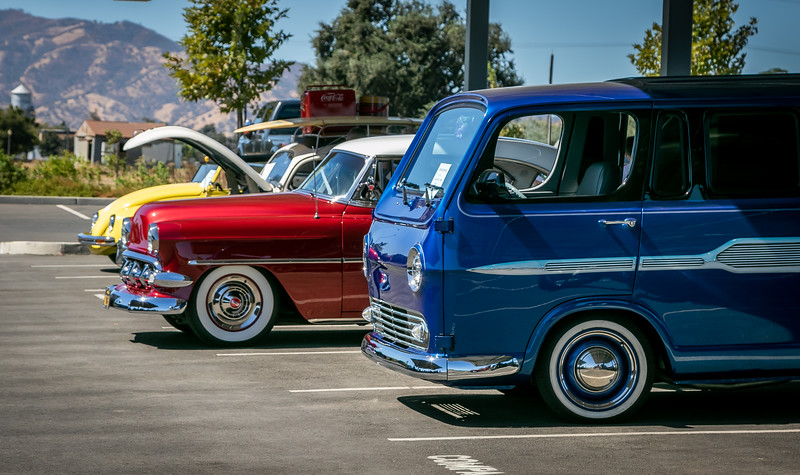 Car, truck and motorcycle aficionados, AKA "gearheads," are anything but monolithic. Some are all about refurbishing antique classic cars, some are steadfastly devoted to late model hot rods, and others get their thrills from big pickup trucks with rugged lift kits.  But they all have one thing in common – they're hard-pressed to pass up an opportunity to show off and talk about their vehicles.
On Saturday, Sept. 21, gearheads from all over PG&E's service area came together for the first annual Car/Truck/Motorcycle Show, co-sponsored by IBEW 1245 and PG&E's Fleet Department. The event is the brainchild of PG&E Fleet Superintendent Kevin Goodner and his colleague, Transportation Services Regional Manager Jim Griffis, with support from Director of Fleet Operations Jacquelyn Lewis and IBEW 1245 Senior Assistant Business Manager Anthony Brown.
"We wanted to do something fun for the family, that's a little more fleet-oriented. Mechanics are gearheads — they love cars — so we said, 'why not a car show?'" Goodner explained, noting that there was initially going to be a nominal cost for entry, but thanks to a generous contributions from IBEW 1245's administrative staffers who contributed out of their own pockets, the fees were waived. "The whole event is free. Lunch is free, and the car show entry is free — and I just want to thank Anthony Brown and IBEW 1245 for their support."
More than two dozen vehicles, ranging from shiny new sports cars to antique pickup trucks and just about everything in between, were entered into the show. Most of the entries came from current and retired PG&E employees, a couple came from IBEW 1245 staffers, and a few were from friends, family and neighbors.
For 35-year IBEW 1245 member Tim Gonzales, who works as a gas service rep out of PG&E's Vacaville yard, the car show was a great opportunity for him to re-connect with old friends and show off his impeccable 2016 Camaro SS.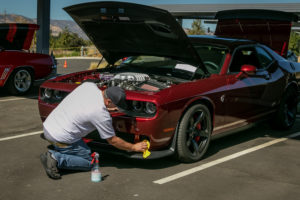 "This is really great. I'm pretty excited about this [event]," said Gonzales. "I've gotten to see a lot of people I haven't seen in a long time, and that's a great thing."
Gonzales brought along a friend, Stuart Kanagaki, who retired from PG&E in 2010, but was thrilled to be invited out to the car show and show off his eye-catching 1932 Ford Roadster.
"With all the turmoil that's going on, I think this type of thing takes a little pressure off the current employees and gives them a chance to just get out and enjoy themselves," he said. "It gets people together, and it brings back the old family feel of PG&E."
In addition to the spectacular vehicles on display, the car show attendees also got to enjoy a tasty free BBQ lunch, prepared by 1245 Business Reps JV Macor and Mike Saner. Local 1245's Anthony Brown served up free sno-cones for all, and there was also a small activity area for the children.
It was the kid-friendly atmosphere that drew new Local 1245 member Kevin Zadnik and his family, including his three young children, out to the event. He also came to support his co-worker, Rudy Maldonado, who had a car entered in the show.
"The linemen have their rodeo, and the gas guys have their rodeo, so it's nice to see something that's geared towards fleet," said Zadnik, who works as an equipment mechanic at PG&E's Napa garage. "And it's nice that the kids get to come see what you do and meet your coworkers."
As the attendees perused the vehicles on display, they also had a chance to cast their vote for the "People's Choice Award," one of six awards to be handed out at the end of the show. Simultaneously, a team of knowledgeable judges thoroughly inspected each vehicle, scoring each one based on a number of different criteria.
At the end of the day, the winners were announced. Retiree Stuart Kanagaki's roadster won Best Hot Rod, and event organizer Kevin Goodner won Best Import as well as Best Stock for his 1968 VW Bug Roadster and 1963 Corvette Coupe, respectively. IBEW 1245 Senior Assistant Business Manager Ralph Armstrong's Victory (with custom IBEW plate) was awarded Best Motorcycle, Roy Wilson won the People's Choice Award for his 1966 van, and Larry Parks' '57 Chevy won Best Truck.
"Considering this was our first time putting on this event, I think it went really well," said Senior Assistant Business Manager Anthony Brown, who works closely with the Local 1245 business reps and members in fleet and shared services. "Everyone had a great time, and lots of folks expressed interest in doing it again next year. I'm a gearhead myself, and I'm excited to see this event really take off."
–Rebecca Band, IBEW 1245 Communications Director
Photos by John Storey