In early September, IBEW International held its annual Membership Development Conference in Chicago, and IBEW 1245 was commended numerous times throughout the conference for our commitment to growing and strengthening the union.
Our local was celebrated for organizing the most new members into the IBEW during the previous year. Thanks for our comprehensive organizing program, Local 1245 welcomed a whopping 1,727 new members into the union in 2018.
"I was very proud of how our Local was recognized for the most new members this year. It makes me so proud to be part of something so big and powerful," said Organizing Steward and conference attendee Melissa Fernandez. "It motivates me to want to do more for my union, and inspires me to motivate others to do more as well."
IBEW 1245 Business Manager Tom Dalzell also received a very special Bridge Builder award for his coalition-building work that allowed us to defeat Question 3 in Nevada, and the forward-thinking mutual aid program he helped develop for all the IBEW locals in the 9th District. Additionally, for the sixth year in a row, Local 1245 also received the Henry Miller Award for excellence in organizing.
Along with the award presentations, the conference also featured a wealth of exciting keynote speakers, eye-opening workshops and unique programs designed to help locals continue to improve their membership development initiatives, including an in-depth advanced organizing training, facilitated by Local 1245's own Jammi Juarez, who now works for the IBEW International Office, and Virgil Hamilton, IBEW's director of construction organizing.
"The advanced organizing training highlighted the importance of organizing in the IBEW and provided the necessary tools to overcome barriers," Organizing Steward Laquania Thompson reported from the conference.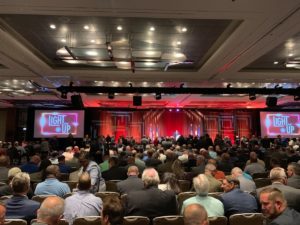 Over the next three days, participants heard from notable speakers including Chicago Mayor Lori Lightfoot and IBEW International President Lonnie Stephenson, and they had the opportunity to attend engaging and informative workshops on topics ranging from bargaining a first contract, to the National Labor Relations Board, to cutting-edge new organizing software that the IBEW has been using with great success.
"It was an amazing conference and I am thankful for the IBEW 1245 Executive Board and staff for allowing me to attend. I enjoyed the workshops, events, meeting new IBEW staff and catching up with IBEW International Organizers that I've worked with in different campaigns," said Organizing Steward Alvin Dayoan. "Also, I was happy to see our 1245 sisters Jammi Juarez and Jen Gray, as they've done an excellent job with hosting the event."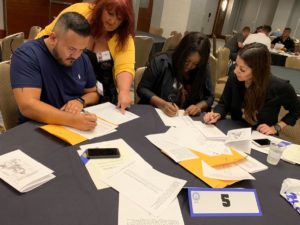 "As a first-year delegate to the 2019 IBEW Membership Development Conference in Chicago, I had high expectations that I would gain new knowledge and be inspired — and all I can say is wow, did this conference deliver!" said Organizing Steward Melissa Echeverria. "I look forward to implementing all that I have learned into action and am ready to energize, educate and mobilize our members!"
"Overall, the Membership Development conference was a huge success," echoed Thompson. "I am ready and willing to share the skills I learned to help further membership in my union!"
"I must say it was one of the most inspiring conferences I have been to in a while," said Staff Organizer Rene Cruz Martinez. "I'm always inspired by the sense of brotherhood in this union. Across the country and Canada, It's a true family bond. And it's great to see IBEW 1245 recognized nationwide. "