Good leaders become great leaders by learning from other great leaders. On August 17, 2019, more than 100 up-and-coming IBEW 1245 member-leaders volunteered to spend their Saturday learning from other outstanding leaders at a unique union-sponsored workshop.
The day-long training, which was held at the IBEW 1245 union hall, featured two notable special guest speakers who also happen to be powerful leaders in their own fields. The first talk was delivered by Sara Nelson, the international president of the Association of Flight Attendants – Communications Workers of America (AFA-CWA). Nelson shared a passionate and candid glimpse at her own journey to union leadership, starting from her early days as a flight attendant, all the way up to her recent public declaration about the potential for a general strike – a declaration that helped end the government shutdown and earned her a reputation as a militant leader knows how to motivate and empower the working class to stand up and fight.
"I truly appreciated Sara Nelson's energy and passion for the labor movement," said Organizing Steward Ramon Gonzalez, a PG&E routine field clerk out of the Colma yard. "Hands down what stuck with me was her phrase of 'What do you want, and what are you willing to do for it?' It really put into perspective of how important it is to light a fire under people to successfully organize."
"The ultimate takeaway from her discussion with the IBEW rank-and-file is that together as workers, no matter our background or union, we can tap into our collective power through organization and solidarity," added Organizing Steward Zavi Heiland, who works at PG&E's Grid Control Center in Vacaville. "The bosses know how powerful the working class is at the point of production, especially once we all learn our struggles and our interests are the same. The workers united will never be defeated!"
The second guest speaker was Anthony Wright, who has served as the executive director of Health Access for 17 years. Under Wright's tutelage, Health Access has become one of California's most prominent organizations on the front lines in the ongoing fight for quality, affordable health care. Wright led California's coalition effort to help pass the Affordable Care Act and the state laws to implement and improve it, and he's also spearheaded successful campaigns to pass first-in-the-nation laws regarding timely access to care and fair treatment for the uninsured. In his presentation to the organizing stewards and prospects, he talked about the obstacles and opportunities he encountered while advocating for the ACA, and he also provided a n insightful analysis on what the future of our health care system might look like.
At one point, Wright asked the attendees to raise their hands if they had ever encountered a "surprise" bill from a hospital or emergency room, and about two-thirds of the room shot their hands up, and several shared stories. But on the flip side, Local 1245 retiree John Sleuter mentioned that when he had to have a double knee replacement — which amounted to around $1.4 million in medical costs – he was covered, thanks to the insurance he has through IBEW 1245.
"This was another great event for the organizing stewards. Both speakers were amazing!" said Rita Weisshaar, one of the NV Energy retirees who first spawned Local 1245's intergenerational organizing program that eventually evolved into the organizing stewardship. "Who know when we were first working together where it would lead! I feel privileged to be part of this group!"
In between each speaker, the attendees had the opportunity to hone their own leadership skills through a series of small group activities that encouraged critical thinking and applied leadership. In one activity, members imagined how they would allocate funds between the union's organizing and political programs – prompting them to make the same types of tough decisions that organizational leaders make each and every day.
The members also took the opportunity to support a fellow organizing steward, Ruben Hernandez, who is currently battling leukemia. By passing the hat around the room, the group raised close to $800 for Brother Hernandez, and more than a dozen attendees volunteered to become bone marrow donors through BeTheMatch, in the hopes that they might be able to provide a life-saving transplant for their union brother, should he need it.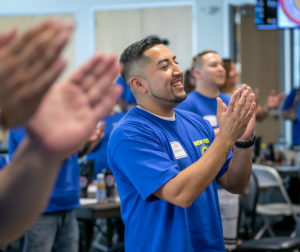 By the end of the day, the members in attendance — many of whom were new to the union, and even newer to the idea of workplace organizing — gained more insight and appreciation for the union, its values, and the critical need for members to step up and cultivate their own leadership ability in order to keep the union strong.
"I find myself gaining more confidence and realization that we are all connected to one another and how important it is that we must stick up for one another in solidarity," said Cynthia Lopez, who works at PG&E's Stockton regional office. "I am so lucky to be in a union where our values are materialized!"
"I never had a union job before, but being part of IBEW local 1245 has truly been a blessing. I realize how amazing the power of union can be," echoed Teresa Hinojosa, who works at the PG&E Fresno call center. "I feel motivated to stand alongside my brothers and sisters and fight for labor, because everyone deserves to be part of something great."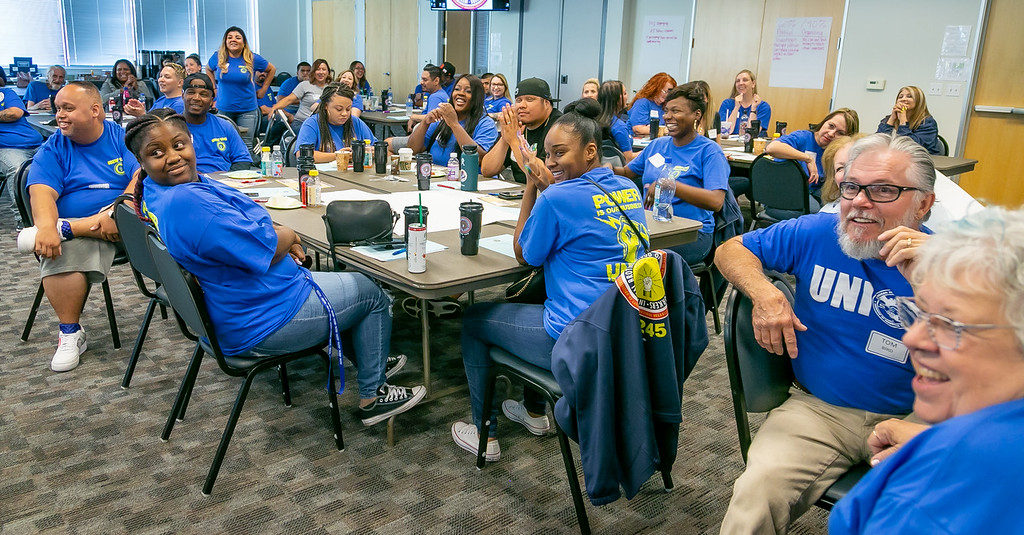 –Rebecca Band, IBEW 1245 Communications Director
photos by John Storey