On June 5, 2019 IBEW 1245's Hold the Pull (HTP) peer-to-peer electric safety committee hosted its annual Safety Summit at IBEW 1245's union hall in Vacaville, CA. This year marks the 10th anniversary of Local 1245's peer safety program, and 54 of our safety stewards from a wide array of properties, including six substation members who have recently been brought in to HTP, were in attendance to mark the occasion. They were joined by three members from Local 77 in Washington state, where Local 1245 has been working in partnership to create a similar safety program for that local.
HTP Committee Chair Mike Van Egmond and I kicked off the day-long summit with a safety briefing, followed by the traditional moment of silence recognizing the fallen brothers of IBEW 1245.
Dela Marth was the keynote speaker at the summit.  Her gut-wrenching story about her son, Apprentice Lineman Brandon Orozco, who passed away in September 2013 at the age of 28, touched everyone in the room. Orozco died while working alone in a vault, and while nobody knows exactly what happened during the accident, the investigation found that he wasn't wearing rubber gloves and he didn't have a tester with him at the time of the accident. Marth spoke about the personal impact that the accident has had on her as a mother, and how she struggled to stay on the right path as a person. She decided to turn her experience into something positive by sharing it with linemen everywhere, in an effort to try and help others avoid the experiences she endured. She has created a charitable organization called Brother's Keeper, which works in conjunction with the National Sisterhood United for Journeyman Lineman to support the families of line workers after terrible tragedies. The proceeds from Marth's work and sales from her website go towards supporting families of fallen lineworkers, as well as lineworkers in the field. Items can be purchased at https://brotherskeeperlinemanapparel.com/.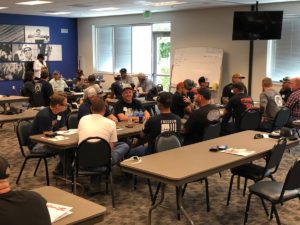 At the summit, attendees had the opportunity to discuss some of the major safety issues they are facing at work. Mutual aid in wildfire disaster areas was a topic that elicited much discussion. Hazards such as smoke inhalation, toxic debris, backfeed on downed lines, switching errors, and firefighters doing things they shouldn't when it comes to downed electrical lines were all raised. The group discussed changes to construction standards as they relate to wildfire disasters. Associated hazards come into play when items such as tree wire, fault tamer cutout doors, and trip saver cutout doors are being installed in the field. Conductors such as tree wires are known to lay on the ground energized, creating hazards for the public and first responders.
Utilities are reporting mixed results regarding first responder training with local fire agencies and law enforcement. The training gives them a very basic understanding of electricity, while teaching them to identify potential hazards associated with downed electrical lines or damaged electrical equipment. Emphasis for first responders has been to keep themselves and the public out of harm's way until the power company can arrive to make the area safe.
Back-feed in association with solar installations was another topic of conversation. Companies seem to have different standards for how these installations are installed. Some of the varying standards may be attributed to local electrical code.
Safety issues were also identified with resetting CSP transformers. Everyone in the room recommended that if workers see any deformities in these transformers, do not reset, due to the hazards associated with a catastrophic failure. It is much safer and less costly to replace these transformers than it is for a catastrophic failure causing a spill, fire, or severe burns to yourself.
Hold the Pull wants to remind everyone that we are the ones doing the work and we are the ones who pay the price when things go wrong in the field. Remain vigilant when reviewing your work. Be sure to check, and double check, especially in emergency situations. Remember that our companies want us to do things the right way all the time. The only way we can do that is to get up each day and tell ourselves that we are going to work safe, and we are going to be sure that our brothers around us are going to work safe as well. Be your Brother's Keeper!  Hold the Pull would also like to thank everyone who participated in this year's event.
–Casey Kelley, IBEW 1245 Business Rep