On May 8, 2019, IBEW 1245's Control the Pressure (CTP) peer-to-peer safety committee hosted its annual Safety Summit at the union hall in Vacaville. Forty-one gas safety stewards from all across the union's jurisdiction came together at this year's summit to have candid discussions about the safety-related issues and challenges they face at work.
CTP Committee Chair Ernie Pena opened the summit with a traditional moment of silence to honor our fallen brothers, followed by introductions and a safety briefing. The group then moved into a discussion on some of the CTP committee's top priorities and projects, including quick clot, employee alerts, and hazards with the Jomar valves, among other things. Members brought up the need for anti-venom for crews working in remote locations and satellite phones for hard-to-reach jobsites. Many of our members work in places where there is little to no communication or access to immediate medical attention, which leaves them to rely on one another until help can be summoned.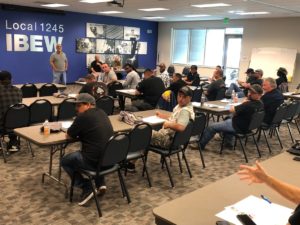 The committee highlighted the importance of everyone on the crew not being afraid to speak up. Each and every member ought to be a safety leader in their profession, and do the job right all the time. There was some discussion about why different departments have different crew make-ups for the same jobs – for example, valve change is a one-man job in field service, but for OM&C it was a two-man job, then it was changed to one-man in some areas, but still a two-man job and in other areas.
The group also discussed OQs, which are intended to set us up to do the job the right way and ensure that we are competent in our job at every level. Several members expressed concern that the focus is more on testing and studying rather than hands-on field work. Members are being trained to pass a test — not to do the job correctly through repetitive, consistent training. The topic of five-minute meetings also came up. Some members noted that not everybody gets to be there for the presentation, and they are sometimes being used to update existing procedures without an official change to the procedure language.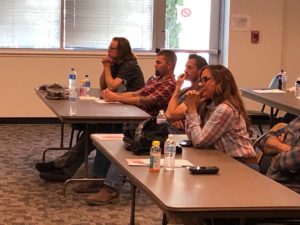 The gas safety stewards also discussed some of the other challenges they face in the field. GSRs talked about the concerns they have regarding doing maintenance work at dusk or dinner time, because it's bad for customer service and unsafe for the workers. Mark & Locate is being pushed quite hard by new supervision to get numbers, prompting members to cut corners on safety, for instance opening electrical boxes for locates when they're not QEWs. Ultimately, the stewards agreed that safety is up to the workers, and it's our responsibility to do the job right each and every time when we're out in the field. The company cannot force us to do our job safe — that's our responsibility.
The topic of the CAP program also came up. CTP wants to encourage folks who are having difficulty with the CAP Program to submit their safety related CAP numbers to the CTP committee, and CTP will try to help out. The committee is dedicated to seeing this program grow in the hopes that it will help all gas workers work safer.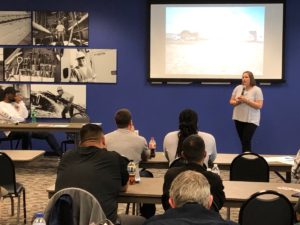 CTP hosted a special guest speaker named Kayla Rath. At last year's summit. Rath's father spoke about his grievous injury, and this year, Kayla recounted the experience from her own perspective. At the time of the accident, she was just nine years old, and she told the summit attendees what it was like for her on that day when she was pulled out of school and told her father may not live. Her talk left a lasting impression on the attendees, and the point she made about the impact that the accident had on the rest of her life is something all parents should think about.
Overall, the summit was highly impactful and the committee would like to thank all who participated. Control the Pressure also wants to remind all members to remain vigilant when reviewing your work. Be sure to check, and double check, especially in emergency situations. Remember that  the employers want us to do things the right way all the time. The only way we can do that is to get up each day and tell ourselves that we are going to work safe, and we are going to be sure that our brothers around us are going to work safe as well.
–Casey Kelley, IBEW 1245 Business Rep