Four years ago, IBEW 1245 launched an innovative and unique program designed to welcome newer members into the union and help them learn more about 1245's history, mission, goals, structure, leadership, collective bargaining agreements, politics and more. The one-day program, known as U-N-ME, was originally developed for new members at PG&E, but due to its overwhelming popularity, it quickly expanded to PG&E members with a bit more seniority. Now, U-N-ME is reaching members working for other employers as well – beginning with Local 1245's largest public sector employer, the Sacramento Municipal Utility District (SMUD).
IBEW 1245 staff organizers worked closely with SMUD Business Representative Lou Mennel to create an organizing committee comprised of IBEW 1245 members from SMUD who shaped the U-N-ME program and customized it to SMUD's culture. Kim Camatti, a veteran Volunteer Organizing Committee (VOC) leader, led the group.  Camatti was pivotal in developing the 12-month "I'm In" campaign that led to 90% of SMUD members re-signing as voluntary dues paying members in anticipation of the US Supreme Court Janus decision (learn more about the successful effort here).  Kim was joined by veteran VOC member and lineman Justin Hirschi, as well as co-workers Bill Matthews and Sean Stevens, to craft the day-long curriculum that would provide the attendees with valuable information, understanding and connection to the union.
"We have so many employees at SMUD who have never even been to our union hall. I remember the nostalgic feeling I had the first time I came here to the hall, looking at all the history on the walls … I just want to share that," said Camatti. "And I also want to help other members really understand what's in our contract and how it got there, so they can have that same 'A-ha!' moment I had. We're starting with new members, but our goal is to eventually have all the members at SMUD come through a U-N-ME session."
The inaugural SMUD U-N-ME session took place in early May at the IBEW 1245 hall in Vacaville. The day kicked off with brief ice-breaker, where members in attendance were asked to think of one word that describes the union. Brotherhood, Solidarity, Pride, Fairness, Representation and Strength were among the descriptive terms thrown out, and it was clear that despite being new to the union, the group already had a strong affinity for 1245 – and it would only grow stronger as the day progressed.
After the ice-breaker, attendees watched a short video about IBEW 1245's recent victories and current battles, followed by an in-depth presentation on the history of 1245 at SMUD, led by Camatti and SMUD retiree Don Krueter, whose institutional knowledge of SMUD's history is incomparable. The information was then reinforced with a fun game of "1245 SMUD Bingo" and the winners scored some nifty union swag prizes.
Before lunch, IBEW 1245 Business Manager Tom Dalzell stopped in to share a few personal anecdotes about some of the interesting arbitrations he worked on at SMUD as Local 1245's in-house attorney for many decades, and tied these historic wins in to the bargaining and organizing power that Local 1245 members have continued to amass over the years.
"Building worker power has been the work of my life, and I can't imagine doing anything else besides watching workers exercise that power," Dalzell told the group in attendance. "We've got a good contract at SMUD because of the power we've built there, and you all are the source of that power. To see you coming into spend the day here at the union hall is just great, and the work you do makes us proud!"
Business Rep Lou Mennel proceeded to lead the new members on a deep dive into their collective bargaining agreement (or MOU as it's often referred to in the public sector). They discovered aspects of the contract that they may never had known about otherwise, and they learned how to look up specific contractual issues should they arise at work. Mennel also explained exactly how contract negotiations work at SMUD, from the solicitation of bargaining proposals from the membership, to the back-and-forth exchanges with the employer, to the end result that enshrines the members' workplace rights, wages, benefits and critical protections.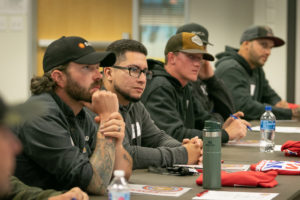 The members also received a comprehensive break-down on how their dues are spent, and they clearly appreciated the union's transparency on this matter. The conversation about dues segued into a discussion on politics, so the new members could understand that the union bases its political endorsements exclusively on where the given candidate stands on utility and related labor issues, and social issues and party affiliation are not taken into account at all during the process.
Additionally, the organizers presented the attendees with a detailed overview of the union's structure, including its shop steward, organizing steward and safety steward programs, as well as the other programs and resources that are available to members through the union. IBEW 1245 Hold the Pull Peer-to-Peer Safety Committee member Fred Aboud (NV Energy) led a conversation about safety and the importance of being our brothers' (and sisters') keepers on the job.
As the old saying goes, the best laid plans always seem to go astray, and thanks to a late spring storm and resulting outages in the SMUD service area, a number of members who planned to attend, including Justin Hirschi, one of the VOC leaders who helped craft the program, ended up being called in to work to restore power. But the ten members who were able to come to U-N-ME embraced the experience fully and found it engaging and enlightening.
"I think it's pretty invaluable to know what the union stands for, because there's a lot of questions, and a lot of misconceptions about unions … This definitely makes me feel more empowered because I have more knowledge about the union," said SMUD Utility Worker and U-N-ME attendee Jose Medina, noting that he found the session on dues to be the most impactful. "I'm sure people can wonder where the [dues] money goes to, but when you actually come here and see where it goes, it just makes you want to be more involved."
The attendees weren't the only ones who appreciated the experience. The union activists and staffers also valued the opportunity to bring this kind of knowledge to the newer members.
"This was one of the most rewarding events that I have ever been a part of as a business rep for 1245," said Mennel, the SMUD business rep. "The members spent the day learning about their union, and I also got to spend more time than usual with the membership which will shape my relationships with them moving forward."
–Rebecca Band, IBEW 1245 Communications Director
photos by John Storey