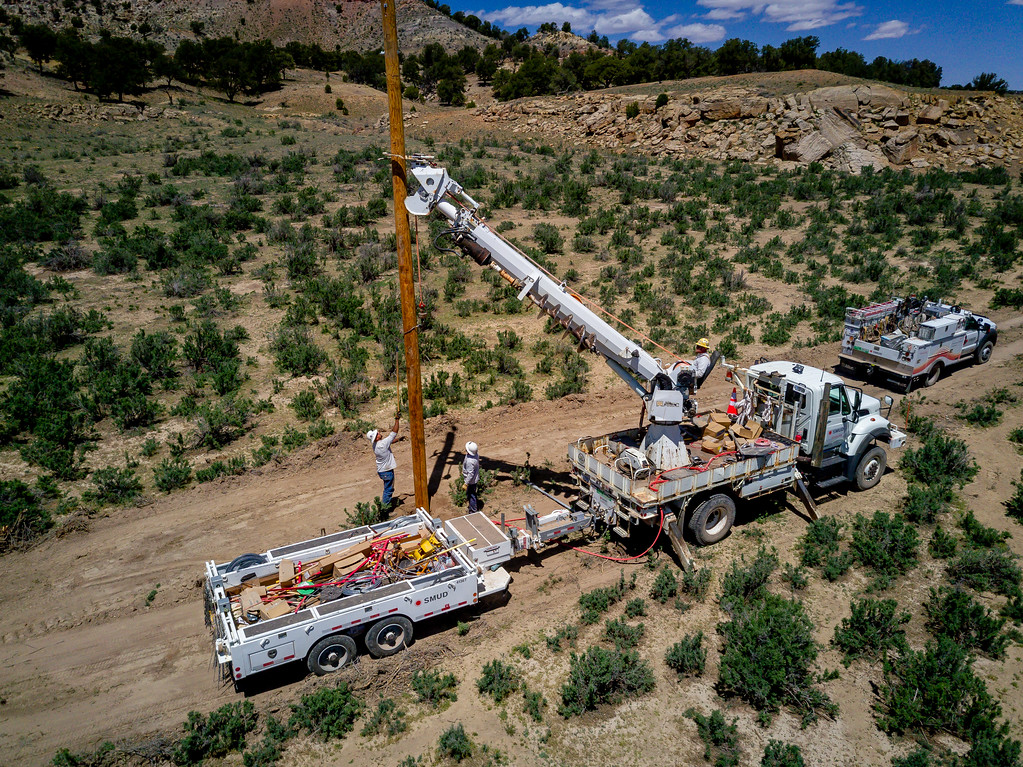 Electricity is something that most Americans take for granted. When we go home at night, we know that we'll be able to turn on the lights, charge our cell phones, take a hot shower, grab some food from the fridge and heat it up in the microwave. But for the 300,000 individuals who live on the Navajo Nation territory, access to power at home is anything but guaranteed.
Approximately 15,000 of the 55,000 homes located on the Navajo reservation do not have any electricity. In fact, 75% of all unelectrified homes in the United States are located within the Navajo Nation's 27,000-square-mile territory. For these families, there are no cell phone chargers, no refrigerators, no computers, no microwaves, no TVs or other common household appliances — and access to the most basic life-sustaining necessities is, at best, extraordinarily onerous. For example, without power, there is no clean running water, so these families must drive up to 15 hours every week to fill their 250-gallon water tanks so they can cook, clean and drink.
Most of these unelectrified homes are isolated in very rural areas, and with limited availability of government loans, connecting these households to the grid has proven to be costly, challenging, and slow. But this spring, the Navajo Nation and the Navajo Tribal Utility Authority (NTUA) partnered with the American Public Power Association (APPA) to launch a new pilot project, known as "Light Up Navajo," in the hopes of electrifying many of these 15,000 homes.
According to APPA, more than 120 utility workers from 25 different public power companies — including five IBEW Local 1245 members from the Sacramento Municipal Utility District (SMUD) — volunteered to build lines that will connect more than 100 Navajo households to the grid. APPA and NTUA hope that this pilot project will pave the way for more electrification projects in the future.
Destination: Four Corners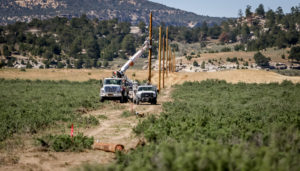 On Friday, April 26, the five-man IBEW 1245 team from SMUD embarked on their two-week "Light Up Navajo" volunteer mission. They drove for two days before finally arriving at the Navajo Nation, which is situated near the "four corners" region and includes parts of northeastern Arizona, southeastern Utah, and northwestern New Mexico. The SMUD crew had spent some time learning about the area and its unique tribal culture, so they knew that they would be entering a community that's quite different from their own. They weren't exactly sure what to expect, but when they arrived, they were touched by the warm reception they received from NTUA and the Navajo people.
"They gave us an appreciation dinner, which was basically their way of showing how much they appreciated us coming down here, volunteering time to heat them up for the first time," said SMUD Lineman and 16-year IBEW 1245 member Corey Smith. "It was pretty emotional watching the kids and the families all show up, and they made home-cooked meals. It was delicious, unbelievable food."
"The hospitality is great, they've been very welcoming," echoed SMUD Lineman Chris Worth, a 11-year IBEW member. "Everyone has been very comfortable to talk to. Great culture, good people, and very helpful. It's been very nice."
"It's a great opportunity for us and for them — and it's very special to our people, especially the people that are getting their lights on for the first time," said David Yazzie, electrical service foreman with the Navajo Tribal Utility Authority. "They have tears of joy, happiness and they're very appreciative. Something like this is only dreamt about."
Best Part of the Job
On the day that the Utility Reporter caught up with Smith, Worth and the rest of the SMUD crew, they were working on constructing a new service line that would reach 26 previously unelectrified customers in an area known as Black Mesa. The crew was tasked with setting about 200 poles and taps along the way.
While the work itself is familiar to the SMUD crew, working in the Navajo Nation is a far cry from working at home in Sacramento. The terrain, while breathtakingly scenic, is also quite a challenge to traverse in SMUD's trucks, and GPS is practically non-existent, so they must rely on the locals for directions. The weather can be unpredictable at times, as this time of year often brings short but highly aggressive storms that would blow in quickly and forcefully, with winds strong enough to take a hard hat right off a lineman's head. Even the laws are different, as the Navajo Nation is governed by its own tribal authority that has put in place policies that some linemen might balk at, such as the strict prohibition on the use and possession of alcohol. And the utility infrastructure is unlike what the SMUD crew is accustomed to, with mostly single-phase construction and different types of framing and wiring. But the Local 1245 team from SMUD acclimated quickly, and before long, they were bringing electricity into homes that had never experienced it before – and the response from the residents was monumental.
"Once you plug that meter in, and they flip their main, and the kids start playing with the lights, and they can finally go shop for a refrigerator, or a TV … It can get pretty emotional," said Worth. "They're very grateful. It's good to see. It's the best part of our job, by far."
"Some of them would actually cry because they were so happy to turn lights on for the first time. They're clapping, yelling, screaming — it's pretty amazing," added Smith. "It's not like back at home where you build a house, and you know you're going to get power within a couple of weeks. Or if you have power and it goes out, you can get it back within 24 hours with us. Some of these guys have been waiting for 10 years to get power. Pretty crazy."
The Navajo utility workers were exceptionally grateful to have the assistance of SMUD and the other public utilities to help them move this ambitious project forward.
"This is a big endeavor for us, and we appreciate SMUD being out here, the brotherhood, the partnership and building long lasting relationships," said NTUA's Yazzie, who grew up on the reservation. "It's been a great opportunity to learn from them and get that teamwork, that cohesiveness and sharing brotherhood. Good feeling, good spirits. It is awesome."
–Rebecca Band, IBEW 1245 Communications Director
Photos by John Storey