IBEW 1245 is known far and wide as one of the most effective union locals when it comes to bargaining top-notch contracts for our members. But these great contracts don't just happen – they are fought for and won by our remarkable member-led bargaining committees, who time and again have managed to secure some of the best collective bargaining agreements in the nation, even in the face of roadblocks, challenges and downright hostility from the employer.
The member-negotiators who make up these committees bring innate skills to the bargaining table, but what sets our committees apart from other unions is the comprehensive training that Local 1245 provides them well before the first proposals are exchanged.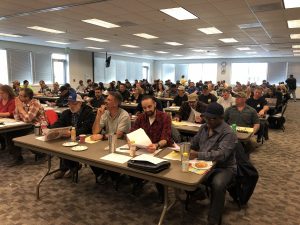 On Feb. 8, more than 100 IBEW 1245 members hailing from 60 public- and private-sector employers came together at Weakley Hall to hone their negotiating skills at the union's acclaimed Bargaining Committee Training. This unique training aims to prepare bargaining committee members to take on the challenges of negotiations and come out on top – and has proven to be highly successful, as evidenced by our collection of outstanding agreements.
Local 1245 Assistant Business Manager Al Fortier emceed the day-long training, which touched on a number of important issues pertaining to bargaining and negotiations. The day opened with a discussion about the role of the bargaining committee members, and then transitioned into an overview of the bargaining process, from soliciting proposals from members, all the way to securing an agreement.
In the afternoon, the conversation turned to some of the more challenging aspects of negotiations, including unfair labor practices and bad faith bargaining by the employer, impasse procedures, and more.
IBEW 1245 Business Manager Tom Dalzell thanked the members in attendance and shared with them how negotiating labor agreements is one of the most important functions a union can perform, and one of the jobs he's always enjoyed.
The members who participated left well-equipped to represent their co-workers at the bargaining table, and we look forward to seeing the gains they'll be making during the next round of bargaining.