Enthusiasm is contagious – and union activism is the kind of enthusiasm that spreads at a breakneck pace.
For a prime example, look no further than the 2019 class of IBEW 1245 organizing stewards. When the union officially launched its ground-breaking organizing steward program back in 2014, the inaugural class was comprised of just 28 activists. But these enthusiastic member-leaders quickly spread the organizing bug to their peers, who then spread it along to even more co-workers – and before long, members in every corner of 1245's jurisdiction were clamoring to catch the bug for themselves. In just five short years, the program has grown more than five times its original size, and now boasts a whopping 148 organizing stewards in its ranks.
Second-year Organizing Steward Gabrielle Baker, who works at PG&E's Fresno Contact Center, wasn't always a union activist. She's had union representation at her previous jobs, but didn't catch the organizing bug until she joined IBEW 1245.
"I used to be one of those people that did not believe in unions. I was never in trouble, so I never needed a shop steward, and I thought the union was only good for discounts to amusement parks," she confessed. "Once I came over to PG&E, everybody was talking about the union, and my friend Tracy Amaro invited me out [to an IBEW 1245 event]. Once I saw for myself the work that's being done, and the comradery … hook, line and sinker, here I am!"
Alex Abrego, who works at the warehouse at SMUD, caught the bug from his co-worker, Kim Camatti, who got him involved with organizing around the Janus vs AFSCME Supreme Court case. That case sought to weaken unions in the public sector – but has ended up having quite the opposite effect, as Abrego has exemplified through his newfound union activism.
"Before I came to SMUD, I was non-union. But now I can see the benefits of the union, and if I can help out any way I can, I'm going to do it," Abrego said. "I really value the brotherhood. No matter where you work – PG&E, or SMUD, or Reno, or wherever – we're all one huge family, and that's what makes us strong."
Dana Johnson, who works for PG&E in payment processing, also shared a story about shifting her perspective on the union. She was having issues at work, and became disillusioned with the union because she wasn't really familiar with how it operates.
"I was ready to stop paying union dues … but my union rep, Gerald, got me in to a meeting  — the Union Network Member Experience — and I got to hear what actually goes on with our union, and all the different roles that the stewards take on [to strengthen the union]," she said. "I met with Gerald again after that, and he asked if I wanted to go out to Nevada to work on the No on Question 3 campaign, because he knew that I'm from Nevada and have family there. That experience made me realize that I wanted to take on a bigger role in the union – especially because there are no other organizing stewards in my building."
Baker, Abrego and Johnson each come from different backgrounds, workgroups and experiences – but they all caught the bug, and they're thrilled to be a part of the 2019 class of organizing stewards.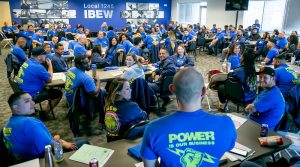 On January 25, they came together with their fellow organizing stewards for the annual kick-off meeting and training at Weakley Hall. The diverse group contains individuals from all walks of life, a wide variety of workgroups including clerical and physical, and even some retirees. Many of them have extensive organizing experience, while others have only just begun to explore the world of union activism. But despite their differences, they all share a common bond through the IBEW.
"I love to see how much pride our stewards take into being appointed to this role," said IBEW 1245 Staff Organizer Rene Cruz Martinez, who emceed the event. "Having been an organizing steward myself prior to coming on staff with IBEW 1245, I know the feeling. It is a sense of belonging, knowing we are making a difference to make our union stronger, ready to take on challenges head-on. We are the front line of the attacks on labor."
In his opening remarks, IBEW 1245 Business Manager Tom Dalzell echoed these sentiments, sharing words of appreciation and inspiration with the room full of organizing stewards.
"What we're doing at Local 1245 right now is building power and using power — and 90% of that power comes from the people in this room. You are ordinary people doing extraordinary things," he told them. "It's remarkable to see how this dedicated group within our membership has fundamentally changed this union in terms of the power we can exert – and now we're known far and wide as the union that can deliver. You are the arrows in our quiver, the lightning bolts in the fist of 1245. You are the power! From the bottom of my heart, thank you for everything you've done and continue to do."
The organizing stewards proceeded to spend the afternoon recapping and discussing the numerous organizing, legislative and political campaigns that they engaged in over the past year, highlighting the ones that left the biggest impact – including the passage of the wildfire bill, the defeat of an energy deregulation measure in Nevada, the successful internal organizing effort around Janus, and the election of Rosanna Herber to the SMUD Board.
They also discussed what it means to be an organizing steward, including the obstacles and opportunities they face, and then proceeded to break out into their new teams to lay out a game plan for the coming year. Due to the colossal size of this year's class, the union has appointed 20 leads, each of whom is responsible for guiding a team of 8-10 stewards over the course of the next 12 months.
The action-packed day concluded with a special screening of the film "Made in Dagenham," which tells the remarkable story of a group of British women workers who went on strike for equal pay at a Ford motor plant.  The strike eventually led to the passage of the UK Equal Pay Act in 1970.
Although the film is set in Great Britain factory in the 60s, the organizing stewards were still able to draw many parallels and gleaned a number of key lessons that they can apply to their own organizing efforts in what is already shaping up to be another highly eventful year. Staff Organizer Fred Ross summed it up best:
"At its core, organizing is about moving people to take action. It's not about lecturing, it's about listening, and it's about engaging them to make a difference. That's what we're here to do."
–Rebecca Band, IBEW 1245 Communications Director
Photos by John Storey
---
ORGANIZING STEWARDS SPEAK OUT
What has been your most meaningful accomplishment through IBEW 1245's member-driven organizing program?
"I've been able to talk to people who do not vote, who feel like their voice doesn't matter. But once we started engaging in conversation … they knew that we were there to help them, and they knew that it was important. Being able to influence their decision to get out and vote, it means a lot. It's really fulfilling." – Gabby Baker, PG&E
"One of the most rewarding things I did was the fight against Janus vs AFSCME. We had at least 90% of our members at SMUD stay on with the union. It was really unifying to see everyone come together. I had no idea we could be that strong when we went into it." — Justin Hirschi, SMUD
"These past five years as an Organizing Steward, I've learned to motivate, energize and mobilize my brothers and sisters. It's a very rewarding feeling to get behind them and push them into leadership roles. It's become my passion!" – Nilda Garcia, PG&E
"Working on the Janus campaign was really rewarding. It feels good to know that your coworkers support what you believe in. And it was great opportunity to learn more about them!" – Rodrigo Flores, Merced Irrigation District
"Having one-on-one conversations with my co-workers. I had a few experiences where some were doubting the union. But now they're asking more questions, and wanting to go to meetings. It's very exciting to see more people wanting to be involved." – Armando Vasquez, PG&E
"I have become resource for others in achieving their goals. I feel empowered to lift others in their fights for equality and justice." — Kristen Rasmussen, PG&E
"I've been able to help fellow employees see all the benefits in belonging to IBEW 1245 and how our union has been the driving force for democracy in both the workplace and the community. Organizing Stewards are the vehicle for that driving force!" – Kim Camatti, SMUD