For residents of the Merrimack Valley area of Massachusetts, Sept 13, 2018 is a day that will forever be emblazoned in their minds. That afternoon, as many residents were heading home from work and school, an overpressurized gas line resulted in a massive series of home explosions and fires, killing one, injuring dozens more, and evacuating tens of thousands from their homes.
The shock and devastation has shaken the community to its core, and a return to normalcy has been slow going — but with winter fast approaching, restoring gas service to the impacted New Englanders is absolutely critical. So Columbia Gas, the utility company that serves this area, called for reinforcements, and PG&E quickly answered the call.
"This is the first time in recent history that we've had members on the gas side get called upon for an out-of-state mutual aid mission," said IBEW 1245 Business Manager Tom Dalzell. "Seeing how many of our members selflessly signed up to travel far away from their families for this long, tough assignment – it's such a point of pride for me, and for our entire union."
An overwhelming number of IBEW 1245 members from gas service and gas construction volunteered to be a part of the mission, and ultimately 80 members ended up going with the first wave of mutual aid. Dalzell personally saw them off as they departed for Boston on Oct. 7, ready to lend a hand to a hard-hit community for an intense six-week mutual aid mission.
Stepping into this type of situation is never easy, but our members immediately proved that they're up for the task.
"There are a lot of [mutual aid] companies out here, a lot of construction, and some delays," said Gas Service Rep Robert Mohler, who works for PG&E out of Fresno. "But once we started working their list and taking care of things, we built some good trust with Columbia Gas. They saw us doing everything right, and their supervisors have been really happy with us."
"Our members are quickly being recognized as one of the most productive mutual aid groups," echoed IBEW 1245 Business Rep Mike Adayan, who traveled to Massachusetts with the members for the first part of the mission.
Happy to Help
Mohler and his GSR team were tasked with installing dozens of manifolds, while a different mutual aid team put in the risers, and then a third team from Columbia Gas would come in to set the new gas meters. The GC teams assisted with demolition and break-down of the old meters in basements, drilling through foundation to pipe out, doing building assessments, capping off appliances, and pumping up the lines on the house side.
The process involved a fair amount of contact with the customers in order to gain access to their basements or backyards, and Mohler expected to encounter some hostility, but he has been pleasantly surprised.
"The customers are not as upset as I would have thought," he said, noting that it helps that many of the GSRs speak Spanish, given the predominantly Spanish-speaking community he's assigned to. "Once we explain our part of the process, they've been happy to help us get where we need to get. They understand that this has got to get done, and they're willing to bear with us."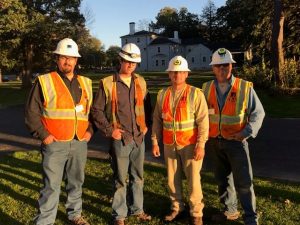 GC Construction Operator David Holtz, who spent two weeks working in Merrimack Valley, described his interactions with the customers as "paramount."
"My crew and I took it very seriously. There's that sense of urgency [to get their gas service back on], but at the same time we're all very focused on safety," he said. "We tried to be really sympathetic to people's needs. We talked to them and would listen to what they have to say, and we let them know that we're here to make it safe. We put our best foot forward, we did everything we could to help, and we just tried to make it as easy as possible for them."
Even though they encountered more than their fair share of difficulties while working long hours in challenging conditions, the Local 1245 members took it all in stride.
"Everyone was very patient and more than willing to put in whatever time was necessary," said Holtz. "I didn't hear anyone say 'I wanna go home' or 'I'm sick of this.'"
Extremely Proud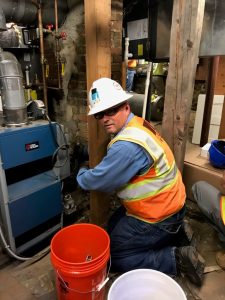 Given the complex nature of the situation they found themselves in, the Local 1245 members were exceptionally grateful to have their union backing them up with representation on the ground in Massachusetts.
"It was absolutely helpful having a union rep there with us," said Holtz. "He made it clear that if there were issues, we need to settle them here and now – and if something seems unsafe or doesn't look right, don't do it. As a six-year IBEW member, I'm extremely proud to represent the company and the union at the same time."
The GSRs and GC crews were also enthusiastic about the opportunity to broaden their horizons and gain new professional experience. For most of the GC members, this was their first time getting to work on the house side where the gas line terminates. And for the GSRs who are accustomed to working one job start to finish, they too found themselves in a new sort of work flow as they worked just one piece of numerous jobs.
Despite the new and unusual circumstances, the Local 1245 members remain steadfastly committed to doing all they can to assist the community, and there's no doubt the long hours they're putting in are making a real difference for thousands of Massachusetts families.
–Rebecca Band, IBEW 1245 Communications Director