Hold the Pull is IBEW 1245's groundbreaking peer-to-peer program that seeks to motivate IBEW members in the electrical field to promote safety through mutual support and protection on the job. The goal of the Hold the Pull initiative is for all workers to take responsibility for their own safety and the safety of their crewmates.
On June 20, 2018, Hold the Pull held its annual peer safety summit, and more than three dozen IBEW 1245 safety stewards came together at the union hall in Vacaville for the day-long training.
"We have a diverse group of people from a lot of different utilities, ranging from 6 years to 44 years of experience, and a variety of different classifications," said Hold the Pull Advisory Committee member Gregg Bargas, who emceed the summit. "The presenter is rolling out some great information … and the way he's presenting it actually gives you a way to think about it and use it the way you want to."
That presenter, Max Fuentes, is a former SMUD lineman and IBEW 1245 member who now works as a utility industry consultant. His comprehensive skills-based training touched on a number of factors that can impact a safety steward's efficacy, including leadership ability, inter-generational communication, professionalism, managerial communication and more.
"My main focus today is to give you tools," Fuentes told the stewards at the start of his presentation. "A lot of you are very passionate about what you do, but you may not have the tools you need to communicate about safety with your peers and supervisors."
"I came today to try and get some good information from Max," said Local 1245 Safety Steward Kevin Simpson of Liberty Energy.  "I've heard a lot of good stuff about him, he's pretty well-known in the trade. So I'm just looking to pick up some good info that I can take back and apply to my own work."
Not all of those in attendance were from Local 1245. Brannon Nichols, a business rep from Local 1547, travelled all the way from Alaska to attend the Hold the Pull summit.
"We've had accidents in the past, just like you guys have, so we're looking to get a similar type of safety program rolling in our area," said Nichols. "This is my first look at it, and I like that you've got a lot of members from all your different properties here exchanging information. It seems to work pretty well."
Really Important to Our Trade
In addition to Fuentes' training, the summit also focused on providing the safety stewards with innovative web-based tools that they can use to help them communicate with one another, as well as with their colleagues at the worksite. Those tools include a unique, private online forum just for safety stewards, as well as a new educational yet compelling web video that was put together by the Hold the Pull committee.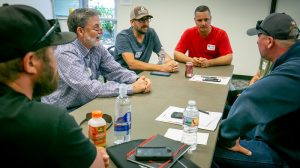 At the end of the day, the safety stewards left with a wide range of new tools to use, as well as a strong feeling of empowerment.
"I think the safety steward program is really important to our trade. The best way to promote safe work is to get the linemen on the crews on board with it, and getting the guys involved with programs like this," said Simpson.
"I value that our union is strong with safety," concurred Bargas. "We're always fighting for our wages and benefits and all that, but none of those things matter without our safety. Having the union back us, allowing us to work safely and giving us the support we need through programs like Hold the Pull, it really makes a difference."
Photos by John Storey