If you work in the utility sector, chances are you've recently encountered some pretty big changes in your line or work, with even more changes looming on the horizon.
At PG&E, changes are being implemented so quickly that many IBEW Local 1245 members are often left with a cavalcade of unanswered questions. Emergency preparedness, staffing issues, new apps, high tech equipment, grid management, operations and facilities are just a few of the issues that have had members buzzing lately.
A few years back, the union began sponsoring labor-management roundtable sessions for different divisions at PG&E, to give Local 1245 shop stewards a chance to ask questions and voice their concerns directly to members of PG&E's management team. These roundtables have facilitated more open and honest conversation between the company's executives and the men and women who work for them.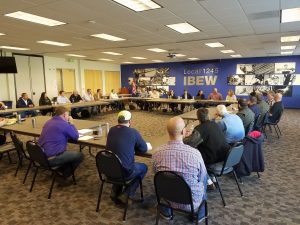 On Jan. 31, 2018, top executives from PG&E's information technology, supply chain, telecom and corporate real estate departments came to Weakley Hall to field questions from a select group of shop stewards working in those departments.
Senior Vice President and Chief Information Officer Karen Austin opened up the discussion with a brief overview of some of the changes coming down the pike at PG&E. She identified process improvements in enterprise warehouse management, a new qualified telecom worker program and training, two-way grid integration, and 133 new supervisory control and data acquisition (SCADA) installations as some of the big items that the company has planned for 2018.
Senior Vice President and Chief Customer Officer Laurie Giammona followed up by addressing the leaked document that indicated widespread yard closures on the horizon, which indicated that some divisions could lose 50% or more of their yards. She quickly noted that nothing in that leaked document is set in stone.
"The document that was released was purely a working document from just one view – electric operations… and it was unfortunate the way that it came out," Giammona told the shop stewards. "Unless you see a document that has my initials on it that says were closing a facility, were not closing a facility."
After the execs had a chance to speak, the floor opened up to the shop stewards to ask their questions and express any concerns coming from their respective worksites.
One of the biggest issues raised pertains to emergency preparedness. With last year's onslaught of devastating natural disasters and fires, many members felt that the emergency response plan at PG&E could use more clarity, particularly in regard to base camps, callout policies and expectations.
"Sooner rather than later, let's get together jointly with the union to work this out," suggested Shop Steward Steve Mayfield. "That way, when another emergency comes up, we'll know what equipment will be there, how the base camps will be, what training is required, who's going to be there, and for how long. If we can put it all in writing, then everyone will know what to expect, and we can focus on the work, and not on all that other stuff."
"If there's one thing that the fires have shown, it's that every single employee in every line of business should be looked at as first responders," noted IBEW 1245 Assistant Business Manager Anthony Brown. "And one thing that all first responders have in common is that they spend a lot of time preparing for crises. I think that's something that should be looked at very closely."
Another issue that was raised by several stewards related to new technology, including apps and equipment.
"We're getting this new equipment coming out, but we're not getting any training on it," said Shop Steward Jim Hood. "There's also the issue of access. We don't have the ability to do our jobs anymore with the lack of access on this new equipment — and if we did have access, it could be dangerous because we don't have training on it."
Staffing, in particular the reduction of clerical support staff, has also become a point of concern for many departments. In some areas, clerical staff are spread so thin that much of the support work, such as time cards and ordering materials, ends up being done by the techs themselves. According to some stewards, the lack of staff means that these processes are ultimately less efficient than they could be, and time and money is wasted as a result.
Another personnel issue that some stewards expressed concern about is the fact that many front line supervisors are being hired from outside the company, instead of being promoted from within. As a result, supervisors are coming in with very little understanding of the work and operations in the departments that they are supposed to be running.
The consolidation of facilities – and potentially of employee roles — was another sticking point for the stewards. Shop Steward Michael Hunt pointed to an example of potential staffing redundancy that could occur when facilities are being merged together.
"In materials, we have leads at all the different locations," said Hunt. "If those locations are consolidated, will it result in a reduction of staff?"
While some facilities are being revamped, there are a number of others, most notably substations and generation facilities, that are still lacking when it comes to meeting the needs of the employees. The Cottonwood microwave sub was just one example that the stewards proffered. SVP Giammona noted that those facilities were not previously under the Corporate Real Estate umbrella, but that is something that is set to change in the near future.
With so many big issues on the table, it's unlikely that any of them will be resolved quickly, but the execs did express a desire to continue working closely with the union and the stewards to find mutually beneficial solutions to the host of challenges that the company facing. Ultimately, only time will tell as to whether the management team is truly committed to rectifying these issues, but Local 1245 will continue to hold their feet to the fire for as long as it takes.