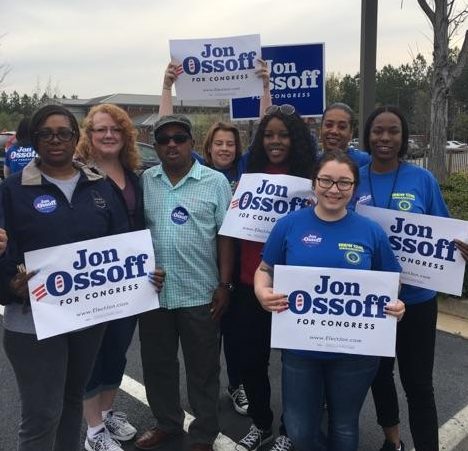 In early April, a team of six Organizing Stewards from IBEW Local 1245 travelled across the country to help get out the vote for Jon Ossoff, who was vying to fill a vacant Congressional seat that opened up when Tom Price was appointed to serve as Secretary of Health and Human Services.
With a deceptively named "Right to Work" bill pending in Congress and the future of the Labor Movement hanging in the balance, electing more worker-friendly lawmakers to the House of Representatives is more essential than ever. But Georgia's sixth district is notoriously conservative, the field was extraordinarily crowded with a whopping 18 candidates on the ballot, and Ossoff is young and relatively unknown in the political world. Without question, the Organizing Stewards had their work cut out for them.
They knew these challenges would be difficult to overcome, but they embraced the challenge. As soon as they arrived in the Atlanta area, they went to work, canvassing neighborhoods, making phone calls, attending rallies and connecting with as many voters as possible. Although they faced some roadblocks along the way, the team felt positive about Ossoff's chances.
"The campaign momentum continues to expand and engage voters as well as volunteers," lead Organizing Steward Charlotte Stevens reported three days before the Election. "The reception has been overwhelmingly positive. It's great to see the enthusiasm and engagement."
"Many of the people we've come in contact with have been really receptive," echoed Organizing Steward Que Thompson. "In those areas where they are less receptive, we also let them know we endorse the Republican State Senate Candidate, Matt Campbell."
"Both Jon and Matt believe that voters have to make decisions based on issues, not party lines," added Organizing Steward Kristen Rasmussen.
The enthusiasm served to fuel the team to work even harder, waking up early, staying late, and knocking on doors until their knuckles were nearly numb.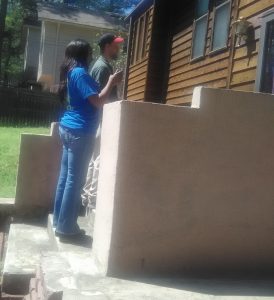 "There is definitely an energy here, and a strong Ossoff presence," Organizing Steward Ashley Williams reported on the day before the election. "Today was a major push day, with the average pair of canvassers hitting 100-150 houses. Tomorrow, we will be out all day and it's the hope that our candidate will get the 50% plus 1 to prevent a runoff election in June. Fingers crossed!"
"We are here to do all we can to get the victory on April 18!" added new Organizing Steward Evelyn Okoegwale.
When the ballots were counted on April 18, Ossoff came in first place, capturing 48% of the vote. However, the law requires a candidate to receive at least 50% of the vote, and as a result, a runoff election between Ossoff and the second-highest vote-getter was scheduled for June 20.
During that two-month span leading up to the runoff, an overwhelming amount of special interest money poured into the district. In fact, it broke spending records across the board, and will go down in history as the most expensive U.S. House race to date. Voters were inundated with nonstop campaign advertisements, including one that fabricated a link between Ossoff and the horrific shooting at a Congressional baseball practice, even though Ossoff had absolutely no connection to the incident.
At the end of the day, Ossoff narrowly lost the runoff election. Although disappointed, the team remained upbeat and determined.
"It is great to be a part of the movement that endorses candidates that believe in workers' rights, affordable healthcare, and removing political corruption," said Organizing Steward Alvin Dayoan
"We will continue to fight for what is best for the working class!" said Organizing Steward Rachel Ramirez Hill.
–Rebecca Band, IBEW 1245 Communications Director