PG&E Chief Executive Officer Geisha J. Williams, Chief Operating Officer Nick Stavropoulos and Executive Chair Tony Earley, along with Senior Director of Labor Relations Robert Joga and Vice President of Human Resources Mary King, joined a group of IBEW 1245 business reps and staffers for a candid discussion on the future of the utility industry on May 17, 2017.
"We have the three highest leaders of PG&E here to talk vision, challenges, responses, and where we can work together," Local 1245 Business Manager Tom Dalzell told the union staffers as he introduced the executives.
Williams opened up the conversation with a detailed analysis of the major factors that are contributing to the widespread changes in the utility industry. She explained how new state laws are requiring California utilities to drastically reduce greenhouse gas emissions, and also pointed out that new energy technology is cropping up left and right, which is both a cause and effect of the surge in customer demand for more choices.
"We have policy that dictates it, we have the tech that enables it, and we have the customers that want it. Those three things are what are driving the changes we're seeing in the industry," said Williams.
Stavropoulos explained some of the steps that PG&E is taking to remain competitive in this rapidly changing utility environment, including exploring new projects, such as the installation of electric vehicle charging stations in California.
"The PUC gave us a gift of letting us show what we can do to efficiently install 7,500 chargers across our service territory," he said. "We're working hard to put in place an end-to-end process to install those charging stations as efficiently as possible with the highest level of customer satisfaction. When were done with 7,500, we want to build 75,000 more!"
The executives also touched on a number of other topics, including the ever-present need for gas pipeline safety improvements and the ongoing effort to upgrade to new state-of-the-art systems. They also discussed more forward-thinking ways to reduce the carbon footprint, including things like incorporating biomethane into the pipeline, and capturing and utilizing agricultural waste gas. They didn't shy away from difficult topics, such as the rise in customer rates, the hard decisions being made in the name of affordability, and the potential for major shifts in the direction of the company in the near future.
Likewise, the union staff held the executives' feet to the fire with a number of probing questions. They pushed back when the execs articulated a position that was counter the to the union's priorities, and spoke up when they thought that the company could be doing more in certain areas. Both sides left the meeting feeling positive about the joint effort between the union and the company as a critical element to addressing the "competitive challenges" we're seeing now and will likely continue to encounter for decades to come.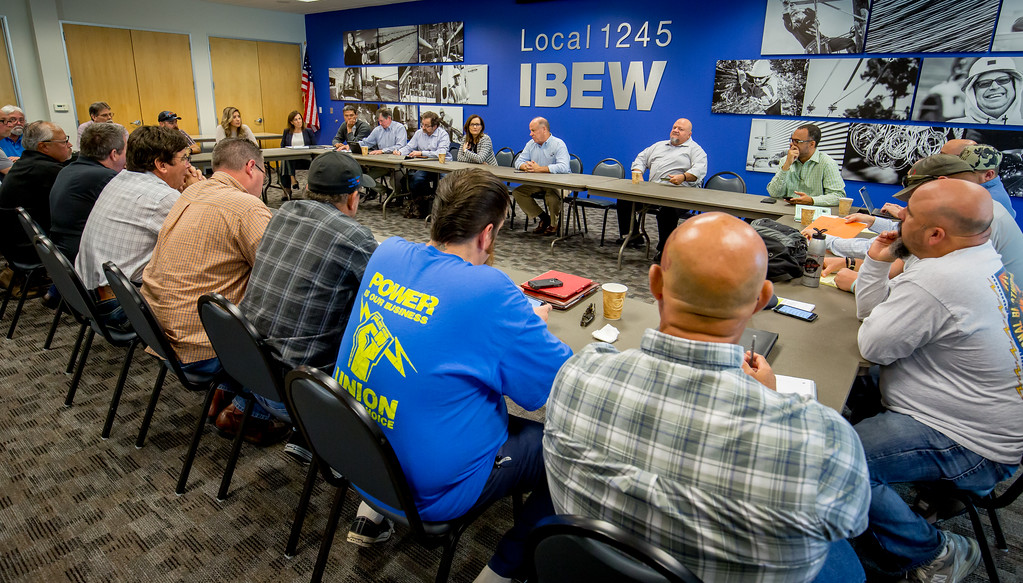 –Rebecca Band, IBEW 1245 Communications Director
Photos by John Storey