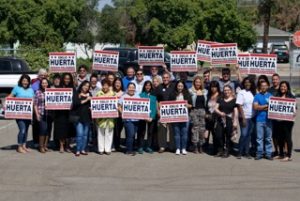 On Friday September 23, 2016, the Fresno-area IBEW Local 1245 organizing team held its 2016 regional campaign training at the local CWA hall. A energetic, highly focused group of more than 30 people — including members from both the Emilio Huerta for Congress campaign, as well as IBEW Local 1245  — came together for the intensive four-hour training.
Organizing Steward Ashley Nelson got the group warmed up with an icebreaker activity to help the group get to know each other. Organizing Steward Rodrigo Flores followed next, giving the group an education on Propositions 53, 54, and 55. Dillion Savory from the Fresno-Madera-Tulare-Kings Central Labor Council and Local 1245 Staff Organizer Fred Ross also provided some additional background information of each measure and its significance.
Organizing Steward Que Davis familiarized the group with the candidates by giving a short biography of Congressional Candidate Emilio Huerta and U.S. Senate Candidate Kamala Harris, highlighting issues that are important to each candidate. Next was the break-out session, where attendees paired and role-played different scenarios related to the different measures and candidates.
Emilio Huerta himself stopped by and spoke to the group for 30 minutes about his political and personal background, and why he entered the race for Congress. The group was able to ask additional questions and have an informal meet-and-greet with Huerta during lunch.
After lunch, Dillion Savory from the Central Labor Council enriched the crowed with his knowledge and experience with precinct walking, and detailed some of the expectations of working on a campaign.  IBEW International Organizer Rick Thompson spoke to the group about the importance of worksite visits, and how to make them work. Organizing Steward Miguel Pagan wrapped up the day with some logistical details, including the schedule, reporting hours, and important roles and responsibilities.
Overall, the training was very successful, and the team is energized to officially start getting out the vote in October!